Norse comic-book gods
not your thing? Well, as I am sure you know, the movieplex has also been offering some decently funny counter-programming for the past fortnight with
Paul Feig's Bridesmaids
, and they too can bring the thunder.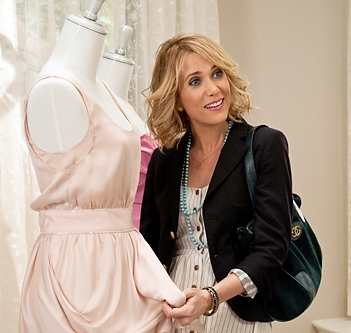 I've noted a couple times here that I find comedies hard to review, as what folks tend to laugh at is highly variable. But, speaking for myself, Bridesmaids was a respectable-enough entrant in the Feig-Apatow wheelhouse. (Apatow is a producer here.) It's not as memorable as Knocked Up or The Forty Year-Old Virgin, but the film is amusing enough that I had a smile on my face throughout. And, even amid the occasional gross-out sequence, Bridesmaid has the same sweetness, sense of humor about everyday foibles, and fundamental decency towards its characters that marked Feig & Apatow's magnum opus, Freaks and Geeks. All in all, a solid summertime matinee — go ahead and RSVP yes.
Not to overstate the F&G angle, Bridesmaids is also the brainchild of co-writer and star Kristen Wiig, who claims the spotlight here after several years of ubiquitous, scene-stealing, and often thankless character work in the movies. (See, for example, Extract, MacGruber, Walk Hard, and Whip It.) How much you enjoy Bridesmaids will probably depend heavily on how funny you find Wiig. I've heard people complain that much of her schtick just involves awkward pauses, but I think she's both an amusing and appealing comedienne, and that, like most people on SNL these days, she deserves better material than she usually gets. Good on her to take matters into her own hands and, with fellow Groundling Annie Mumolo, finally just write that star vehicle for herself.
From the outside, Bridesmaids seems like, and is being billed as, the double-X counterpart to Todd Phillips' The Hangover: This time, it's the women going wild before the big nuptials. And, to be sure, there is some of that here: For example, Melissa McCarthy's role as brother-to-the-groom Megan, a.k.a. "the X-Factor" member of the bridal party, feels very broad and Galiafanakis-y at times. (And partly because she's given the freest rein, McCarthy ends up running away with most of her scenes, although it helps her case that the two other "minor" bridesmaids in this story — Elle Kemper as the goodie-too-shoes and Wendi McLendon-Covey as the haggard mom looking to get disreputable — are underwritten.)
But, ultimately, that Hangover comparison is misleading. (And, as my brother noted: If anything, these bridesmaids leave opportunities for obvious Wolfpack-like shenanigans on the table. They [spoiler] never actually make it to Vegas, for example.) Despite its billing — and despite one memorably repugnant sequence involving food poisoning at a dress fitting — Bridesmaids is more traditionally rom-commy and, well, chick-flicky than the trailers let on. Instead of indulging in no-holds-barred comedy mayhem just for the sake of it, the movie more often chooses to dwell on the slow-burn courting between Wiig's Annie and an Irish cop who pulls her over one evening (Chris O'Dowd), and/or the "love" triangle of Annie the Maid of (dis)Honor, her childhood best friend and bride Lillian (Maya Rudolph), and the newcomer/interloper to their BFF twosome, Helen (Rose Byrne).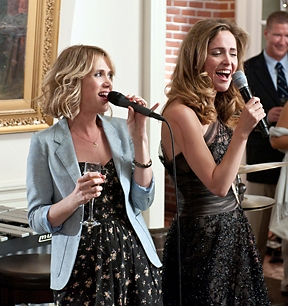 And that's totally ok. In the end, I probably preferred the more mellow and humanistic Bridesmaids to the fratty antics of The Hangover anyway, although I realize I liked the latter film less than most people. (I'm about 50-50 on seeing this week's sequel.) Once you accept that, yes, we are occasionally in rom-com territory here, and thus make allowances for some of the more irritating tropes of that genre — like, say, the inevitable second-act blow-up (Gee, I hope these crazy kids work it out before the end of the film!) — Bridesmaids is a solidly entertaining summer movie. Sure, the wild swings in tone can be a bit jarring at times — at one point near the end, the film jumps from a shot of two adorable golden retriever puppies to McCarthy and her real-life husband doing unspeakable sexytime things with a sandwich — but, all in all, Bridesmaids is not a half-bad attempt at fusing the gross-out comedy with the girls' night out.
[One semi-unrelated note: If you do happen to check out a matinee of Bridesmaids, make sure beforehand your showing isn't "reserve-seating." I caught the film out in the Fairfax burbs, and it was my first experience with this new — and highly stupid — phenomenon. Basically, they have you on the hook for a $3 markup per ticket, even if the show is nowhere close to selling out. Have America's moviegoers really been clamoring for reserve seating for afternoon matinees? Somehow, I doubt it.]