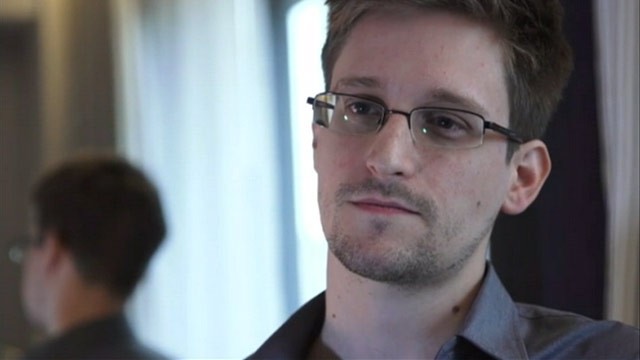 "'I don't see myself as a hero,' he said, 'because what I'm doing is self-interested: I don't want to live in a world where there's no privacy and therefore no room for intellectual exploration and creativity.'"
Breaking everywhere the past week: 29-year-old former CIA IT guy and defense contractor Edward Snowden reveals to Glenn Greenwald that the NSA has been indiscriminately collecting everyone's phone records and gouging into the data networks of Apple, Google, Facebook, and other mainstays of today's social media. "The Prism program allows the NSA, the world's largest surveillance organisation, to obtain targeted communications without having to request them from the service providers and without having to obtain individual court orders."
Sadly, this isn't all that surprising. There have been intimations that the NSA has been up to no good — even beyond the warrantless wiretap fiasco under Dubya — since that weird visit to John Ashcroft's hospital bed. Nor, sadly, is it all that surprising that — despite saying exactly the opposite in 2007 — our current President is both fine with these surveillance practices and authorizing them. (And at least from my perspective, the idea that getting the rubber stamp approval of a secret FISA court that never says no makes it all ok does not hold water.)
This is exactly what I was talking about last update. Obama acts tortured about continuing all of Dubya's most terrible civil liberties violations, but then goes ahead and does them anyway. For Crom's sake, he's even picked James Comey, the guy who approved warrantless wiretaps back in 2006, to be the new FBI chief. And because this president and this administration is so brazenly two-faced about their anti-terror policies, you end up with disturbing polls like this: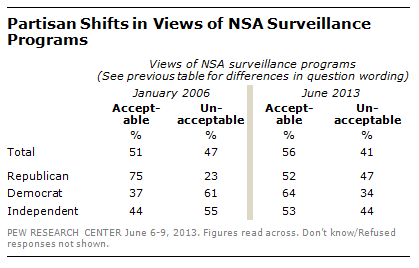 Speaking of which, at the very least these revelations of blatant NSA overreach have had the healthy effect of exposing which alleged lefties out there walk the walk.
For example, in the Senate: On one hand, we have Ron Wyden, Mo Udall, and Jeff Merkley calling out Obama for continuing with this extra-legal, ginormous-net approach to surveillance. "'As far as we can see, all of the useful information that it has provided appears to have also been available through other collection methods that do not violate the privacy of law-abiding Americans in the way that the Patriot Act collection does,' Udall and Wyden said."
On the other hand, here's ostensibly Democrat Dianne Feinstein yesterday going full Body Snatcher about Snowden: "'I don't look at this as being a whistle-blower,' Sen. Dianne Feinstein (D-Calf.) said. 'I think it's an act of treason.'" (FWIW, John Boehner and Lindsey Graham were right there with her.) Of course, it's never "treason" when Feinstein continually does it, and, in any case, this wasn't breaking news either: The senior Senator from California has long been a quintessential "symbol of the worthless Beltway Democrat."
This revealing breeze stirred by the NSA revelations is coursing through media outlets too. On one hand, Slate's Fred Kaplan has — quite correctly — called for James Clapper's resignation, given that he flat-out lied to Congress: "We as a nation are being asked to let the National Security Agency continue doing the intrusive things it's been doing on the premise that congressional oversight will rein in abuses. But it's hard to have meaningful oversight when an official in charge of the program lies so blatantly in one of the rare open hearings on the subject." Spot on.
Meanwhile, TPM's Josh Marshall, who likes to pretend his blog is a font of independent thinking, hems and haws about it all in classic pusillanimous Village-think fashion, all the while making sure never to say anything that might harm his establishment respectability. "I've made clear that I don't see Manning as a hero or a whistleblower or really anything positive at all…Pretty early I realized that to his supporters Manning was a whistleblower who was being persecuted by the government, almost like a political prisoner or prisoner of conscience." No, Josh, it doesn't "seem" that way "to his supporters" — That is in fact what is %#%@ happening.
In any case, so as not to fall into the same trap, I'll just say it outright: First, if Snowden and Manning are traitors, then so is Daniel Ellsberg and so, for that matter, is Dianne Feinstein and any other politician or government official who leaks when it's convenient. (Also, sorry, folks. there is no substantive difference between revealing secrets to the criminal Julian Assange or to the venerable Bob Woodward. But please do let me know when Richard Armitage is put in a sweatbox for 23 hours a day.)
Second, this vast surveillance apparatus NSA has been constructing is both obviously overkill and clearly legally and constitutionally repugnant, and if this president lived up to even half the rhetoric he continually espoused before he was elected, he would have ended it years ago. Quite frankly, the doubletalk from him, and from so many other Democrats about these revelations so far, is both inexcusable and out-and-out pathetic.