Lots of catch-up to do in the Trailer Bin…
Finally out of The Master's clutches, a lonely Joaquin Phoenix falls in love with, for all intent and purposes, Siri (Scarlett Johansson) in the first trailer for Spike Jonze's Her, also with Amy Adams, Olivia Wilde, Chris Pratt, and Rooney Mara. I believe this is called going the full-Lars. (Also, I'm never not going to hear the name of this film as "Her?")
Alan Rickman and Donal Logue — now there's one of the best buddy pairings on film since Ray Winstone and Brendan Gleeson in Beowulf — meet a lot of 24 Hour Party People American-style in our first look at CBGB's, with Ashley Greene, Freddy Rodriguez, Johnny Galecki, Bradley Whitford, Rupert Grint, Justin Bartha, Stana Katic, and Malin Ackerman (as Debbie Harry?) I see Severus is now teaching young Mr. Weasley a completely different set of Dark Arts. Hrm, maybe.
Michael Fassbender finds he's taken a wrong turn into Cormac McCarthy land in the newest trailer for Ridley Scott's The Counselor, with Penelope Cruz, Cameron Diaz, Javier Bardem, Brad Pitt, Goran Visnjic, and Dean Norris. Looks very McCarthyish, and no mistake. The good news is Ridley Scott still owes Fassbender a solid film after Prometheus.
It belongs in a museum! WWII soldiers George Clooney and Matt Damon put together a crack team to save priceless art and artifacts in the first trailer for Clooney's The Monuments Men, also with John Goodman, Bill Murray, Bob Balaban, Jean Dujardin, and Cate Blanchett. As one wag aptly noted on Twitter, this is basically an Elseworlds Ocean's movie, but I trust Clooney's choices. Still, here's hoping it works out better than Clooney & Blanchett's last trip to Germany.
Over an unfortunately poppy soundtrack, Idris Elba and Naomie Harris channel Nelson and Winnie Mandela in the first trailer for Justin Chadwick's Mandela: Long Walk to Freedom. This looks a bit standard-issue-biopic-y, I'll admit. But I'll watch just to see Elba as Mandela — just no Henley poems, k?
Team Silver Linings Playbook joins forces with Team Fighter (sans Wahlberg) to dabble in the luxurious world of art forgery in this brief trailer for David O. Russell's next, American Hustle, with Bradley Cooper, Christian Bale, Amy Adams, Jennifer Lawrence, Robert DeNiro, Louis CK, Jack Huston, Alessandro Nivola, Michael Pena and Elizabeth Rohm.
Lowry? Has anybody seen Sam Lowry? Er, sorry, that would be Mitty, as in Ben Stiller's adaptation of James Thurber's The Secret Life of Walter Mitty, with Stiller, Kristen Wiig, Sean Penn, Adam Scott, Patton Oswalt, and Shirley MacLaine. I have to admit, this looks much fresher than I anticipated. Definitely maybe.
A terrible accident, an unexpected boon, and A Simple Plan all add up to another bad day for Sam Rockwell in the trailer for David Rosenthal's A Single Shot, also with William H. Macy, Jason Isaacs, Jeffrey Wright, Kelly Reilly, Ted Levine, Melissa Leo, and W. Earl Brown. A great cast through and through, but you had me at Rockwell.
And if you need another reason to worry about Found Money, Alice Eve gets into trouble with the Russian mob, in the form of Bryan Cranston, in the trailer for Cold Comes the Night, also with Logan Marshall-Green. If nothing else, it'll be good for Cranston to get some more menacing reps in before signing up with LexCorp (although, in that department, Mark Strong's a solid choice as well.)
Where's a mermaid when you need one? Tom Hanks is in considerable peril on the sea in our second look at Paul Greengrass' Captain Phillips, also with Catherine Keener, Max Martini, Yul Vazquez, Michael Chernus, Chris Mulkey, Corey Johnson, David Warshofsky, John Magaro and Angus MacInnes.
I thought Greengrass' most recent film, 2010's Green Zone, was an overly preachy dud — I get annoyed with edutainment that aggressively berates me to endorse opinions I already hold. (I'm looking at you, Aaron Sorkin.) But Greengrass has a lifetime pass after United 93, Bloody Sunday, and the Bournes, so hopefully this is a return to form.
Thor Odinson, meet Clarice Starling: In a tight spot with a new Big Bad, Earth's mightiest Asgardian (Chris Hemsworth) is forced to enlist help from his brother in the joint in the second trailer for Thor: The Dark World, also with Tom Hiddleston, Natalie Portman, Christopher Eccleston, Idris Elba, Anthony Hopkins, Rene Russo, Jaimie Alexander, Kat Dennings, Stellan Skarsgard, and Ray Stevenson.
After The Dark Knight, Skyfall, and ST:ID, I'm not sure we need any more villains unfolding their master plans from behind prison bars this decade — Heck, even Loki himself was doing this same shebang in The Avengers last year. Still, the first Thor was better than expected, and Marvel's on a pretty consistent streak at the moment. I'm in.
I also thought the Nick Stoller's 2011 reboot of The Muppets was decent enough, but I'm not getting good vibes at all from this first teaser for James Bobin's Muppets: Most Wanted, with Ricky Gervais, Ty Burrell, Tina Fey, Salma Hayek, Frank Langella, Till Schweiger, Debby Ryan, Danny Trejo, Ray Liotta, and Christoph Waltz. Early yet, and I do like Stoller and Bobin's prior output, but right now this looks like it'll hit at about Smurfs 2 level.
So, yeah, Harrison Ford hasn't gotten all that much better at voiceovers since Blade Runner, has he? Anyway, there's also a new trailer for Gavin Hood's Ender's Game, also with Asa Butterfield, Ben Kingsley, Viola Davis, Hailee Steinfeld, Abigail Breslin, and a ridiculous number of clichés (the Inception BWOMP, "We're running out of time," etc.) Everyone wants a Ford comeback, but it's hard to imagine this one getting my money, even if Orson Scott Card wasn't a jackass. Oh well.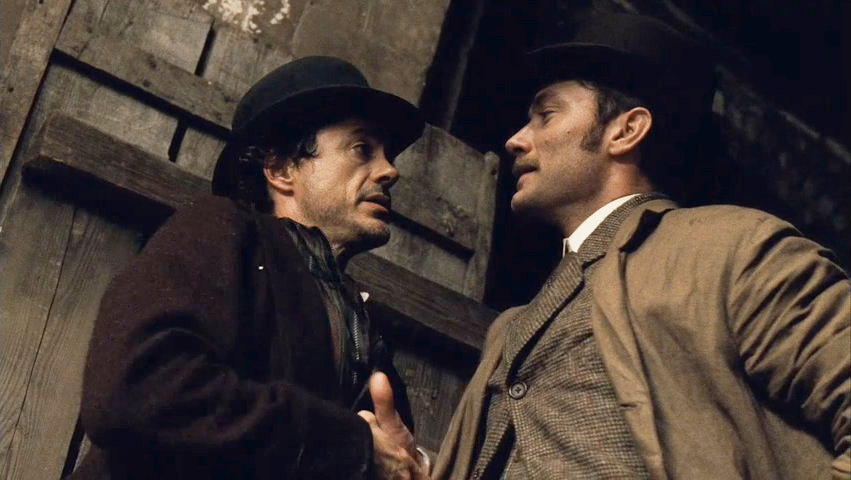 Now that the book has been closed on the
Curious Case of the Lengthening Decade Retrospective
, time to get back to a few last holdovers from 2009 not quite superlative enough to make the
end of year top twenty
. First up,
Guy Ritchie's summer-movieish revamp of Sherlock Holmes
, which was…more enjoyable than I expected, frankly. While it has elements that don't work — most notably Irene Adler and too much future-tech — it's actually quite a bit more Holmesian than I originally surmised, and not bad at all for a holiday popcorn film.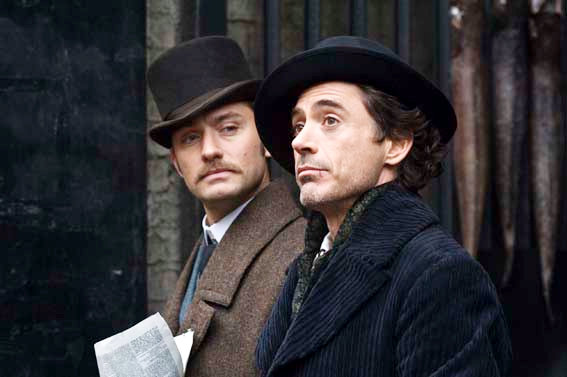 Ok, yes, this is basically just Sherlock Holmes as summer-movie superhero. Here, the famous detective of 221B Baker St. — now the "world's greatest detective" in the Batman sense — has lost the trademark deerstalker and calabash. Here, he's a boxer and martial arts expert, and these fighting skills are put to work as often as his talent for masterful observation. And, yes, in the climactic scene, as per summer-blockbuster tradition, Holmes actually fights the Big Bad — the insidious Aleister Crowley wanna-be Lord Blackwood (Mark Strong) — mano a mano atop the yet-to-be-completed Tower Bridge.
This may all rankle some purists with fond memories of Basil Rathbone and the like. But I thought it all worked out decently well, and in fact this Victorian-era Batman incarnation of Holmes seems — to me at least — to be pretty close to Sir Arthur Conan Doyle's original vision. (Replace the Tower Bridge with Reichenbach Falls, and Blackwood with Professor Moriarty, and all of the changes above hew to the Holmes of the stories.) And, while I'm no doubt a beneficiary of very low expectations for this project — the 'splosion-ridden trailers made it look really dumb — this Sherlock Holmes actually spent more time utilizing his vaunted skills of deduction than I expected going in. (This also allows Ritchie to favor one of his favorite cinematic tricks from Snatch and Lock Stock — showing the same event multiple times until the "real" story is told.)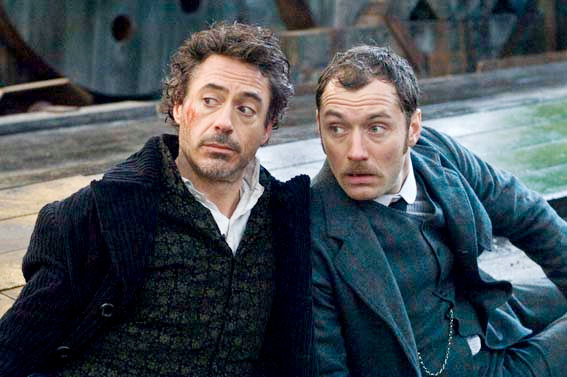 In fact, I actually like some of the characterizations here in this Holmes. Thankfully not at all reminiscent of Tony Stark (even when he's for-some-reason rocking sunglasses in a Victorian graveyard), Robert Downey, Jr. here makes for a quality master detective, all in all. He makes Holmes' eccentricities seem like an organic outgrowth — or even an unintended consequence — of his intellectual gifts, rather than just grafted-on character tics. (I particularly liked the Superman-ish conceit, before dinner with the future Mrs. Watson (Kelly Reilly), that Holmes has trouble filtering through all the information he's picking up at all times.)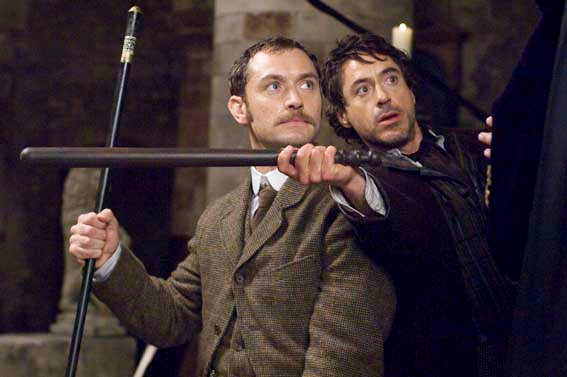 And, while the bromance aspect here is probably overemphasized (it definitely made the Doyle estate blanch), I like that this Dr. Watson (Jude Law) brings certain things to the table that complement Holmes' strengths. Watson is not just a bumbler here but an invaluable #2 — he's not bad at detection himself, he can hold his own in a brawl, and he helps keep Holmes focused on the task at hand. Sure, one could argue that Ritchie et al have basically just made Dr. Watson the Robin to Holmes' Batman, but, again, this felt closer to the mark of the original stories to me. (Although, speaking of grifting from the Dark Knight, I thought the sequel-setup involving Professor Moriarty here at the end was way too reminiscent of the Joker foreshadowing in Batman Begins.)
Are there problems with Sherlock Holmes? Oh, most definitely. For one, like I said, Holmes and Watson fall ass-backwards into situations requiring fisticuffs entirely too often to be plausible, which amplifies the action-movie stupid of these proceedings. For another, I think Rachel McAdams is usually both a very good and very fetching actress. But she seems entirely too young for the role of Irene Adler, Holmes' match in wit, intellect, and derring-do. To switch tracks for a moment, Adler is the Marion Ravenwood to Holmes' Indy, and, as such, this was a part screaming for the likes of Cate Blanchett or Tilda Swinton — someone closer to Downey's actual age. (For that matter, they should've given her more to do than just be a damsel in distress, but that tends to be a hazard of the genre.)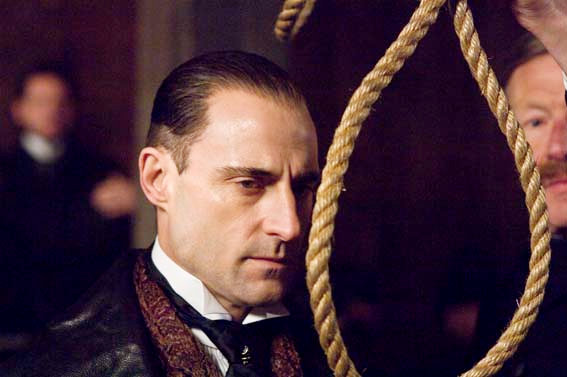 Finally, and this is where Ritchie's film really sorta lost me in the end, the technology involved in this story should also have been (Victorian) Age-appropriate. At one point early on, Holmes is seen working on a silencer…that doesn't quite silence. Ok, that's fine, as it turns out "suppressors" went on the market not too long after this period. But Tasers? Cyanide canisters under Parliament that are operated by remote control? C'mon now, that's just lazy. I don't mind all the "secret potion extracted from dried rhododendrons found only in deepest Namibia"-type stuff, because the original stories went there rather often. But giving the otherwise great villain Lord Blackwood access to 21st century WMD-tech is just plain idiotic. The Hurt Locker this ain't.
So, my dear Watson, to conclude: If you approach Guy Ritchie's action-fable with appropriately dimmed expectations, and remain cognizant that we're traipsing about in summer blockbuster territory here, Sherlock Holmes is actually pretty worthwhile. I wouldn't go so far as to call it smart entertainment or anything. But, for what it is, Holmes is no embarrassment to its titular character, and you can probably count me in for the inevitable sequel. (Can't say I'm much feeling Brad Pitt as Moriarty, but Pitt might could sell me on it. Perhaps, like Holmes, I should widen my gaze.)