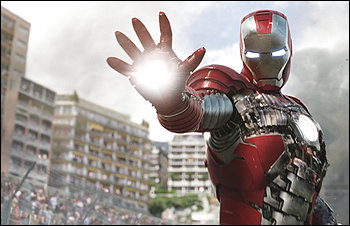 Alas, while
Tony Stark's original outing
was a smart and surprisingly fun thrill ride that kicked off its summer in grand fashion — put another way, it was the
Kick-Ass
of 2008 — I am sorry to report that
Jon Favreau's leaden, unwieldy Iron Man 2
falls back down to Earth. In short, it's basically the so-so, overripe, big-dumb-action flick I expected the first time around.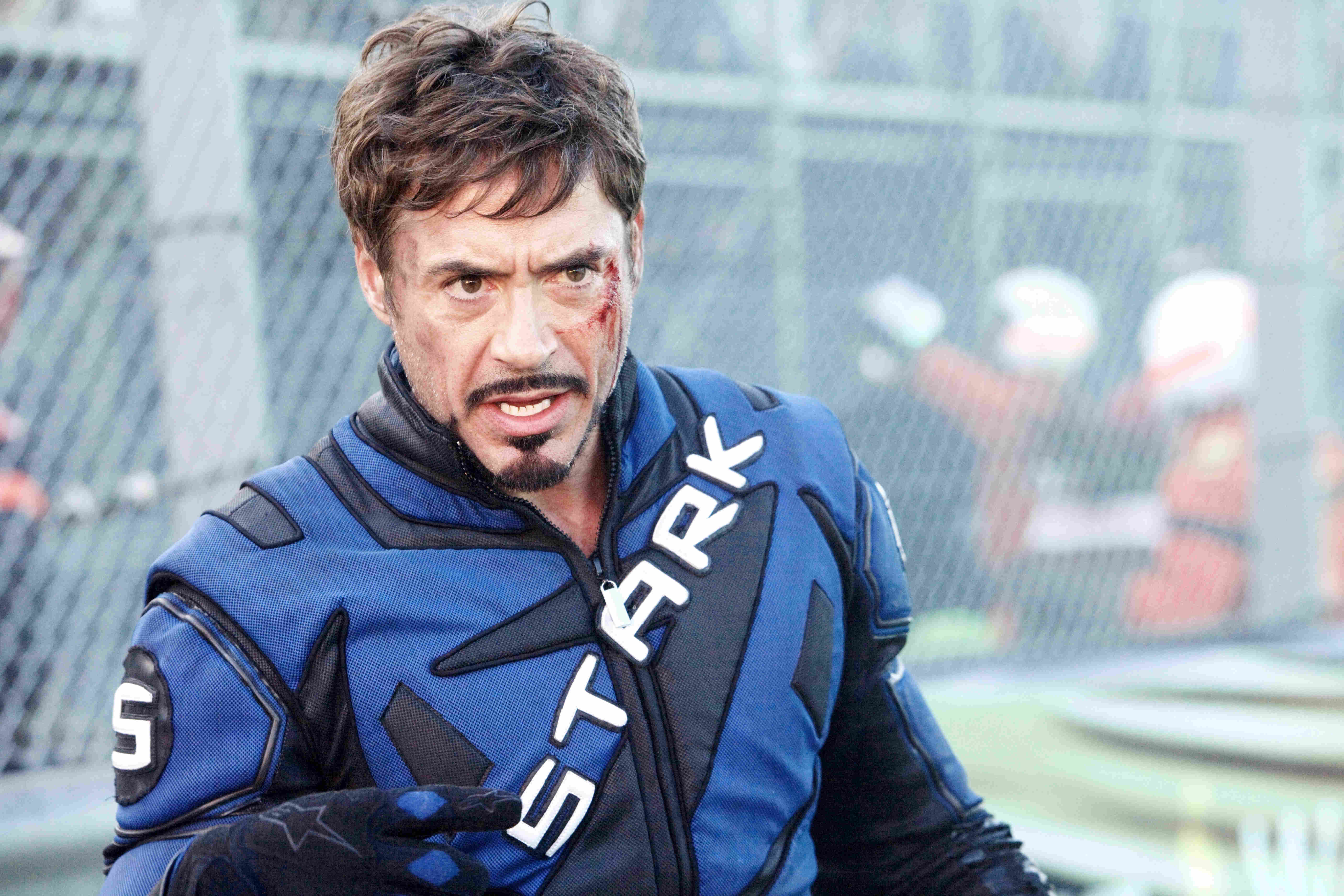 To be clear, the movie isn't an embarrassment — On acting alone, it's miles above recent big-budget studio dren like Alice in Wonderland or Clash of the Titans. But, if the first Iron Man soared, this one dutifully plods along, earthbound. Usually, comic book franchises, freed of their origin story, gain momentum in their second chapter — Superman II, Spiderman 2, X2, The Dark Knight. But here, unfortunately, we're closer to Quantum of Solace territory — after a promising opening round, both films relapse into the lazy writing and unseemly summer-blockbuster habits whose surprising absence had defined their first go-round.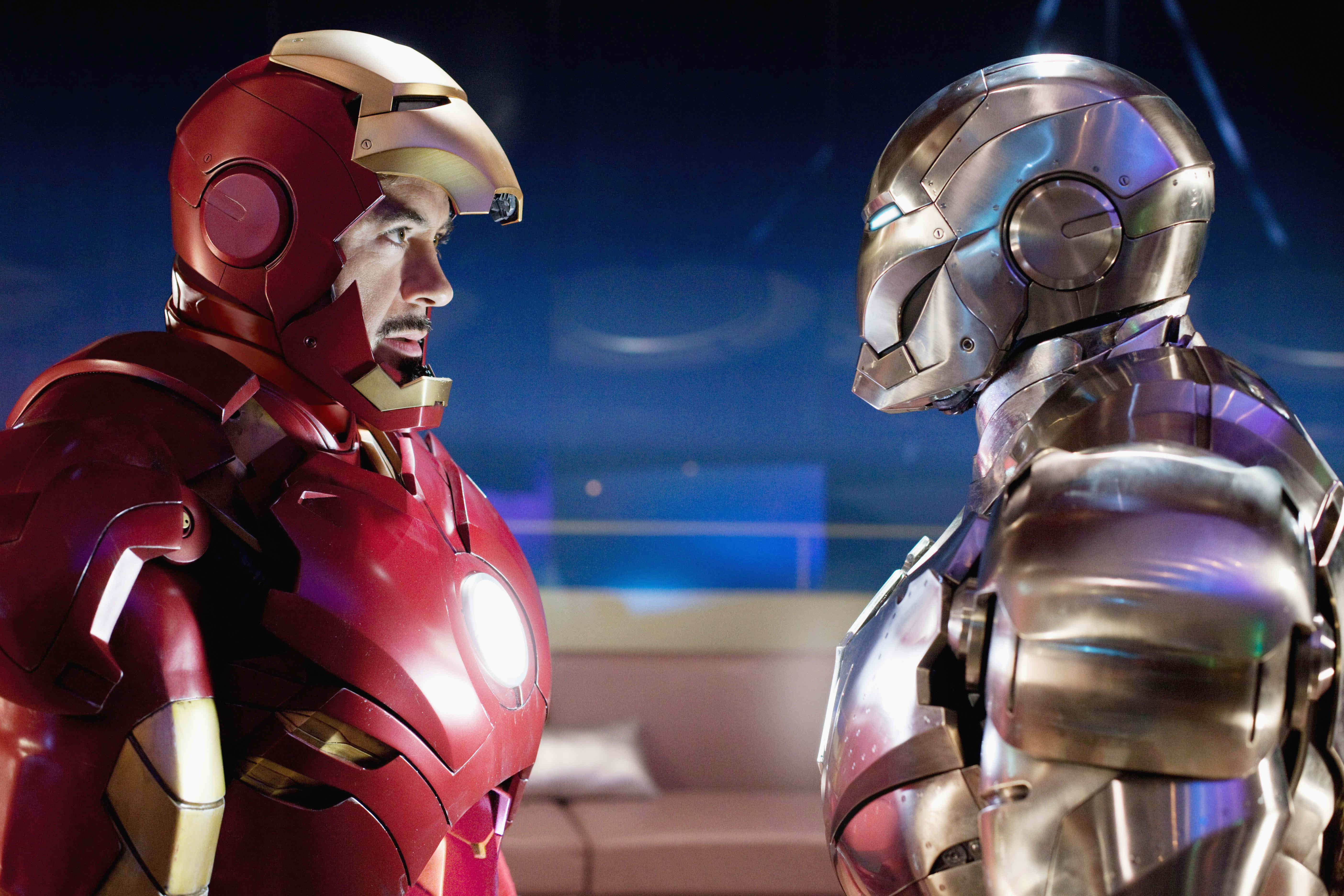 The thing that makes Iron Man 2 so maddening, and even kinda sad in the end, is that the powers-that-be clearly tried to capture the same lightning in a bottle that propelled the first one. As such, this movie feels like it was made by a committee, who sat down with Iron Man, a DVD player, and some notepads and tried to figure out exactly what made the first one tick. Then they took the various strands they came up with, made each one bigger-faster-stronger, and tried to recombinate them for Iron Man 2. Blammo, we have a sequel!…Only, it doesn't quite work like that. That sort of reverse-engineering may work in advanced weapons manufacturing — but for movies, not so much. And, as a result, Iron Man 2 doesn't cohere nearly as well as the original. It feels disparate and shapeless and, well, rusty.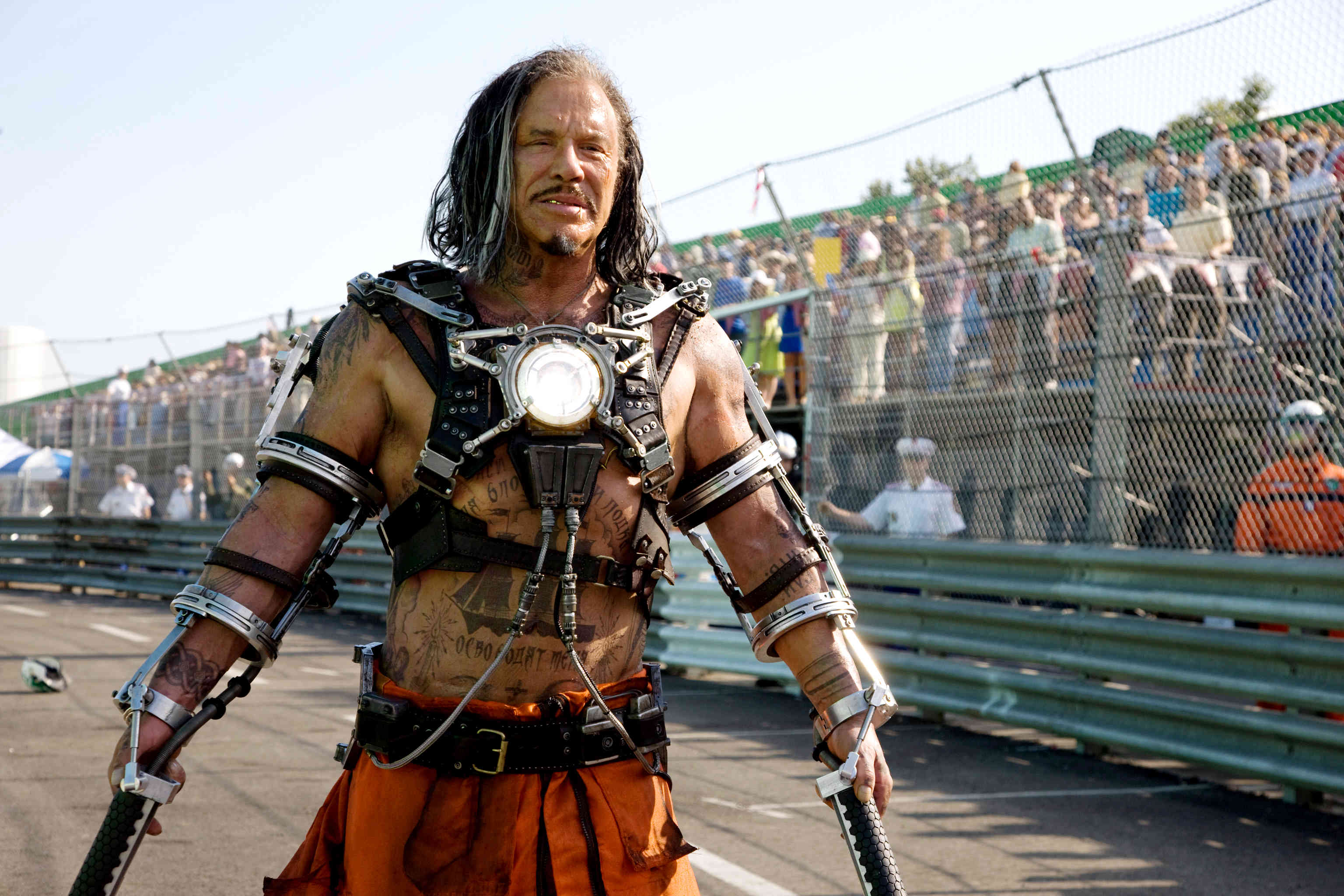 So, let's see here, we have Robert Downey, Jr. being charmingly egotistical, tossing off off-kilter line readings, wooing Gwyneth Paltrow, mouthing off to authority figures (this time, Senator Garry Shandling), and trading in on his troubled past to bring pathos to alcoholic billionaire Tony Stark. Check. We have a few exceedingly likable actors known for talent rather than bankability — Mickey Rourke, Sam Rockwell — in the villain roles. Check. We have lots of future-think computer displays in Tony's office, maybe a funny robot or two. Check. We have plenty of state-of-the-art military-grade hardware for the boys-and-their-toys crowd, and a bunch of random "Avengers! Coming-soon-to-a-theater-near-you" comic nods to keep the rest of the fanboys happy. Check. Oh, yes, 'splosions too, and don't forget the extra Bigger Robots Iron Man has to fight at some point. Check and check.
All the right boxes are checked off, and they even add a few more. (Hey, everybody digs Mad Men. Roger Sterling? Check!) And yet Iron Man 2 still ends up feeling more like an attempt to sell happy meals at Burger King and cups at 7-11 than an actual, full-fledged movie experience. Why? Well, I'm guessing it's because the film is undercooked. Simply put, the whole thing just feels like it was rushed out of the gate to make this 2010 release date, most notably in the writing department. Screenwriter Justin Theroux is a decent actor (Mulholland Drive, Six Feet Under), and he obviously scored a hit as one of three writers on Tropic Thunder (with Ben Stiller and Etan Cohen.) But, to say this plot has holes would suggest it's somehow more form than void in the end. As told, this film barely makes any sense whatsoever. You may have heard that Mickey Rourke recently admitted he doesn't know what the movie was about. Well, I sat through the durned thing, and I'm not sure myself.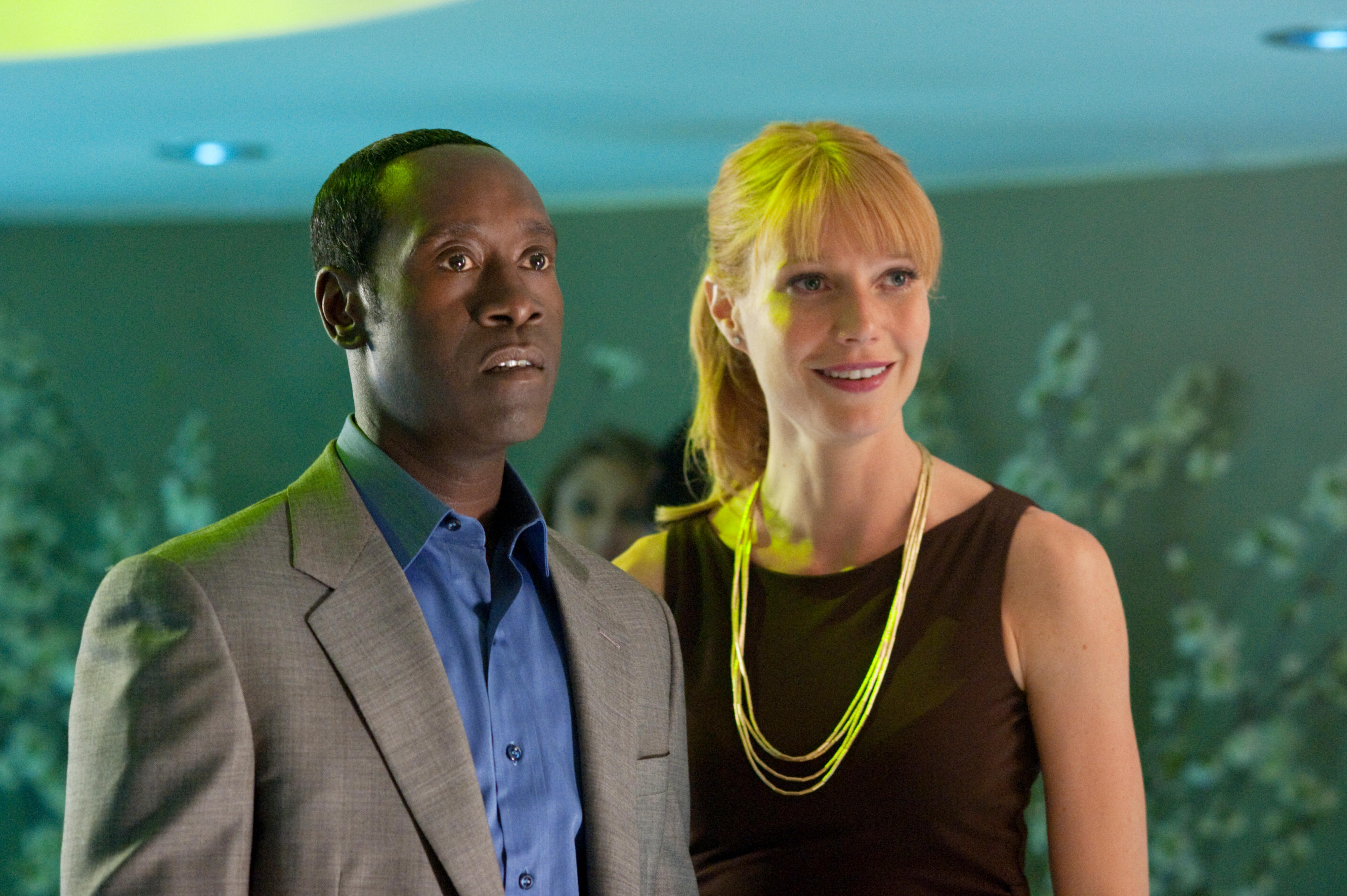 There's no point in nitpicking every little thing that doesn't make sense in Iron Man 2 — it's a fool's errand. But even by the lax standards one must accord a film about a guy in a flying metal tuxedo, it just doesn't hang together. You could wrestle over the basic plot points: What is Whiplash's plan here, exactly — just to hope he picks up a benefactor? How does he know Tony will be racing at Monaco, and how does he — or Pepper or Happy — get on the track? Why does Justin Hammer want shoes? For what crime do the cops go after him in the end? Or you can go bigger with it: Why is Pepper Potts the head of Stark now? Why is Rhodey so trusting of the Big Bads? You're kidding me with this new element stuff, yes? Why can the Black Widow turn off some suits and not others? For that matter, why is she even in this film? But the answer seems to be: Sorry, because that's all we could think of to keep the story moving along. Sheesh, get over yourself, will ya? Sit back, eat some popcorn, don't think so much.
Well, maybe they're right, but the beauty of the first Iron Man is that it was slick, smart, and reasonably self-contained — It hung together quite well, and you didn't have to turn your brain off to enjoy it. But this one's lumbering and bric-a-brac and all over the place in that summer-action-movie way, partly because I guess they wanted to top the first film, and partly because it's overburdened with all the random Avengers-prequel nonsense. See: Samuel L. Jackson as (nu-school) Nick Cage and Scarlett Johansson as the Widow. (I don't want to hate on Johansson too much, although I still think somebody like Olga Kurylenko was a much better fit to play a sleek Russian super-spy. Suffice to say, they didn't even give her an accent for some reason, and, when it comes to her big Trinity-ish action setpiece…well, I found Hit-Girl more plausible.)
So, is there a silver lining here? Well, Mickey Rourke isn't given near enough to say or do, but he's fun while he lasts. And, while Sam Rockwell may be slumming in a well-worn groove as "the guy who's not quite as cool as he wants to be" (Galaxy Quest, Zaphod), he just about steals the movie away every time he shows up. (Consider the scene where he's arming War Machine, and that business with the little nuke — a joke lifted from MIB's "noisy cricket," by the way.) So, there's hope for the franchise yet, if they keep up the quality casting and just spend a little more time putting it all together next time. The first weekend alone already suggests Iron Man 3 will be a go. Here's hoping Favreau, Downey, et al get the pieces in order first before embarking on part III. Gotta break that rusty cage, y'all.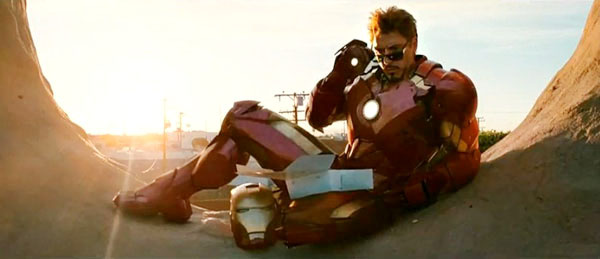 Hello again, and a happy New Year's Eve to you and yours. Well, I thought this Best of the Decade would end up being four parts, but now it's looking like five. The recaps for this last twenty-five got so long that MT seems to be consuming the bottom of the entry as I write.
So, with that in mind, here's #'s 25-11 for the Oughts, with the top ten of the decade to follow in due course. If you're new to this overview, be sure to check out part 1, part 2, and part 3 before moving on to the…
Top 100 Films of the Decade: Part IV: 25-11
[The Rest of the List: 100-76 | 75-51 | 50-26 | 25-11 | 10-1]
[2000/2001/2002/2003/2004/2005/2006/2007/2008/2009]
25.
Donnie Darko
(2001)
From the original review: "All in all, this is a marvelously genre-bending film with wonderful anchoring performances by the Gyllenhaals. I think I liked this movie much more for not knowing a lot about it going in, so I won't mention the particulars here. But it's definitely worth seeing. Extra points for the soundtrack, which with 'Head over Heels,' 'Love will Tear Us Apart,' and 'Under the Milky Way'…reminded me more of my own high school experience than any other film I can remember. (The Dukakis era setting helped, since that was my own eighth grade year.)"
I almost took this movie out of the top 25 on account of its association with Southland Tales and The Box, and even the director's cut of this film, which snuffs out a lot of this movie's weird magic by slathering it in needless Midichlorian-style exposition. As I said in my recent review of The Box, Donnie Darko seems to be a clear and undeniable case where studio intervention saved a movie.
Nevertheless, part Philip K. Dick, part John Hughes, Darko was a touching coming-of-age story (thanks in good part to Mary McDonnell and Holmes Osborne as Donnie's cranky but loving parents), a decently funny satire about the vagaries of small-town life (think Sparkle Motion, "sleep-golfing," and the Love-Fear axis), and a trippy sci-fi/psychological thriller. (Was Donnie really talking to a demon-rabbit from the future, or was he just off his meds? The original version muddles this question a lot better than the Kelly cut.)
Whether or not Richard Kelly just got struck by lightning here, everyone else involved clearly brought their A-game to this production. Two Gyllenhaals got on the Hollywood board with this flick, although Maggie would have to wait for Secretary to really break out. The Michael Andrews score contributed mightily to the proceedings, as did the Gary Jules cover of "Mad World," which got a lot of run in the Oughts, from Gears of War to American Idol. And there are plenty of quality performances in the margins, from the late Patrick Swayze riffing on his image, to Beth Grant typecasting herself for the decade, to Katharine Ross coming back for one more curtain call. Fluke or not, the original version of Donnie Darko was one strange and memorable bunny, alright.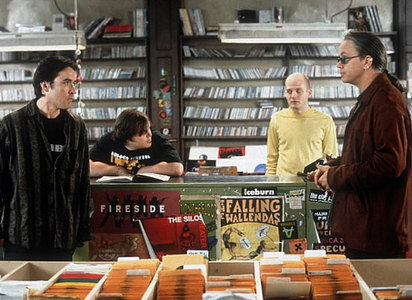 24.
High Fidelity
(2000)
From the year-end list: "An excellent adaptation of a great book, even if I preferred the Elvis Costello britrock emphasis of Hornby's tome to the indie Subpop scene of the movie."
"Charlie, you f**king b**ch! Let's work it out!" Arguably John Cusack's finest hour (although 1999's Being John Malkovich is right up there, and I know many might cite the Lloyd Dobler of old), Stephen Frears' adaptation of Nick Hornby's High Fidelity has continued to grow on me over the years. If it counts as one of David Denby's slacker-striver romances (see the discussion of Knocked Up at #40), it's definitely the one that hits closest to home for me.
The first thing people usually remember about this movie is all the Jack Black/Todd Louiso banter in the record store. ("It's a Cosssssby sweater!") And it's true — All of that stuff is both really funny and all too telling about the elitism and obsessiveness inherent to the fanboy mentality — "Don't tell anyone you don't own 'Blonde on Blonde'! It's gonna be okay." Besides, let's face it, this entire end-of-the-decade list is really just an extended High Fidelity-style Top 5 (and I had a great time back in July organizing my history books chronologically, a la Rob's record collection.)
Still, as with the book, High Fidelity's killer app is really the dispatches filed from Rob's romantic life, as he ponders what went wrong with his Top 5 Crushes gone awry. ("We were frightened of being left alone for the rest of our lives. Only people of a certain disposition are frightened of being alone for the rest of their lives at the age of 26, and we were of that disposition.") There's a lot of truthiness throughout High Fidelity, from Rob's catastrophic hang-up on Charlie (Catherine Zeta Jones) to his eff-the-world rebound with an equally besotted Sarah (Lili Taylor), to his single-minded infatuation about whether his ex, Laura (Iben Hjejle), has slept with the loathsome new boyfriend, Ian (fellow Tapehead Tim Robbins in a great cameo) yet.
In short, I'd argue High Fidelity gets the inner-male monologue closer to right than any flick this side of Annie Hall. In the immortal words of Homer J. Simpson, it's funny because it's true.
23.
In the Mood for Love
(2000) /
2046
(2004)
From the original review: "Since I spent Friday evening watching In the Mood for Love — a tale of a romance-that-almost-was, told in furtive hallway glances — and 2046 — a broader and more diffuse disquisition on love and heartache — back-to-back, here's an