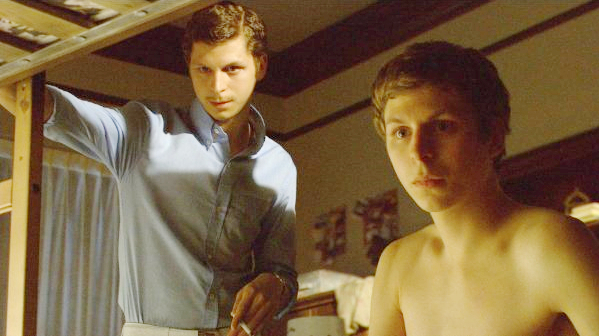 And now to
the third
and final
film of last Friday's quality triple-feature,
Miguel Arteta's solidly entertaining Youth in Revolt
, based on the novel by C.D. Payne. (I haven't read this book, but judging
from its Wikipedia entry
and a la
A Single Man
last week, it sounds quite different.)
As I said back over in the Daybreakers review, my view of all three of these back-to-back-to-back movies is pretty similar — Each accomplishes what it aspires to do pretty well. If you like clever, gory, unabashed B-movies, you'll enjoy Daybreakers. If you warm to the tics (and foibles) of Terry Gilliam unleashed, you'll probably like The Imaginarium of Dr. Parnassus. And if you find Michael Cera and his awkward attempts to score inherently amusing, you'll probably dig Youth in Revolt.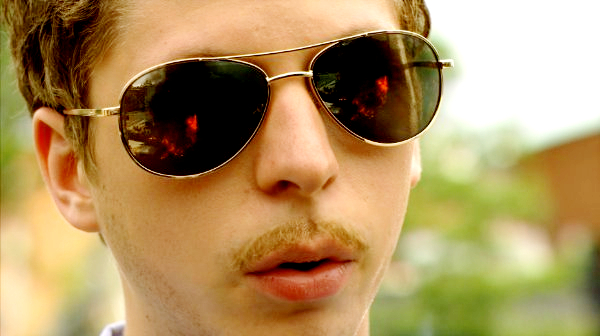 So, yes, this is another film in a long line of them where Cera, deeply uncomfortable in his own skin as usual, is trying to figure out What Women Want. (And, by that, I mean that, as in Superbad, he's frantically trying to lose his virginity once more, and, as in Juno, he may or may not succeed.) The wrinkle this time is that Cera has willfully concocted his own Tyler Durden to help him out — a lascivious, mustachioed, (creepily) blue-eyed Frenchman named Francois Dillinger. In other words, imagine Cera playing both his and the Jonah Hill role in Superbad. Or, to go back to the source, just pretend George Michael had another cousin other than Maeby, and he was Gob's kid.
So that's the basic gist. Cera's Nick Twisp has a few other hurdles to navigate — his mom (Jean Smart)'s worthless trucker boyfriend (Zach Galifanakis), his dad (Steve Buscemi)'s refusal to fund him, his neighbor (Fred Willard)'s general strangeness, his increasing problems with the law (as represented by cop-for-life Ray Liotta). But, mainly, he's just trying to get to know his new girlfriend Sheeni (Portia Doubleday) a bit better. And, to do that, he'll have to get past her uber-Christian parents (M. Emmet Walsh and Mary Kay Place), the considerable shroom collection of her older brother (Justin Long), the many impressive qualities of her other squeeze, Trent (Jonathan B. Wright), and all the long-distance problems involved. At least Nick has Francois aiding and abetting him in his shenanigans and providing that alpha-male tang when needed. But, as Nick fast discovers, there's a reason the real Dillinger died in a hail of lead.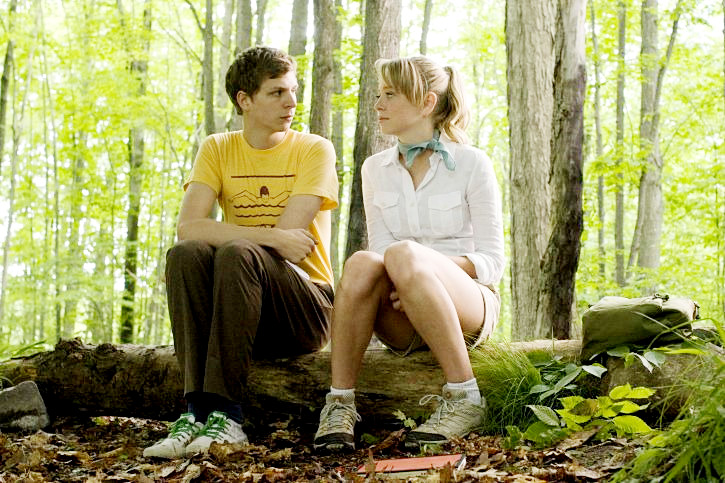 I know Michael Cera is verging on over-exposed right now, and I've also heard from several corners that people are tiring of him. Ok, fair enough. I kinda felt the same way going in, and I even skipped Nick & Nora's Infinite Playlist and Year One. But it didn't take long before Cera won me over again. The guy's got impeccable comic timing, and nobody — not even Anthony Michael Hall in his prime — does awkward teen quite as well. Scott Pilgrim vs. the World aside, I'm not sure how much longer he'll be able to milk this character — he's getting a bit long in the tooth at this point — but he's darn good at it. And, at least with Francois, he gets to play outside his usual sandbox for awhile.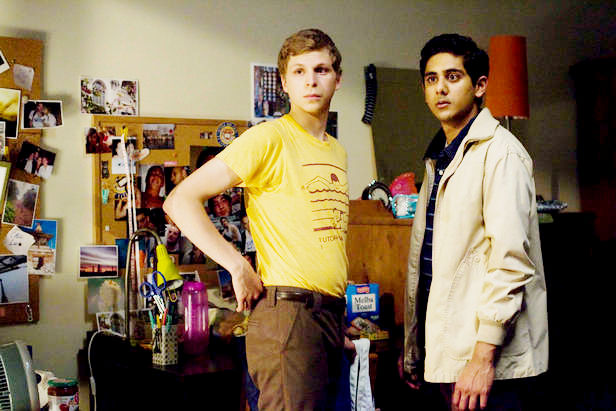 In the end, the occasionally bawdy, mostly good-natured Youth in Revolt reminded me less of Superbad or Juno than it did the John Cusack/Savage Steve Holland teen-classics of the '80s, Better Off Dead and One Crazy Summer. (This may be partly because, like the former, Youth in Revolt goes for the hand-drawn animated credit sequence.) And, you know what, Cusack pretty much always played the same guy back then too — you could argue he's still doing it now. So let's cut Cera a break already. After all, if we keep pushing him, he may up and pull a Francois and burn down the banana stand again later this year…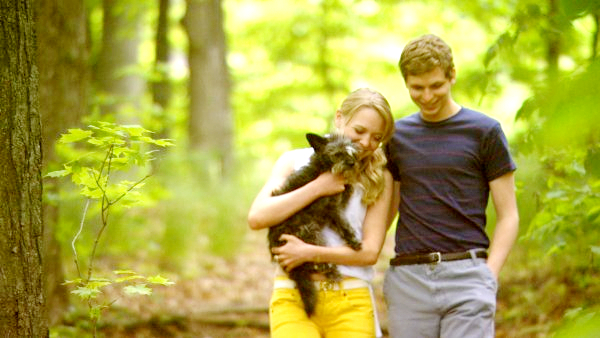 Some short thoughts on recent DVDs witnessed…
Dead Man: Many cinephiles whose opinions I trust have told me to check out Jim Jarmusch's stuff, so I figured a good place to start would be this black-and-white western featuring Johnny Depp and a slew of my favorite character actors. Alas, I found Dead Man to be slow, scattershot, and for the most part uninvolving. Depp is William Blake, a fellow who is forced to flee the frontier town run by an industrialist strongman (the late, great Robert Mitchum) after an unfortunate love-triangle mix-up, and who, despite being unrelated to the English poet and mystic of the same name, nevertheless encounters enough shamanist mysticism in the wilderness to make even Oliver Stone blush. Blake's tour guide on his increasingly bizarre escapades outside "civilization" is an Indian named Nobody (Gary Fisher), who speaks in riddle-like profundities (and, occasionally, passages from Blake) in the manner of filmed Native Americans since time immemorial.
Basically, I thought Dead Man was kinda goofy. It never established much of a rhythm or a narrative, and as an episodic travelogue, it's hit and miss. Billy Bob Thornton as a lonely trapper and Alfred Molina as a priest peddling smallpox blankets probably make the most indelible impressions, but other quality actors (particularly John Hurt and Gabriel Byrne) needed more to do. Frankly, I just don't think I got it. Why does long-winded, cold-blooded killer Michael Wincott sleep with a teddy bear? Why is frontiersman Iggy Pop dressed like a Willa Cather heroine? (Presumably, the answer for Jarmusch fans is "Why Not?" I suppose I could just as easily question David Lynch's dwarves or the Coens' similar non-sequiturs.) Perhaps I went in with abnormal expectations, but I found Dead Man's "funny" parts stiff and the "profound" parts stilted. I'll definitely get around to the rest of Jarmusch's oeuvre, but, sadly, this counts as a strike against him.
I'll Sleep When I'm Dead: Mike Hodges' reinvention of Get Carter was also a disappointment. It strives mightily to be a somber, Unforgiven-like tale of unfulfilling revenge and redemption denied, but turns out instead as a slow, plodding affair that feels a bit like Eyes Wide Shut, in that a great director's once-pioneering vision now sadly comes off as somewhat stale and antiquated.
The movie throws you in in media res, with pretty-boy n'er-do-well Davy Graham (Jonathan Rhys-Meyers) dealing to and scamming the London glitterati while his brother Will (Owen) seems to have taken a page from Matt Foley and is now, literally, living in a van down by the river. Very shortly, horrible, droogie-like things are done to Davy by none other than Malcolm McDowell, resulting in the former's suicide, and lean, mean wildman Will blows back into town to settle the score. The rest of the film consists of Owen slowly seething (to impressive effect) while his former mates and enemies cringe, cower, and — like us — await the inevitable denouement. It eventually happens, but lordy does it take awhile to get there. Jamie Foreman (soon to be Bill Sykes in Polanski's Oliver Twist) deserves marks as the Graham boys' flawed and frantic lieutenant, but otherwise there's not much to go on here. If you want to see Hodges direct Owen, rent Croupier instead.
Love Actually: Oof, where do I start? Ok, I knew going in that this probably wasn't going to be my cup of tea. But a good friend of mine had it sitting on his TV, he recommended it as "like Sliding Doors" (which, much like Next Stop Wonderland, was a romantic comedy that I really enjoyed), and it had a bunch of actors I like (Liam Neeson, Keira Knightley, Emma Thompson, Chiwetel Ejiofor, and much of Team Hitchhikers: Martin Freeman, Alan Rickman, and Bill Nighy.) But, as many of you probably already know, Love Actually is, actually, godawful dreck, a schmaltzfest of grotesque proportions. I was complaining about the occasionally saccharine taste of In Good Company only yesterday, but Love Actually makes that film look like Requiem for a Dream.
The film follows multiple couples in the weeks leading up to Christmas, and is set in an alternate universe where no love goes unrequited (among the beautiful, of course), at least without a wink and a kiss. In fact, in this Fairie-England, where Hugh Grant (doing his pre-About a Boy faux-self-effacing schtick) is the new Prime Minister, it's even considered somehow romantic to make an unabashed play at your best friend's wife. Look, I know I'm a cynical sort, but my heart warms to certain well-made fare. But this…um, not so much. From a wholly implausible joint press conference (Billy Bob Thornton cameos as a prez who combines the worst of Clinton and Dubya), to Grant cavorting around 10 Downing Street a la Risky Business, to Liam Neeson constantly interacting-cute with his Padawan stepson, to Colin Firth venturing to 19th century Portugal, to the, um, musical numbers, this film all too often made me want to claw my eyes out. Most of the time, I was hoping I'd see more of Bill Nighy, the movie's saving grace, as an aging rocker trying to make one, last improbable comeback with a sellout remix of The Troggs' "Love is All Around." But, by the end, even that storyline gets smothered in sugary sweetness. For the love, actually, of Pete, stay away from this lousy film.
Harold & Kumar go to White Castle: White Castle…hmmm, those are some fine little burgers, particularly in quantity. I haven't had a 12-pack of Slyders in a dog's age. In fact, I think there's a Castle a couple of blocks over at 125th and 7th. Man, how awesome would that be right now? I…I, uh…oh yeah, Harold & Kumar, right. Yeah, that was pretty a funny movie.
Admittedly, Harold & Kumar is for the most part a check-your-brain-at-the-door kinda film. For all of its clever 21st century savvy about 80's-movies racial tropes, H & K is still ultimately a lowest-common-denominator college comedy. Yet, while some of the vignettes definitely fall flat, I found Harold & Kumar just enough of a variation on the age-old After Hours road-trip formula to be really amusing. John Cho and Kal Penn are both charismatic and engaging as our wayward, famished, and thoroughly stoned protagonists, and Neil Patrick Harris earns special plaudits for showing up as himself (albeit more-than-slightly tweaked) and just going for it. All in all, I highly doubt H & K is everybody's bag, but — despite the gross-out gags and retro thinking — it is at times a rather intelligent dumb movie.