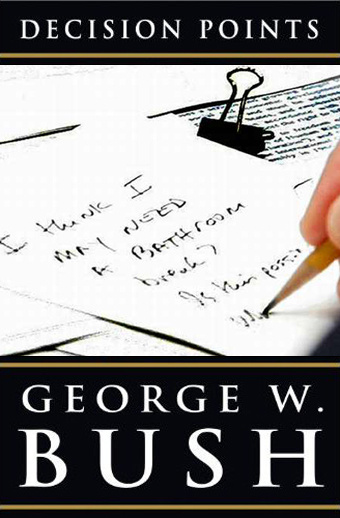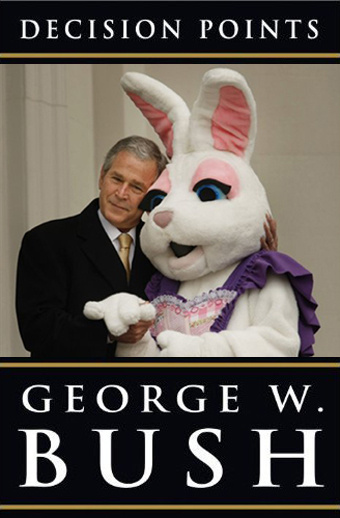 "Decision Point: Is it a good idea for me to land on an aircraft carrier in a flight suit with a sign that says 'Mission Accomplished'? Key Decision: How is it not a good idea?" On the announcement that former President Bush's forthcoming memoirs will be called, um, Decision Points, the wags at the Gawker crime lab have some fun with Photoshop. (Speaking of decision points, I will concede that it's very smart of the GOP powers-that-be to wait until the week after Election Day to remind America of the Dubya years.)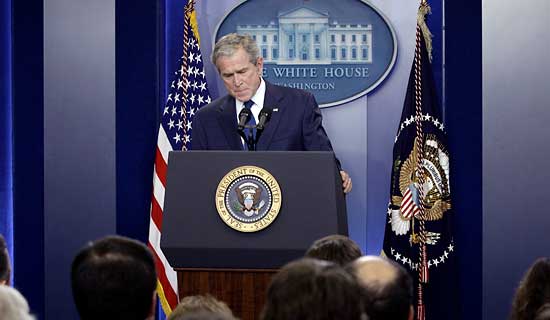 "I have often said that history will look back and determine that which could have been done better, or, you know, mistakes I made. Clearly putting a 'Mission Accomplished' on a aircraft carrier was a mistake. It sent the wrong message. We were trying to say something differently, but nevertheless, it conveyed a different message. Obviously, some of my rhetoric has been a mistake. I've thought long and hard about Katrina — you know, could I have done something differently…"
After eight long years, the end is in sight, and the Idiot Wind is at long last subsiding. For the 43rd president of these United States, George Dubya Bush, gave his final press conference today, during which he finally conceded that "there have been disappointments." Why, yes, yes, there have. "Abu Ghraib obviously was a huge disappointment during the presidency. Not having weapons of mass destruction was a significant disappointment. I don't know if you want to call those mistakes or not, but they were — things didn't go according to plan, let's put it that way." Um, yeah.
At any rate, don't worry: I'm sure we'll be getting one last round of 9/11, 9/11, 9/11 before closing time, when Dubya delivers his "farewell address" on Thursday. One can only hope that it turns out to be Eisenhoweresque, and not one more final, futile attempt to rewrite the history books. But I'm not keeping my fingers crossed.
"Let's be clear about why we're facing a crisis that could pull down the global financial system. The irresponsibility of individuals who bought houses they couldn't quite afford pales in comparison with the irresponsibility of the financial wizards who built on those shaky mortgages a towering edifice of irrational faith. Someone in the government should have looked at all those trillions of dollars' worth of mortgage-backed securities and collateralized debt obligations and credit default swaps and demanded that Wall Street prove that all, or even most, of this purported money was real. But we're in the eighth year of the Bush administration; adult supervision left the building long ago." — Eugene Robinson.
Boy, nothing like panic and near-catastrophe in the banking and financial sectors to turn all the stark raving free-market fundies redder than Eugene Debs on May Day, eh? In any event, once again we're on the verge of learning the hard way that Wall Street does a really lousy job of regulating itself, and that, when push comes to shove, it's the "don't-tread-on-me" entrepreneurial capitalists among us who are the first to beg for Big Guvmint to come in and bail them out — at above-market prices. "The only emergency is on Wall Street, and that is entirely of Wall Street's making. It was the banks that made the loans, the banks that bought the paper, the banks that dumbly believed the models that said that housing prices wouldn't collapse…How touching to see executives from the likes of Lehman Brothers, not normally an institution associated with widows and orphans, squawk about cutthroat tactics." And I don't seem to remember the economic Big Boys, or their mostly-GOP minions in Congress, show such concern about the vagaries of risk when the plight of ordinary folks was being discussed, vis a vis the egregious bankruptcy bill of 2005.
Of course, we can't just let many of our major financial institutions implode without consequence, and — even though delegating the Dubya administration any more "emergency powers" at this point seems like a colossally bad idea — it seems a given that something will have to be done to sort out all this out, and it will no doubt end up costing taxpayers and aggrieved homeowners a bundle. I just hope, when the dust settles, we remember this time how this all came about, and not just let the idiotic free-market fundies blather on about tax-and-spend liberals killing the entrepreneurial spirit every time some sort of regulatory apparatus is discussed in Washington. We know how that movie ends.
"'Our current regulatory structure was not built to address the modern financial system with its diversity of market participants, innovation, complexity of financial instruments, convergence of financial intermediaries and trading platforms, global integration and interconnectedness among financial institutions, investors and markets,' Paulson said this morning." Stick a fork in free market fundamentalism: In light of recent economic events, Dubya Secretary of the Treasury Henry Paulson proposes a massive overhaul of the nation's regulatory apparatus. The plan, which among other things bolsters the powers of the Fed and phases out the SEC, isn't getting the most favorable reception from Dems thus far. Said Chris Dodd: "Regrettably, the Administration's blueprint, while deserving of careful consideration, would do little if anything to alleviate the current crisis — which was brought on by a failure of will." Still, with even Team Dubya and its allies signing off on the need for it, regulatory reform of Wall Street and financial markets looks to be on the table to stay, one way or another.
"The Wall Street titans have turned into a bunch of welfare clients. They are desperate to be bailed out by government from their own incompetence, and from the deregulatory regime for which they lobbied so hard…It's just fine to make it harder for the average Joe to file for bankruptcy, as did that wretched bankruptcy bill passed by Congress in 2005 at the request of the credit card industry. But the big guys are 'too big to fail' because they could bring us all down with them." After the Bear Stearns deal and all it would seem to portent about the condition of the Dubya economy, E.J. Dionne reads the riot act to free market fundies.
In related news, WP's Dan Froomkin's notes how Dubya's handling of the economy is now being compared to the aftermath of Katrina. 'As the storm clouds gathered, was President Bush once again asleep at the wheel? A consistent theme in today's political and economic coverage is that Bush's failure to recognize the severity of the ongoing financial crisis and act accordingly is reminiscent of his disastrously slow and inept response to Hurricane Katrina….'As with the war in Afghanistan, the Iraqi war aftermath, the Hurricane Katrina disaster and current efforts at Mideast peace, investors are concerned that the president is responding too late and with inadequate understanding, resources and creativity.'"
"We have no choice but to approve it. If we fail to raise the debt ceiling soon, the U.S. Treasury will default for the first time in its history." Here we go again: The Senate votes 53-42 to raise America's debt ceiling by $850 billion "to $9.815 trillion, the fifth increase in the U.S. credit limit since President George W. Bush took office…[This,] the second largest since Bush took office, should be enough to last the government through next year's congressional and presidential elections. U.S. debt stood at about $5.6 trillion at the start of Bush's presidency."
"'What strikes me now is the degree to which the fairly fiscally irresponsible policies of the last six years have put Democrats in a box,' Mr. Greenstein said. 'They've got these large tax cuts in place, they have even larger fiscal problems in the coming decades and they have large unmet needs right now, such as 45 million uninsured people. Addressing all three of those things will be very difficult.'" The NYT discusses briefly how the 2008 Dems are planning to approach Dubya's tax cuts — As you might expect, everyone agrees that the giveaways to the tiny percentage of wealthiest Americans, those with incomes over $200,000, will have to stop. "'Yes, we'll have to raise taxes,' Mr. Edwards declared in February in one of the first statements by a Democratic candidate on the issue."