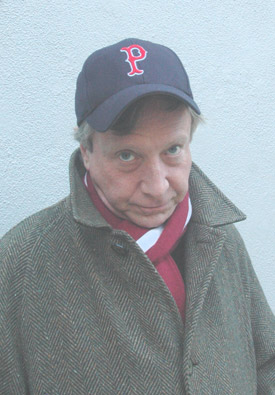 "The Obama campaign has yet to reach bottom in its race-baiter accusations…They promise to continue until they win the nomination, by any means necessary." Taylor Marsh, Ph.D? A Clinton supporter from Day One, he at first dismissed Obama as merely the newest in a long tradition of "beautiful losers," like Adlai Stevenson and Bill Bradley. (If you come 'round here often, you can probably guess that didn't sit too well with me. In fact, it's basically the same argument recently made by friend and colleague David Greenberg, before he went the way of the Great White Hope.) Well, if today's TNR piece is any indication, historian Sean Wilentz only knows how to lose ugly. Despite the fact that Wilentz has been ranting worse than Krugman for most of this election cycle, I've been inclined to give him a pass, partly as a professional courtesy of sorts to a well-esteemed historian of whom I once thought quite highly, and partly because of his well-publicized Dylan fandom. Well, no more. Wilentz has been writing increasingly blatant pro-Clinton spin pieces throughout the campaign, which is his wont as a Clinton supporter, I suppose. But here he's penned a shrill and intemperate screed which, frankly, is more embarrassing than anything else. It's the type of angry, weirdly conspiratorial rant you'd expect to be written by an anonymous, and possibly drunk, Salon poster, not one of the more venerable American historians in the profession.
Am I overstating the case? Well, let's take a look at some of the spleen-venting on display here: "After several weeks of swooning, news reports are finally being filed about the gap between Senator Barack Obama's promises of a pure, soul-cleansing 'new' politics and the calculated, deeply dishonest conduct of his actually-existing campaign. But it remains to be seen whether the latest ploy by the Obama camp–over allegations about the circulation of a photograph of Obama in ceremonial Somali dress–will be exposed by the press as the manipulative illusion that it is." Calculated, deeply dishonest conduct? Ploy? Manipulative illusion? Tell us what you really think, Prof. Wilentz.
And that's just the first paragraph. It gets worse. Check out this unsightly sentence: "As insidious as these tactics are, though, the Obama campaign's most effective gambits have been far more egregious and dangerous than the hypocritical deployment of deceptive and disingenuous attack ads." Riiight. I really started to buy your case after that fifth negative adjective or so.
I'd spend time refuting Wilentz point for point if I thought he was trying to make a reasonable case here. But he spends most of the article just shrieking "race baiter race baiter race baiter!", punctuated with occasional whiny, Clintonesque accusations of pro-Obama media bias. (One of the many targets of Wilentz's wrath, Frank Rich, has recently pointed out the problems with that line of argument.) But, in general terms, in order to buy what Wilentz is selling here, you'd have to believe all of the following: