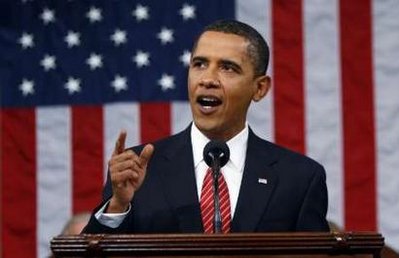 "That large-heartedness – that concern and regard for the plight of others – is not a partisan feeling. It is not a Republican or a Democratic feeling. It, too, is part of the American character. Our ability to stand in other people's shoes. A recognition that we are all in this together; that when fortune turns against one of us, others are there to lend a helping hand. A belief that in this country, hard work and responsibility should be rewarded by some measure of security and fair play; and an acknowledgment that sometimes government has to step in to help deliver on that promise.
"
As I'm sure you know, President Obama delivered his health care reform address to Congress last night. [Transcript.] My thoughts on it are mixed.
On one hand, speaking in terms of rhetoric, style, and delivery, this was an amazing speech, his best since the campaign days. While it's an open question how long its effects will linger, the address clearly and decisively helped move the reform ball forward. And the emotional closer, featuring Ted Kennedy's heartfelt final words to the President, was incredibly moving. In sum, it's the exemplary address we knew Obama had in him on this issue, and he brought it home perfectly.
But, all that being said, I can't shake the nagging feeling that [a] the policy being outlined last night didn't quite jibe with the wonderful speech, and, as all too common of late, [b] the president far too readily threw his left flank — the very people who sweat blood and tears to get him elected — under the bus.
To take the second part first, Obama early on indulged in an irritating and textbook case of Beltway false equivalence by setting himself up as the sensible middle between those cuh-rrrrazy single-payer types on the left and the free market fundies on the right. ("There are those on the left who believe that the only way to fix the system is through a single-payer system like Canada's…") Uh, yes, and not so long ago, Mr. President, you were among them. I feel like I've said this several times recently, but painting the left as dingbats to shore up one's centrist bona fides is a pretty tired parlor trick at this point, and it never gets any less insulting.
As an aside, on the way into work yesterday, I — and everyone else around the Metro — was accosted by guys in Grim Reaper costumes and bullhorns, telling us all, basically, that violence will erupt and we will all die if this health care bill passes. Y'know, there's a term for telling people they'll be killed if a political event happens — We call it terrorism. (As it turns out, there's a term for wearing a hood while telling people they'll be killed too.) Well, imagine my surprise to hear — from the president I've vocally supported for two years now — that me and my fellow clowns on the left are just as part of the health care problem as these jokers are on the right. I have to admit, it kinda tempers the enthusiasm.
And then there was the discussion of the public option. Yes, the President did make a case for the public option in last night's remarks: "[A]n additional step we can take to keep insurance companies honest is by making a not-for-profit public option available in the insurance exchange…It would also keep pressure on private insurers to keep their policies affordable and treat their customers better." In addition, the President correctly pointed out, "It's worth noting that a strong majority of Americans still favor a public insurance option of the sort I've proposed tonight."
But what the President giveth, the President also taketh away. The public option was clearly brought up in the speech after the non-negotiable section. ("While there remain some significant details to be ironed out, I believe a broad consensus exists for the aspects of the plan I just outlined.")
Indeed, in case we missed the point, President Obama later made it clear: "To my progressive friends, I would remind you that…[t]he public option is only a means to [an] end – and we should remain open to other ideas that accomplish our ultimate goal."
He then went on to float two "compromise" ideas that, for all intent and purposes, are public option killers: (1) a trigger and (2) co-ops. ("For example, some have suggested that that the public option go into effect only in those markets where insurance companies are not providing affordable policies. Others propose a co-op or another non-profit entity to administer the plan.")
The trigger notion — the idea that if the insurance companies don't fix the problem themselves, a public option would then be "triggered" into existence — is in effect, as one progressive well put it, a threat made with an unloaded gun. It's kabuki theater, pure and simple, because everyone knows that Congress never pulls the trigger in question. (See also the cost of prescription drugs in Medicare Part D.) As Slate's Tim Noah recently ably pointed out, triggers are used all the time as "compromise" fodder, and what they really mean is we're going to pretend to have addressed the problem and let things go on as they have. And, really, how much worse would insurance companies have to fail before this trigger kicked in? We're talking about health care reform right now because the system is already broken.
As for co-ops, there's a good reason they are the compromise that the insurance industry tends to favor. Most likely, they'll be too small, weak, and scattered to bring real competition to the market.
So, granted, we don't have a final bill yet, and there are many strong advocates of a public option in the House who will continue to fight for it. But, if the public option is as expendable to the administration as it seemed last night, then we may have some problems.
To wit, if a health care reform bill passes that has an individual mandate (i.e. everyone has to buy insurance), limited subsidies (to keep costs down), and no public option, than what's basically happening is this: People are being forced to buy insurance they likely still can't afford from the very private companies that are making vast amounts of coin from the current, broken system. If this sounds like a huge boon for private insurance companies, it is. (One might even start to think they had a hand in writing the legislation.) Yes, a larger risk pool should make health insurance cheaper — but without a public option keeping rates honest, what guarantee do we have that these savings would be passed on to the consumer?
Along those lines, President Obama also made the case last night for a tax on premium plans to help pay for reform. ("This reform will charge insurance companies a fee for their most expensive policies, which will encourage them to provide greater value for the money – an idea which has the support of Democratic and Republican experts.") But, again, without a robust public option holding the private industry's feet to the fire, what will stop said insurance companies from just passing these costs down the line, in the form of higher premiums across the board?
(I'll confess to being confused about this element of the plan anyway. The article I just linked on this premium plan tax says: "The hope is that employers would buy cheaper, less generous coverage for employees, thereby reducing the overuse of medical services." Uh…cheaper, less generous coverage for employees? That's a good thing? And I'm by no means an expert on these matters — far from it — but is "the overuse of medical services" really the main problem afflicting our health care system? It sounds a bit to me like "too many notes.")
All of which is to say that I really hope the substance of the final plan matches the beauty of last night's rhetoric. Now, I understand the counter-arguments: As Paul Begala recently reminded us, the Social Security Act of 1935 had serious problems too, and look how that turned out. The great is the enemy of the good. Politics is the art of the possible, etc. etc.
I don't disagree with any of that. But I also believe that leadership is the art of expanding the horizons of the possible. (Cue RFK: "Some men see things as they are and say why. I dream things that never were and say why not.") We always knew that the President is a master of oratory, and that he would move us all with his eloquence when the time came. But, in setting their sights so low on this bill, the administration, in my view, have come close to squandering both the historical moment and the president's once-in-a-generation gift.
A historical puzzle lingers over the entire health care reform enterprise at the moment: How is it, with a Democratic House, a filibuster-proof Democratic Senate, and a Democratic president, that the proposal for health care reform on the table basically remains to the right of Richard Nixon? (See also: The Family Assistance Plan.)
Well, the short answer, imho, is lack of meaningful campaign finance and lobbying restrictions. (A key problem that's about to get a whole lot worse.) But I would also argue in favor of another cause. For decades now, Democrats have tried to find that safe happy moderate middle, while Republicans — flaks, representatives and presidents alike — have willfully and consistently pushed that center to the right. The president's address, however magnificent and even moving at times, felt like another step in the same old vicious cycle. And at this crucial historical moment, I strongly believe it would be a better demonstration of "our American character" if we Dems — and this administration — showed the courage of our convictions in words and deed.