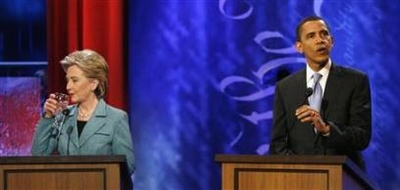 You don't need The Weathermen to know which way the wind blows: This thing is over, and has been for weeks and weeks now. But, ABC held a debate tonight in Philadelphia anyway, and, man, it was a tough slog. [Transcript.] Moderators Charlie Gibson and George Stephanopoulos endlessly trafficked in inanities. (The Weather Underground? Really?) Sen. Clinton found no level she couldn't passive-aggressively sink beneath: Cringeworthy throughout, she name-dropped Farrakhan and channeled 9iu11iani whenever possible (see, for example, her answers on Jeremiah Wright and Bill Ayers, and she got in Ahmadinejad's recent remarks as well.) And Sen. Obama seemed tired, a bit rusty, and, after 45 shallow minutes of idiotic gotcha, (justifiably) ticked. (But I thought he still came through in the clutch anyway.)
The only news made tonight? ABC is rather terrible at this whole debate thing. Tonight was basically a fiasco. From Stephanopoulos questioning Obama on flag pins to the tut-tutting about affirmative action to George getting questions from Sean Hannity to Gibson trying to wrest a "no new taxes" pledge from the candidates, virtually every minute tonight was occupied with trite Republican nonsense. Oh, and Gibson's dim remark at the Manchester debate that two-professor families make $200,000 a year was not a fluke. Apparently, the guy knows less about the economy than John McCain. Tonight he informed us that there "are a heck of a lot of people" making between $97,000 and $200,000 these days. If by "heck of a lot" you mean 14% of the US, well, ok. But some might consider 1 in 7 a rather small minority of the total population, and thus argue that our tax policy should keep the other, more-likely-to-be-struggling 6 out of 7 in mind. Sheesh…less than a week and our friends in the pundit world have already abandoned their newfound blue-collar bitterness.
At any rate, no news or game-changers to speak of. Sen. Obama is still our nominee, Sen. Clinton is still grappling with that fact. If you didn't watch this tonight, you chose wisely. Update: Having run ABC's gauntlet of idiocy, Obama brushes his shoulders off, puts distractions on notice, and says no to more debates.