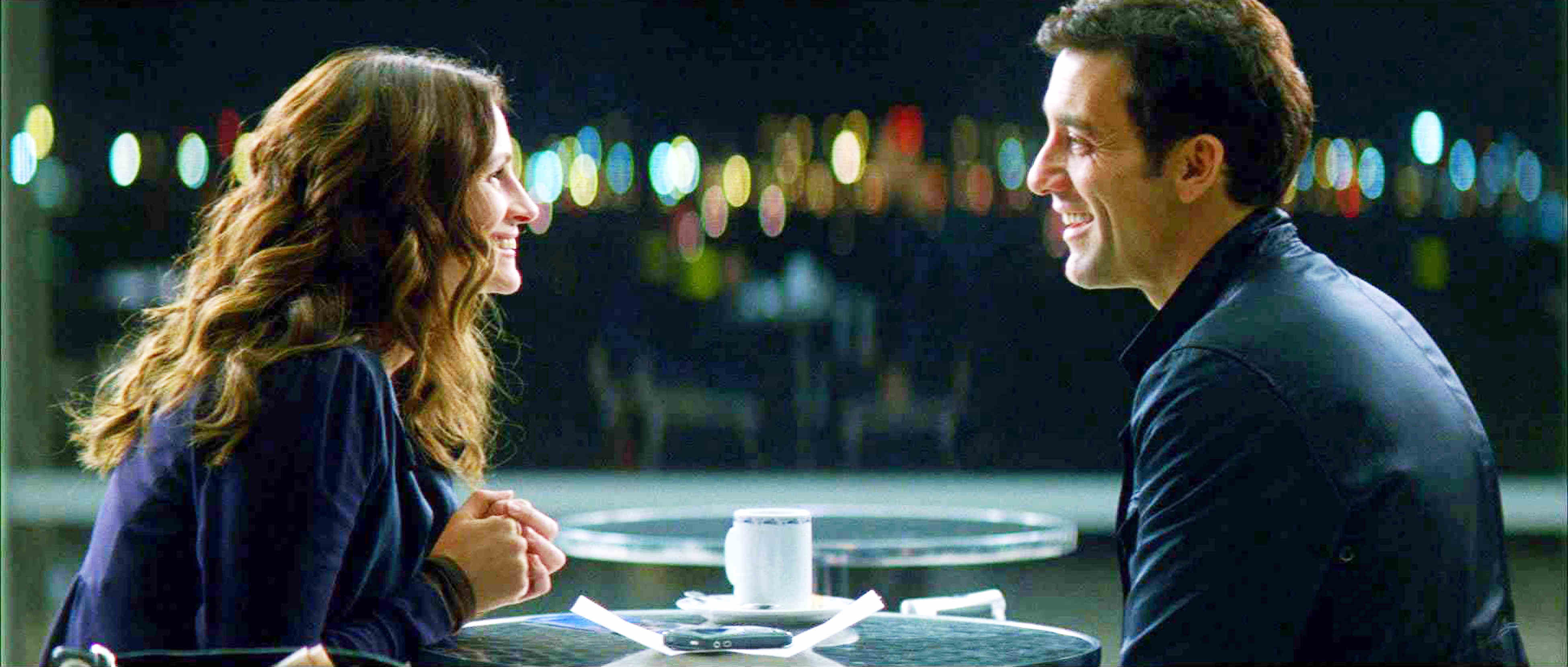 As per the norm of late, I seem to be well behind on both my movie-watching and movie-reviewing these days. (It's been awhile since Watchmen.) In an attempt to rectify the former, at least, I hit up the multiplex a few weekends ago with a decision to make. Eventually, and based mainly on which projected path would involve the least amount of downtime between shows, I decided to forsake an Apatow-ish afternoon with the old Freaks & Geeks gang (I Love You, Man, Adventureland, Observe and Report — still haven't seen any of those) in favor of the latest batch of conspiracy-minded thrillers. Well, at least one of 'em was worth it.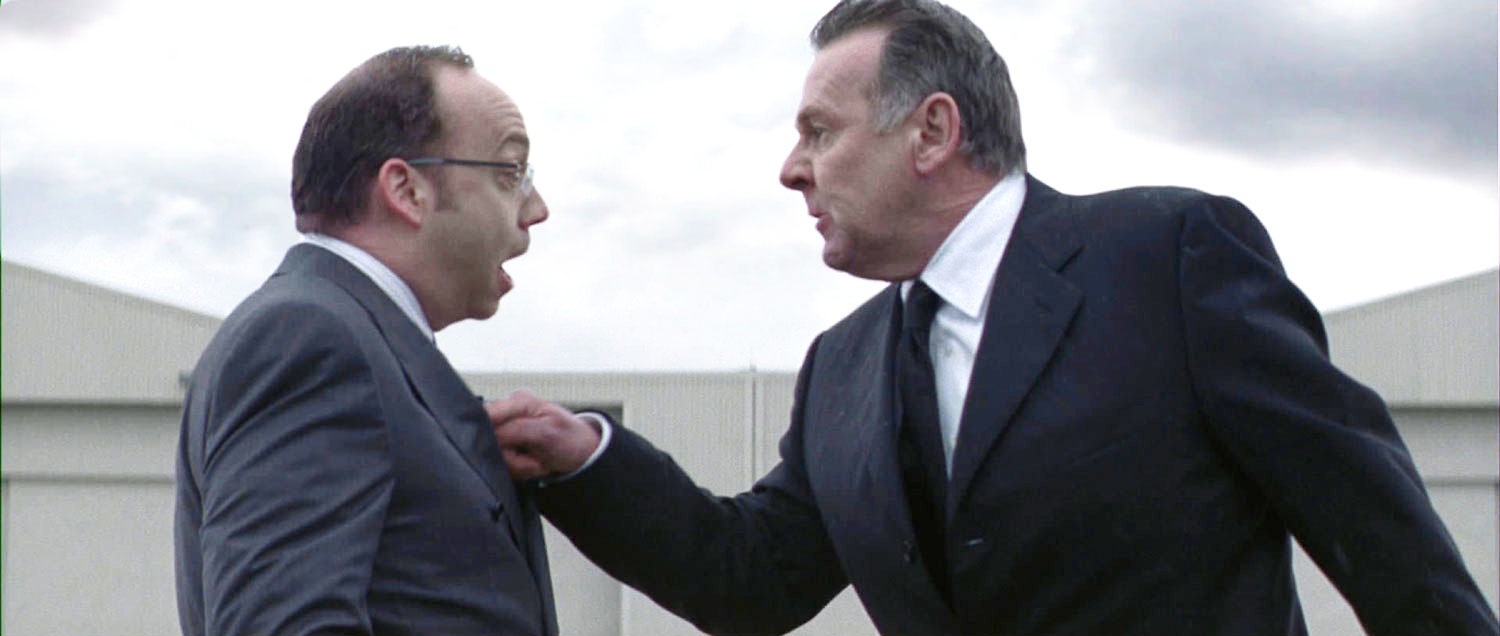 First up was Tony Gilroy's frothy but entertaining Duplicity, a tongue-firmly-in-cheek, corporate espionage rom-com of sorts that sadly didn't make much of a splash at the box office. After a meet-cute in Dubai involving MI-6 agent Ray Koval (Clive Owen) and CIA asset Claire Stenwick (Julia Roberts), we cut to rival cosmetics company CEO's Paul Giamatti and Tom Wilkinson going mano-a-mano like it's Paris in 1778. Both looking for a leg up in the cutthroat world of shampoo, hand cremes, and lotions — not to mention a chance to roundly humiliate the other in corporate combat — these two masters of the universe have invested enough into their respective espionage and counter-intelligence departments (run by Milk/Michael Clayton's Denis O'Hare and writer-director Tom McCarthy respectively) to make Mossad blush.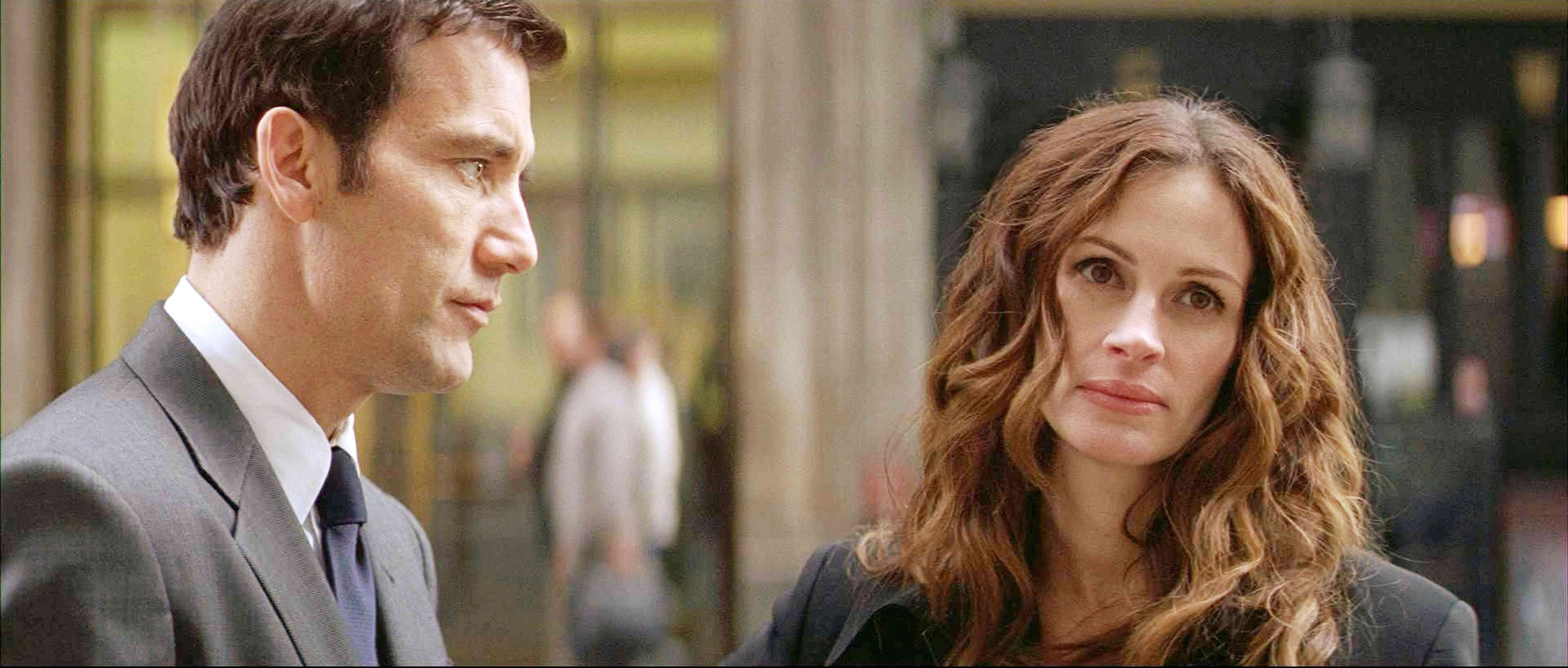 Enter (once again) top-notch professional spies Ray and Claire, who discover they've both been hired by Giamatti's intel outfit years after their earlier falling-out in Saudi Arabia. Will these two photogenic spooks be able to bury the hatchet long enough to fulfill their mission objective of screwing over Wilkinson good? Or was that particular hatchet perhaps buried on an earlier Roman holiday? As you might imagine from a movie called Duplicity (by the writer of the Bourne films, no less), nothing is what it seems at first. And most everyone, not the least our two protagonists, is playing more than a few angles.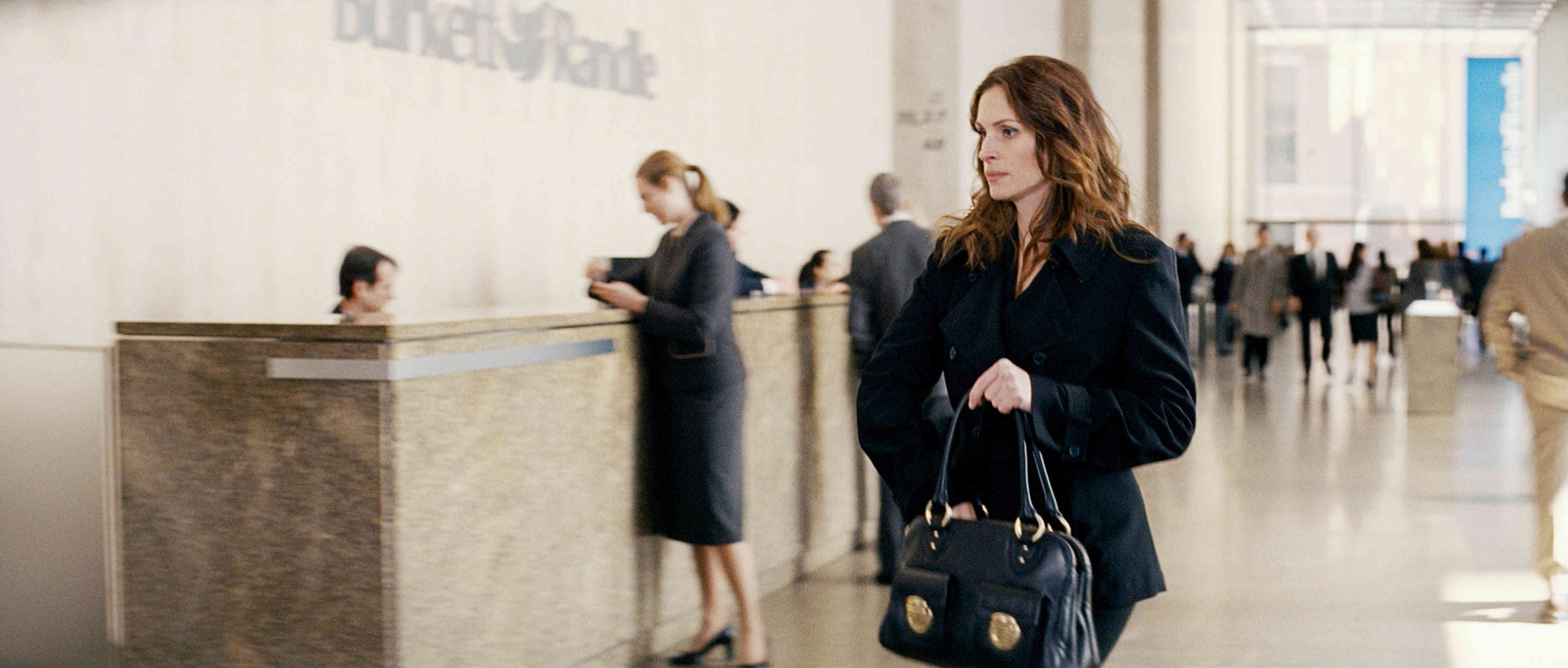 Blessed with charismatic performances from its two leads — I don't usually cotton to Julia Roberts much, but she's fine here — Duplicity is a jaunty bit of fun that mainly works because it doesn't take itself too seriously. Sure, the wheels-within-wheels of the plot don't quite always catch — They're often contrived and sometimes needlessly convoluted. (If anyone out there saw the movie, could you explain what the significance of the marked bench was? I missed it.) And some of the setpieces definitely take too long, and don't make much sense regardless. (See for example, the hunting-for-a-fax-machine sequence, which even the characters eventually call out as ludicrous.) But Duplicity gets away with much of this because it's so goofy and good-natured about it all. If the cosmetics angle didn't tip you off from jump street, the stakes of the game here are purposely hokey and overwrought — People talk about the MacGuffin here, a possible cure for baldness, like it's the Ark of the Covenant.
In the end, Duplicity is probably 15-20 minutes too long, its final couple of twists are pretty easy to see coming, and the film then spends too much time showing us all the myriad details we could've worked out on our own. But it's an amiable production through and through, and there are worse ways to spend two hours than watching Owen and Roberts sally sharp-edged barbs back-and-forth, debate the economic possibilities of frozen pizza, and occasionally tumble into the sack. At the very least, I didn't leave Duplicity feeling cheated.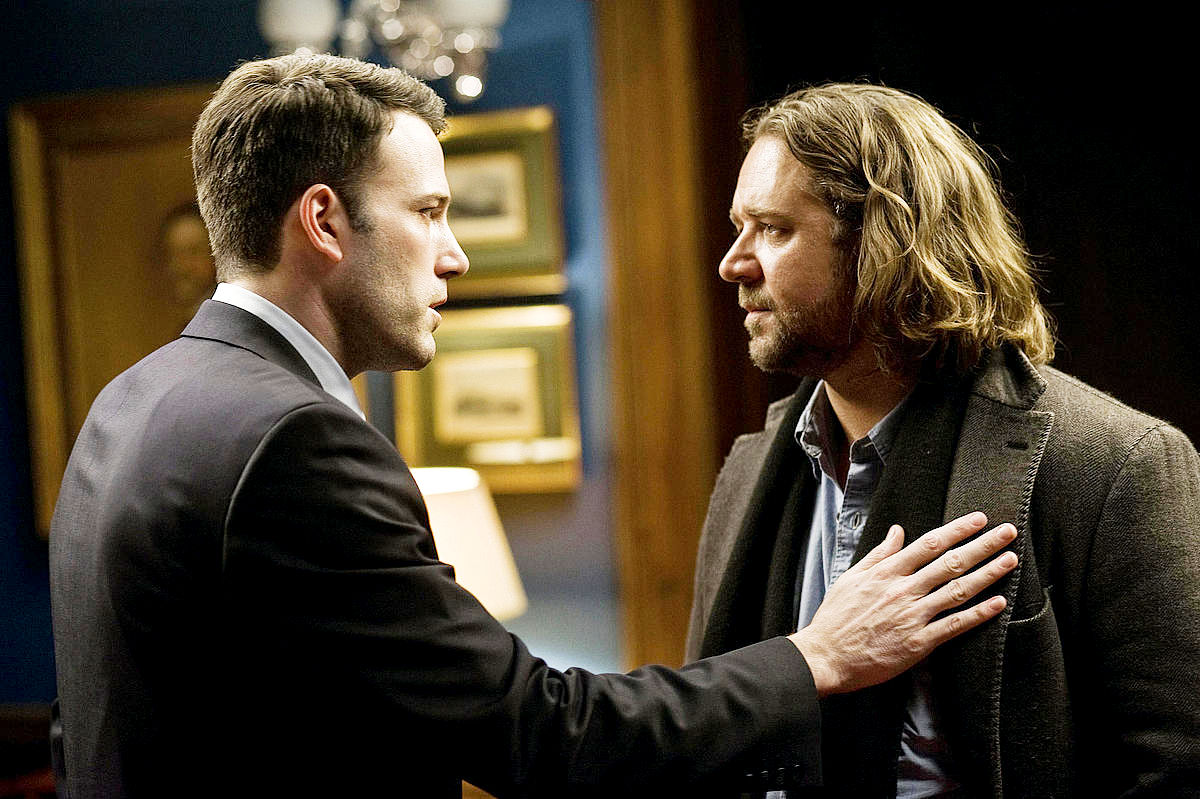 Which brings us to Kevin MacDonald's State of Play, a movie that was sorely lacking the state-of-play that exuded from every soap-scrubbed pore of Duplicity. No, this is a Big Serious Film, about Big Serious Issues, like Sinister Political Corruption and the Decline of Newspapers and such. Now, I unfortunately missed the original BBC miniseries version of this tale, but from the cast alone (John Simm, Kelley MacDonald, Bill Nighy, Marc Warren, James McAvoy, Polly Walker) I have to bet it's pretty good. But, as far as this American retelling goes, I found State of Play thoroughly ham-handed, mostly unbelievable, and often risible.
Darkness sets in early in State of Play, as the film begins with two seemingly unrelated deaths in our nation's capital. First, a homeless bagsnatcher is hunted down in Georgetown and — conspiracy alert — executed with a ruthless, professional precision. Then, a comely Capitol Hill aide falls in front of a subway train in the middle of morning rush hour. (DC-area folks might find themselves pondering why said aide walked through Dupont Circle and Adams-Morgan to board a train over in Roslyn, Virginia. Everyone else will just wonder why the fact she fell in a small security camera "blind spot" is so important when there had to have been several dozen eye-witnesses at the scene.)
We are then introduced to gruff, slovenly beat writer with a heart-of-gold Cal McAffrey (Russell Crowe), who lumbers around the rest of the movie like a newspaperman out of Sesame Street — he not only knows every single working-class-joe in the District, but they all seem to want to do him favors. The yin to McAffrey's yang over at the Washington Globe is Della Frye (Rachel McAdams), the smart, attractive, but unfortunately surface-skimming blogger at the new online desk. McAffrey and Frye are assigned to cover the two murders for the Globe respectively, but there's a catch. For the dead aide, it turns out, happened to be having an affair with her boss, the up-and-comer Rep. Stephen Collins (Ben Affleck), who was currently leading a congressional investigation into Pointcorp, a Blackwater-style private military contractor.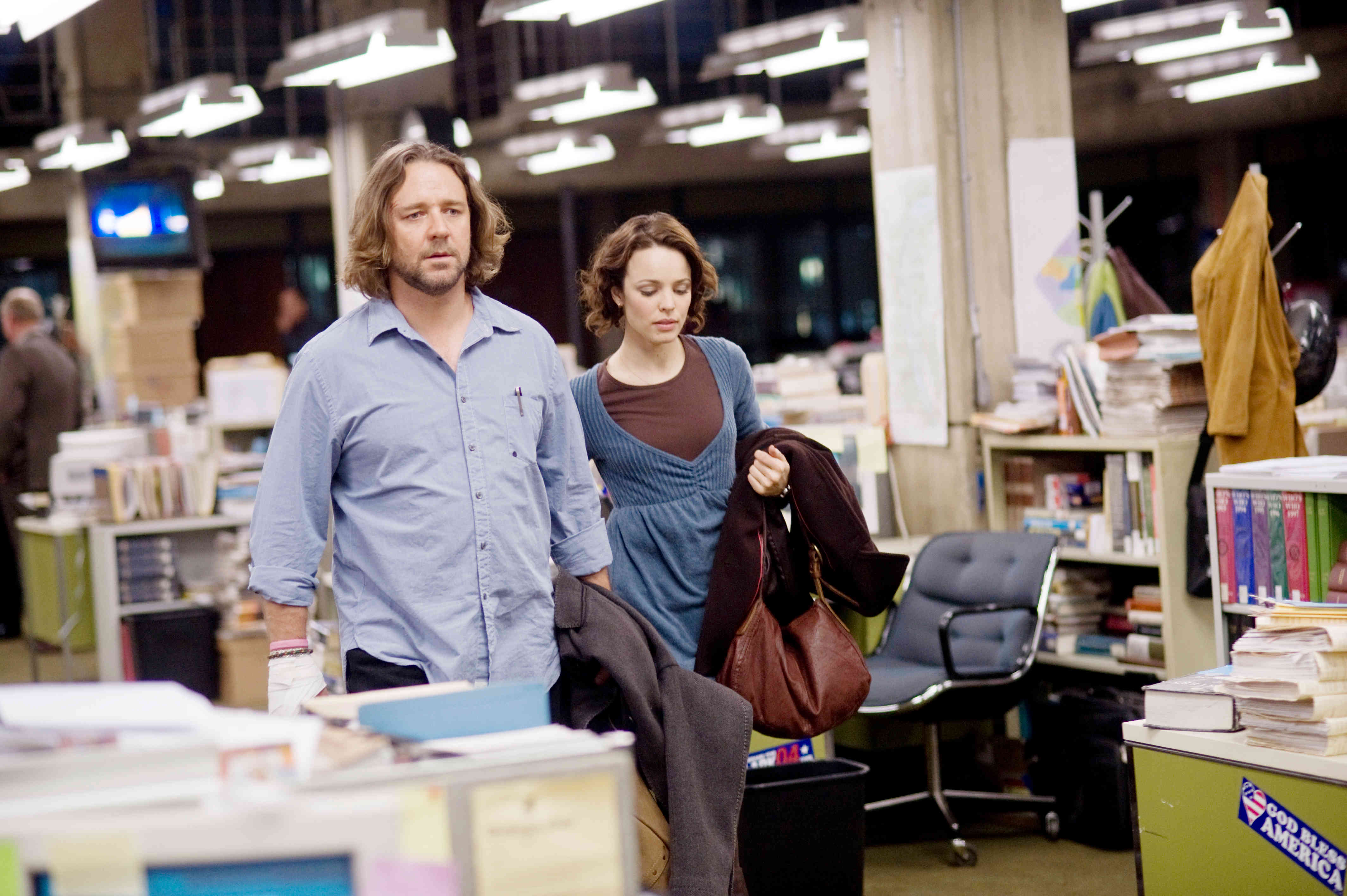 What's more, Rep. Collins was once none-other-than newsman McAffrey's college roommate, and, complicating matters even further, both have shared the attentions of the congressman's wife (Robin Wright Penn). Will Cal use his journalistic pull to smooth things over for his two old friends in the press? Will Della be able to renounce her bloggeriffic tendency to wallow in scandalous ephemera and find the real story buried here? And, when it comes out that the murders are inevitably linked and that there's something very Dark and Troubling going on in the corridors of Washington, will Cal take Della under his wing and find a way to make her a "real" journalist? I mean, that's how Dad did it, that's how America does it, and it's worked out pretty well so far.
Even with Brad Pitt and Ed Norton, who were originally cast as McAffrey and Collins respectively, gone from this production, State of Play has all the marks of a Big Important Film, including respected name actors popping up all over the place. The supremely talented Helen Mirren is passable as the hard-nosed, tough-talking editor/doyenne of the Globe, but she isn't done any favors by the script, which keeps forcing her into goofy, Prime Suspect-style exclamations of Britishness. Jeff Daniels has some fun as a smarmy, probably-Republican Senator ("Don't use the Lord's name in vain around me"), David Harbour of Revolutionary Road shows up as our slightly-off-kilter Deep Throat, Harry Lennix and Best Supporting Actress nominee Viola Davis briefly play a detective and coroner respectively, and Jason Bateman just about walks away with the film as an oily club promoter caught in the middle of all the shenanigans. (He plays it broad, and seems to be the only person involved who recognized what a B-movie this is.)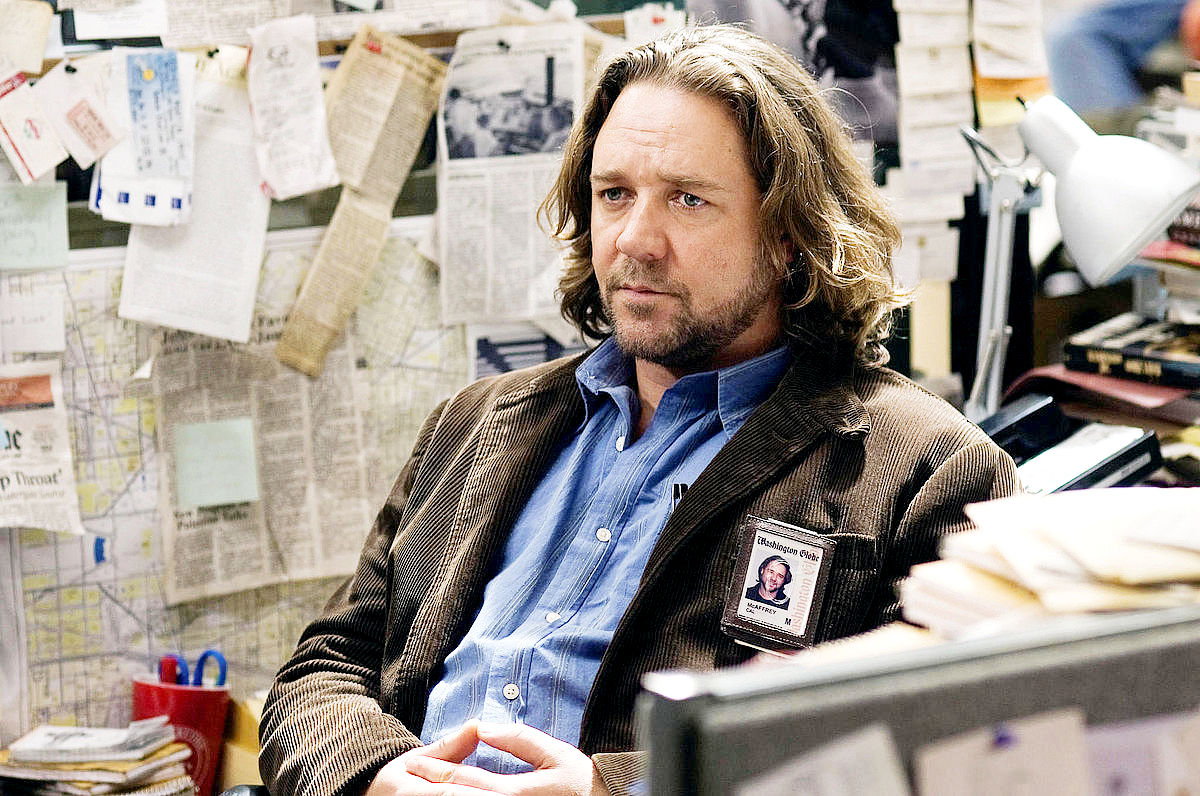 But even all the talent on-screen can't save State of Play from its very significant flaws. For one, the film clearly purports to be a paean to investigative journalism a la All the President's Men, but the conspiracy that drives the story is outlandish in several ways. Basically — moderate spoilers here — it involves corporate and para-military thugs at the Blackwater outfit doing whatever is required to achieve their ultimate goal of "privatizing national security." Now, I have no doubt that Blackwater and its ilk are shady as they come. And — given everything we've seen from them as lawless mercenaries in Iraq — it doesn't take an extreme suspension of disbelief to envision a fictional Blackwater doing what they do here, engaging in under-the-table wetworks to protect some sizable market share.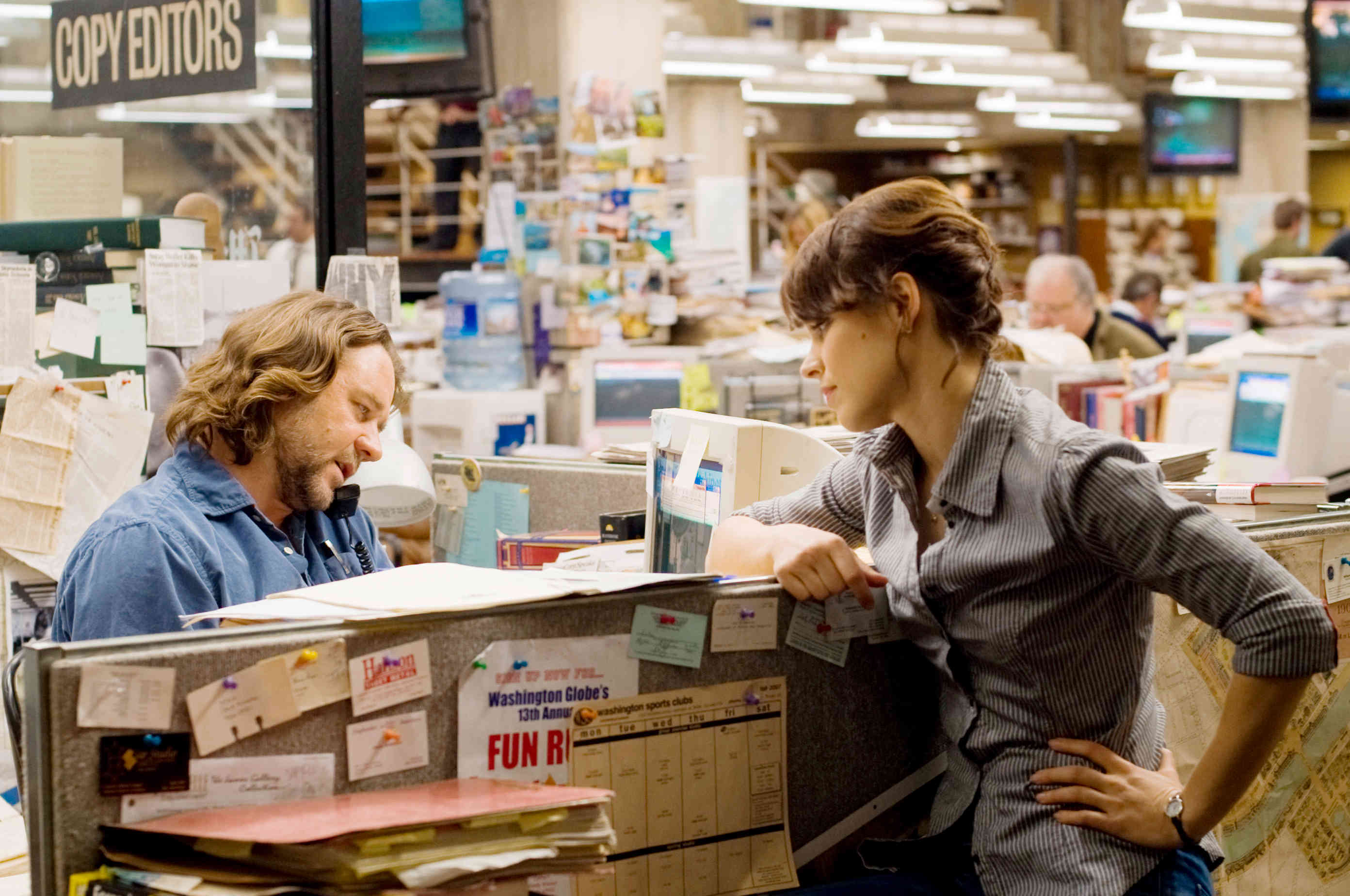 But, and this is where the movie began to lose me, I'm not at all convinced that the Bad Guys here would even have to break the law as currently written to achieve their ultimate goal, and they definitely wouldn't have to go to the sordid lengths suggested in State of Play. Maybe it's news to the good people at the Washington Globe, but corruption has been effectively legalized for awhile now in DC. Why would Pointcorp be involved in such nefarious black-bag operations to ensure their pound-of-flesh profit margins, when they can just spread some money around legally and accomplish much the same objective? After awhile, I found the spy shenanigans here about as plausible as those of the evil soap corporations in Duplicity. (Honestly, did the writers not hear of Halliburton? They were bagging enormously lucrative no-bid military contracts for years the old-fashioned way.)
This brings me to my other major problem with State of Play — its depiction of journalism and what ails it. But, before I move on — and I'll tread lightly here — State of Play makes a turn very late in the game that completely subverts the All the President's Men conspiracy argument it's been making up to then anyway, and it basically lets the air out of the entire movie. You can't have it both ways, y'all.
Moving on, as most every single review will tell you, State of Play closes with a loving montage of each stage in the process of making a daily newspaper — the type being set, the rolls of paper being loaded, etc. etc. (They skip over all the crucial cutting-down-trees and paper-mill parts, of course — Let's not get in the way of nostalgia.) And, yes, State of Play is very conspicuously crafted as a heartfelt ode to the newspaper industry in twilight, as mainly evidenced by the narrative tug between "good" journalist Cal, who pounds the beat relentlessly and tracks down every possible lead, and "bad" blogger Della, who — at first — opines without all the facts at her disposal and dishes out snark by the shovelful. (But don't worry, it turns out she's very trainable.)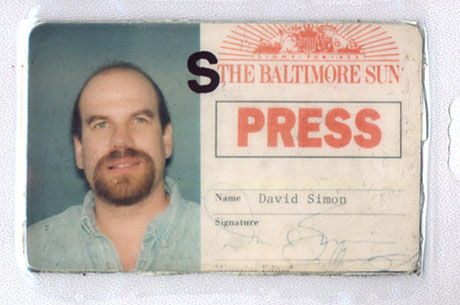 Now, I posted briefly on this last month, but there are a lot of reasons newspapers are going under right now — market pressures, obviously, but also over-consolidation, a decline in local-area coverage, papers following the cable TV herds into surface-skimming irrelevance. And, for an equally loving, but more resonant critique of why it's happening, I'd direct you to Season 5 of David Simon's The Wire. As Simon says here: "In every episode, what's being depicted is a newspaper that's actually not connecting with the problems that exist on the ground. It's not noticing that the police department has been cheating stats for years and making crime go away. It's not noticing that the third grade test scores are being hyped so that No Child Left Behind is not exposed for what it is. That's the critique, and very tellingly, almost perfectly, I think, with the exception of maybe one or two guys out there, everybody missed it." Or, as Simon's Gus Haynes puts it at one point when dissecting newspaper's Pulitzer-hungry mentality: "It's like you're up on the corner of a roof and you're showing some people how a couple of shingles came loose, and meanwhile a hurricane wrecked the rest of the damn house."
Now, whatever you think of this critique, notice it doesn't have much if anything to do with bloggers. Ok, sure, the blogging mentality spilling over into "real" journalism perhaps hasn't helped matters any — I said as much here. But the idea that the Della Fryes of the world — or Ana Marie Coxes, if you want to bring it home — are the main reason newspapers are in trouble right now, or the main reason newspapers miss the "real" conspiracies in our midst, is so facile as to be insulting.
State of Play tells a story of a "good" journalist at a "good" DC newspaper uncovering sordid scandal and "bad" corruption at the highest levels of government, all the while making a "good" protege out of a "bad" blogger. Well, sure, it's a nice fairy tale, but let's get real. I don't remember bloggers having anything to do with Judith Miller, the NYT, and every other newspaper of note enabling Dubya's whole fake-WMD fiasco in 2002 and 2003. I don't remember bloggers telling the NYT to sit on the illegal and warrantless wiretaps story for an entire year, and an election year at that. I don't remember bloggers convincing the likes of Bob Woodward or Tim Russert to circle the wagons around Scooter Libby when he outed Valerie Plame. And I definitely don't remember bloggers encouraging the establishment media to declare Dubya-era torture a non-issue that we all need to just get over, in the name of a false "looking forward" reconciliation based on willfully ignoring illegality, corruption, lies, and moral atrocities.
So, thanks for the civics lesson, State of Play, but I'm not sure I can hold those wretched, superficial bloggers entirely accountable for the decline of paper-and-ink newspapers these days. Look, I'm as sorry to see journalism in the woeful financial state it's in as the next guy. But — when it comes to enabling and cooperating with manifestly corrupt behavior in Washington — y'all might want to look at your own hands too. Not all of those stains are ink.