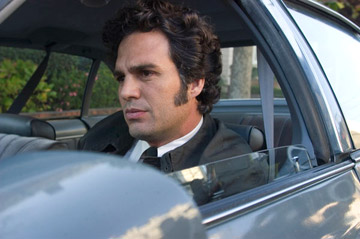 More a straightforward police procedural than the type of visually kinetic extravaganza one might expect from the director of Se7en and Fight Club, David Fincher's Zodiac, which I saw on Friday, is a slow-moving but generally effective film. I confess to having very little interest in the story of the Zodiac killer, or in serial killer movies in general. Still, I found Zodiac to be a somber and engaging character study of the cops, journalists, and suspects caught up in the hunt for San Francisco's most famous murderer, and a moody meditation on how, as months yield to years without a definitive answer, the long, tiring search for truth comes to haunt and drain their lives away. It may basically play like a seventies throwback Law and Order for most of its run, with occasional flourishes from The Wire, but Zodiac is still a worthwhile film, and one that marks a welcome rebound for Fincher after the relatively uninspired Panic Room. It's good to see his sign rising once again.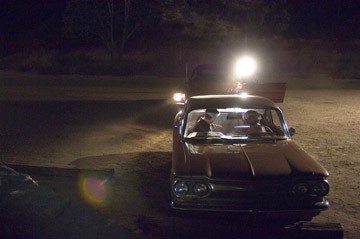 After the first of many impressive establishing shots of San Francisco, set to some spooky post-psychedelic pop ditty of the era, Zodiac begins on July 4th, 1969, with what feels like both a classic urban legend and a recipe for disaster — two young people flirting and fumbling at a dark and abandoned Lover's Lane. Only this story is true, and soon enough, the Zodiac has struck for the second time, leaving one dead and another terribly wounded in his wake. Showing a penchant for publicity that will make him a household name in the Bay Area over the next few years, the Zodiac sends both boastful and encoded message to several major newspapers. These pique the interest of — among others — a hard-drinking, hard-living writer on the cop beat (Robert Downey, Jr.), a nebbishy cartoonist with a knack for puzzles (Jake Gyllenhaal, playing the author of the book on which the film is based), and two peace officers (Mark Ruffalo, Anthony Edwards) assigned to track down this preening sociopath before he strikes again. For the next few years, we follow each of these fellows as they attempt to pin down the identity of the elusive killer: negotiating bureaucratic snafus, parsing encrypted texts, and, yes, hitting the archives like good, little researchers. But the trail of the Zodiac exacts a heavy toll, and as the Age of Aquarius fades into the Reagan era, each of these men leave the decade scarred by their quest, some irreparably. And still, somewhere out there, the Zodiac lurks…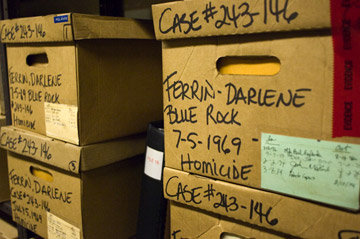 Its opening moments notwithstanding, most of Zodiac is concerned not with nasty serial killer exploits (although there are a few, such as a jarring afternoon picnic at the lake) but the ugly mechanics of the cops and journalists' search, with all its circumstantial theorizing and bureaucratic gear-grinding. Some of this stuff, such as the memory-holes that arise between overlapping jurisdictions of various Bay Area law enforcement bureaus, would probably seem fresher if you've never watched The Wire, where police mismanagement and careerism is a central staple. (That being said, likable character actors like Elias Koteas, Donal Logue, and Zach Grenier spice up these scenes considerably.) But, other facets of the hunt still resonate, such as how multiple explanations pile up for a given clue with no real way to determine the correct one. The Zodiac's symbol…is it a cross-hair, or was it stolen from a watch company, or is it the countdown from the opening of a film reel? Each answer seems like it must be the definitive one at different times, and, for the participants in this haunted search, the shifting interpretations grow increasingly maddening. The film is kind enough to give the audience something of a sense of closure at the end, but Zodiac is most intriguing when it leaves all doors open, and lets its characters get thrown about in the bruising wind that ensues.