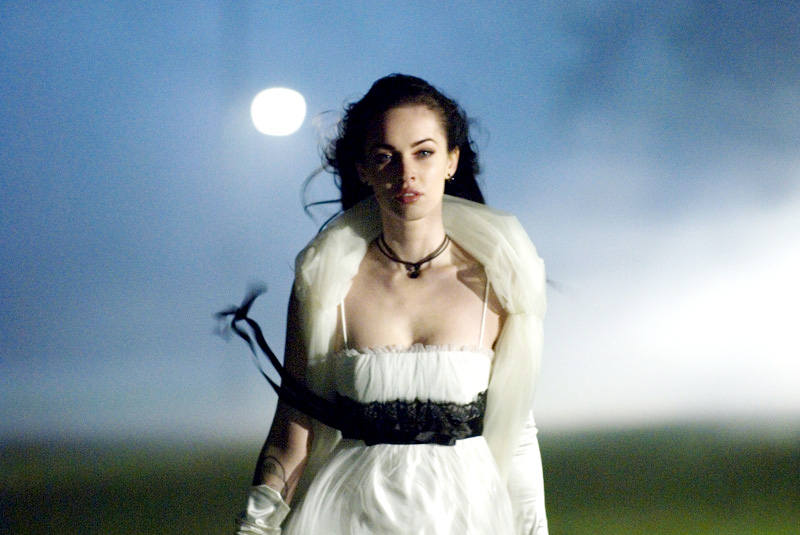 Back in junior high in the late '80s — at the height of Mall Culture, before cellphones and the Internet, and when we were all too young to drive or really get into trouble — the It thing to do on a Friday night in Florence, SC was to hang around the
Magnolia Mall
. Basically, a goodly portion of the seventh/eighth-grade class would be dropped off there by our folks, and after falling into our predetermined social units — jocks, goths, freaks, geeks, etc. — we'd loiter around and continue our conversations from the school day. We'd chat up members of the opposite sex (who'd recently become much more intriguing), tool around B. Dalton and/or the Record Bar, and eventually get kicked out of the
Spencer's Gifts
for being unruly wiseasses. And, when the mall closed at nine, most of us would file into the movie theater there, hopefully (but, for me at least, not usually) with a "date" of some kind, and catch whatever the big movie that week was:
Indiana Jones and the Last Crusade
,
Back to the Future II
,
Ghostbusters II
, etc.
All of which is to say that, were I still 14 years old, nurturing a painful crush on somebody or another, and catching a Friday night movie with a significant minority of my eighth-grade class, Karyn Kusama's Jennifer's Body would probably have been a total hoot. But, without those ideal circumstances on hand, Body isn't much to write home about. It's not particularly scary, or sexy, or funny — It just is. And, even despite the movie's sexual frankness, I suspect I, and most people, would be too old for it even by high school. I won't try to outdo screenwriter Diablo Cody in the hyperliterate tweener hipsterisms that characterize both the overly precious Juno and this flick. Suffice to say: Jennifer's Body basically ends up being just a Big Ball of Meh.
After a few flash-forwards — one in a teenager's bedroom, another in an Arkham Asylum of sorts — that give quite a bit of the game away, Body introduces us to Devil's Kettle, a sleepy little all-American town that happens to reside next to a possible inter-dimensional portal (Think Buffy and the Hellmouth.) Naturally, Devil's Kettle is also home to an archetypal High School USA straight out of any movie from John Hughes' oeuvre to Mean Girls. One distinguishing difference, tho': Here, the head cheerleader/queen bee, Jennifer Check (Megan Fox, more plausible as a demonic succubus than a high school student), is best friends of long standing — "sandbox love never dies" — with the town's bookish, nerdy Hermione, Anita "Needy" Lesnicky. (Only in Hollywood does the "homely girl" look like Amanda Seyfried.)
Jennifer and Needy aren't what you call birds of a feather, but they're basically inseparable…even when Needy's kindly boyfriend Chip (Johnny Simmons, looking like a baby Brolin) tries to separate them. But, one night at the local watering hole, these two best friends run afoul of Low Shoulder, some eyeliner-sporting wannabe indie-rockers from the city (fronted by Adam Brody, so you know they're shady.) Strange things are soon afoot, a Carrie–by-way-of-Great-White tragedy ensues — it's never explained very well — and Jennifer, making the eternal mistake of getting into a van with strangers, is forever transformed.
After this horrible night, the town of Devil's Kettle is pretty well shook up…all except Jennifer, who seems remarkably sanguine about recent events. She's blase not only about the devastating club fire she barely lived through, but also about her behavior later that night, when she showed up at Needy's house covered in blood and vomited forth spiky black bile. (Needless to say, this infernal effusion makes more of an impression on Needy.) And, as Needy starts to wonder what dark, demonic spirit has taken hold of her cheerleader friend, the all-new Jennifer exults in her newfound powers, particularly those she holds over boys…(Unfortunately for the wayward males of Devil's Kettle, Jen's gotta have it.)
From Alien to Cronenberg to Stephen King, almost all memorable horror — underneath its fantastical agenda — plays on very real fears. And in the hormonal body-horror and the reveling in (and fear of) newfound sexuality that Cody and Kusama offer here, you can see hints of an interesting "Girl, you'll be a Woman Soon" subtext to Jennifer's Body. (See also: Carrie.) But it's not really fleshed out, and soon gets buried in quirk and cliche anyway. All the arch Codyisms aside — "You need to move on.org!", "You're so lime-green jello right now!" [a.k.a. jealous] — the script never really builds to anything, and much of the story just feels haphazard and not-very-well-thought-out. (Did the BFF necklace harbor supernatural powers? What was the point of the Jen-Needy make-out scene, other than to increase box office? Are guys really going to croon "867-5309" in that situation? And, as my friend pointed out, wouldn't Jen want to feed before prom?)
Nevertheless, even if you find Diablo Cody's dialogue somewhat headache-inducing after awhile (it's less cloying here than in Juno, at least, since Kusama's visuals don't follow Cody down the indy-kitsch road like Jason Reitman did), Jennifer's Body is mostly harmless. There's even some fun to be had occasionally: Boyfriend Chip has a few choice lines, and special props to wily veterans J.K. Simmons and Amy Sedaris, who steal every small scene they're in. Still, in the end Jennifer's Body could have used a lot more personality. If you're looking for a satisfyingly scary recent flick about women wrangling with demonic possession, I'd say skip this one and track down Sam Raimi's Drag Me to Hell.