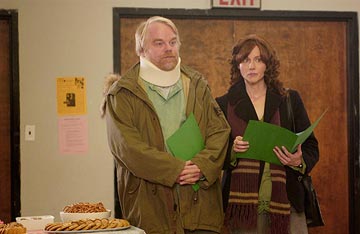 Emerging from Julian Schnabel's Diving Bell, I had all of two or three minutes — basically, as long as the creepy Freelancers' Union ad shown before every film at the Angelika — to decompress before entering Tamara Jenkins' The Savages, a dramedy about two siblings confronting the onset of dementia in their estranged dad. And, in the early going, after a rather twee opening and some leaden scenes of Laura Linney writing a grant proposal and kvetching with her married boyfriend, I started to feel like I'd made a tactical error following Schnabel's ambitious film so quickly with such a conventionally quirky, small-scale indy flick. But The Savages is a grower, and by the last reel, I was very glad I'd made the trip. Admittedly somewhat inconsistent — and I could have done with less Linney and more Hoffman — Savages is also at turns hilarious, bleak, and even rather moving (although I'm guessing I'm more of a sucker for the final moments than others might be.) And, in some ways, it was the perfect nightcap to Diving Bell (and, in its bickering siblings, to Margot at the Wedding the night before.) For Jenkins' film is a grimly funny reminder that Bauby's condition isn't necessarily as exotic as it first seems. Eventually (if we're even lucky enough to stick around that long), we all sink under the weight of the diving bell — it's just a matter of time. A grisly insight, to be sure, but you could do worse than contemplating it here with The Savages.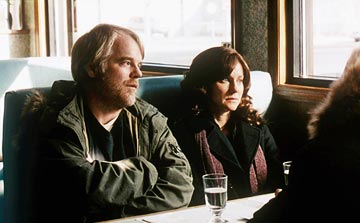 Jenkins' movie opens with a sun-drenched Broadway-style musical number (Peggy Lee's "I Don't Want to Play in your Yard") in the Retirement Heaven of suburban Arizona, the type of warm, happy, golf-cart-heavy environment one generally expects — given all the conventional portrayals of the Golden Years — to spend one's waning days. But Lenny Savage (Philip Bosco), who lives therein, is beginning to act erratic (namely by finger-painting with his own feces), and after his aged girlfriend dies, he is cast out of this Grandpa's Paradise. Enter his children (who haven't heard from him in years), Wendy and Jon Savage — no relation to Wendy and John Darling of Peter Pan, as people are definitely growing old around these parts. Wendy (Laura Linney) is a failed playwright in Manhattan, working as a temp and sleeping with her married, horndog neighbor (Peter Friedman). Her older brother Jon (Philip Seymour Hoffman) is an obviously miserable academic in wintry Buffalo, working on a tome about Bertolt Brecht and sleeping with his laptop and a small reference library. (This detail rang uncomfortably true, as did the organized chaos of book piles strewn around his apartment.) So, with Lenny increasingly showing unmistakable signs of dementia, it now falls to Wendy and Jon to find a place for him, be it a retirement community, assisted living, or most likely, an institutional-gray nursing home in deepest, darkest Buffalo, and — in the tried-and-true tradition of quirky independent films — maybe learn to get along as a family in the process.
The family-bonding, one-to-grow-on aspects of this project, admittedly, are where a good deal of the clunky stuff in The Savages emerges. The Savages bond over an unlikely neck injury suffered by Jon, all of which feels a little TV movie-ish. (Hoffman almost saves it with some good physical humor, though — watch him put his mail away.) And The Wire's Gbenga Akinnagbe shows up as a Nigerian nursing home worker who has a platonic relationship with Wendy, which all felt entirely too "Bagger Vance" for my taste. (i.e. He's a convenient saintly African-American plot device used to move the white people's stories forward.) But, other moments work better. There's a running competition between the siblings over grant money which — having done the grant rigamarole — I thought was pretty funny. And, Hoffman in particular has a few memorable rants (outside the nursing home, for example), which are well worth the price of admission. Since I saw Before the Devil Knows You're Dead a few weeks ago and Boogie Nights on TV since then, I feared Hoffman might come across as overexposed to me, a la Scarlett Johansson, Owen Wilson, Ben Stiller, or Janeane Garofolo. But he's really great here, and comes across as a qualitatively different (if equally self-loathing) person than Before the Devil's older brother in question.
Perhaps most impressively, The Savages never really attempts to make Lenny all that huggable, or to softpedal his malady. In even his lucid moments, which are few, Lenny is a cantankerous old sort, and you can see why his kids have kept away from him for years. But Bosco brings a pathos to the role that is earned — you can also tell at various points that Lenny has brief inklings of what's ahead of him — to wit, not much at all. In short, what Six Feet Under is to dying, The Savages is to the final stages of aging. It's something we don't really want to think about, but it's there, somewhere over the last ridge. If we're going to dwell on this subject, it's probably best to confront that fact with the mordant humor of The Savages (while keeping in mind that, however inevitable that final end, it's never too late to teach an old dog some new tricks.)