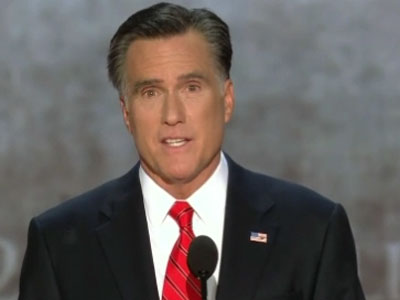 11011011 0001001 100111010 0011001 4CC355 N0M1N4T10N PR0T0C0LS SM1L3 10001100 001101011 11100010 M4M4 001010 D4D4 001100111 4M3R1C4 11100001102 0B4M4 0001111 M0N3Y 1010101111 5UCC355 011010 4M3RIC4 100000010 010001001010 SM1L3 S1MUL4T3 HUM4N 3M0T10N…3RR0R 3RR0R UNSP3C1F13D 3M0T10N4L PR0MPT 00000011sdssfsdfs ef233277222sefslf sslxzlxshkl;gxxx 3ND OF L1N3.
Those evil natured robots, they're programmed to destroy us…So, yeah it's hard to feel much of anything about Mitt Romney's acceptance speech, other than that I saw more lifelike human performances in the Final Fantasy movie ten years ago. The guy is just forever lost in the uncanny valley to me. This will no doubt be a close election, and Romney could well win it by sheer dint of a bad economy and boatloads of under-the-table campaign cash. But I still find it hard to take his seriously as a candidate, and most of the time just end up feeling bad for his much more presidential father that the previously-moderate Mitt has become such an obvious sellout. (And, tbh, I'm much more worried about the truth-averse Paul Ryan's no-doubt-bright future in his party than Romney's bid this year. He's the T-1000 to Romney's T-800.)
In short, Romney has that generic, milquetoast liked-by-his-base-but-has-zero-crossover-appeal quality we've previously seen in Bob Dole and John Kerry, and just like Joe Biden's "noun, verb, and 9/11" evisceration of Rudy 9ui11iani last cycle, Mike Huckabee already nailed Romney dead-to-rights in 2008 with his quip, "He looks like the guy who fired you." I just don't see Romney getting past that — and, if he does, it won't be because of this speech.