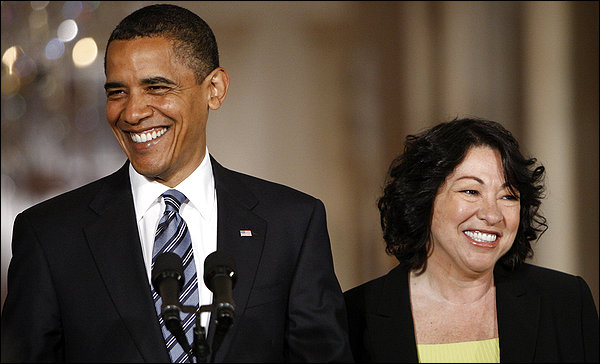 "I chose to be a lawyer and ultimately a judge because I find endless challenge in the complexities of the law. I firmly believe in the rule of law as the foundation for all of our basic rights…Mr. President, I greatly appreciate the honor you are giving me, and I look forward to working with the Senate in the confirmation process.
" Hearkening back to the pragmatists
once again
— "
For as Supreme Court Justice Oliver Wendell Holmes once said, the life of the law has not been logic, it has been experience
" — President Obama
chooses Judge Sonia Sotomayor as Souter's replacement on the Court
. [
Wiki
]
Naturally, conservatives are getting their opposition ducks in a row (with some help from Jeffrey Rosen's recent dubious hit piece in TNR.) "But some Senate GOP officials privately conceded that, barring a major stumble, the judge will probably be confirmed with relative ease. 'You don't have to be a rocket scientist to figure out that we need to tread very carefully,' said John Weaver, a Republican political consultant who advised Sen. John McCain (R-Ariz.) for years. 'The only way we'll find ourselves in a political predicament is if we don't treat her with the same respect that other nominees received.'" Yeah, good luck with that.
In any case, early word on Judge Sotomayor is that she is very far from the liberal activist of right-wing nightmare, but rather a "highly capable technocrat," and exactly the sort of hypercompetent and moderate — perhaps to a fault — pick one would expect from this president. "'She's a lawyer's lawyer,' said Paul Smith, a partner at Jenner & Block who participated in the call…She's a cautious lawyer…who was a corporate lawyer herself…She reads statutes narrowly."