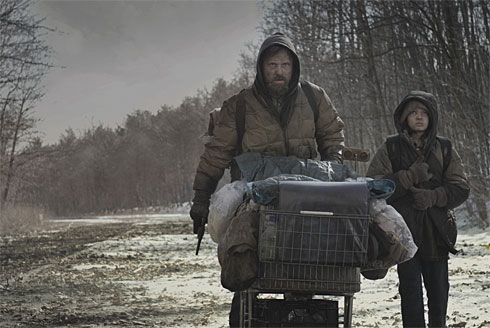 "'It's tangible, the misery and hopelessness and the bleakness,' Mortensen says. 'It gives you much more to work with if you're filming in that world instead of a green screen.
' Well, they know where they're going, but they
don't know where they've been
…
USA Today
scores the
first official still from John Hillcoat's take on The Road
, with Viggo Mortensen, Kodi Smit-McPhee, Robert Duvall, Charlize Theron, Guy Pearce, Michael K. Williams, and Garret Dillahunt. I found McCarthy's book decent enough but considerably overpraised — As with mainstream critics' overheated embrace of
Pan's Labyrinth
, I thought
The Road
was post-apocalyptic sci-fi for people who normally condescend to the genre, and thus haven't read/seen very much of it. And, more than most McCarthy, I found the style seriously grating after while: "
The Man, ashen-faced, sifted through the ash-gray ash. The Child whimpered. His mouth tasted like ash.
"
All that being said, I really like the cast they've put together here, and, given The Proposition, John Hillcoat sounds like an intriguing choice for this. So, count me in.