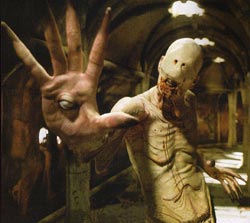 Well, I'm not very happy about being on the other end of the review spectrum for this film, which was one I'd been really looking forward to. But, I must confess, I'm somewhat mystified by the almost-universally stellar reviews that have accompanied Guillermo del Toro's Pan's Labyrinth. It's not a bad movie by any means, but I found it the least accomplished of this year's crop of A-list genre films (The Prestige, Children of Men, The Fountain — the latter in particular seems to have been unfairly maligned in comparison to this one.) Billed as a "fairy tale for grown-ups," Pan's Labyrinth is a diverting but disconnected hodgepodge of fantasy, horror, and historical fiction, held together, if at all, only by occasional reference to Del Toro's usual visual affinities, such as creepy insects, yonic symbols, punctured/torn flesh, and Doug Jones in funny suits. And as far as fantastical tales of children during the Spanish Civil War go, Del Toro has tread this ground before with the haunting Devil's Backbone, and, to be honest, I preferred that film in almost every regard.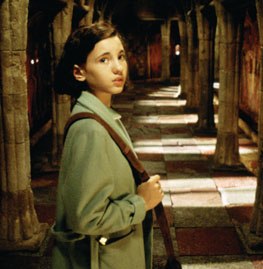 So, here's the setup: Once upon a time — 1944, to be exact — there was a young girl on the verge of adolescence named Ofelia (Ivana Baquero) who was forced to accompany her sickly, pregnant mother (Ariadna Gil) into the Spanish countryside, and to live with her wicked (Fascist) stepfather (Sergi Lopez of Dirty Pretty Things, and I do mean wicked — he beats an old man's face into bloody fragments within the first twenty minutes.) Although befriended by a kindly maid (Y Tu Mama Tambien's Maribel Verdu) — one who may have ties to Republican remnants in the nearby mountains — Ofelia is deeply disconsolate in her new home. That is, until a congenial fairy-mantis she encountered on her way in takes her deep into the nearby garden labyrinth, where an unnerving faun (Doug Jones) discloses that she may in fact be a long-lost princess of an underground world. To claim her birthright, Ofelia must first accomplish three fairy-tale-type tasks, all the while evading her wicked stepfather and doing what she can to protect her ailing mother. But, much to her dismay, Ofelia soon finds that her fantasy world can be just as dangerous and even deadly as her stepfather's company, particularly once the two worlds begin to collide.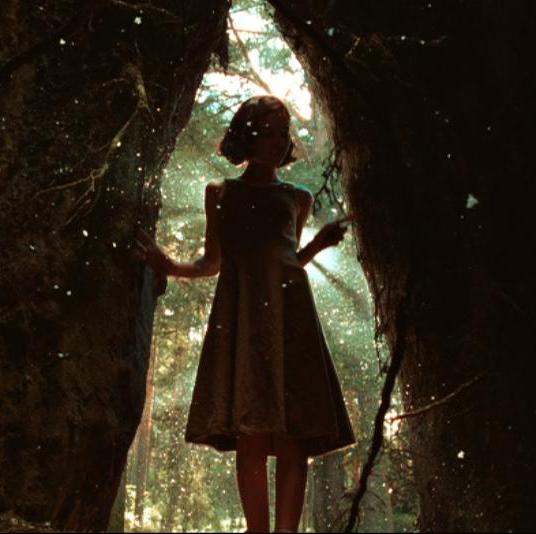 But do they collide? Perhaps I missed some vital subtext, but I found Ofelia's dreamworld adventures — other than the "Girl, you'll be a Woman soon" flourishes, like the bloody book — to be generally remote both from her problems at home and from the Republican-Fascist feud, other than that all three narrative strands grow increasingly grisly and grotesque. And, while certain scenes definitely linger in the senses like eerie reminiscences of a fever dream, most notably the Wraith's Table, they don't really serve the larger story in any way I could fathom. (Also, why does Ofelia suddenly decide to go all Augustus Gloop in that scene anyway? Dream logic, I guess, but it seemed out of character.) Throw in a few second-act torture scenes that are more off-putting than they are resonant or even necessary, and Labyrinth starts to wear thin well before the end. In sum, Pan's a decent film that's worth seeing if you're in the mood for it, but it's by no means the genre classic it's being made out to be. Perhaps the subtitles gave it gravitas in some corners, but, to my mind, Pan's Labyrinth gets a little lost in its own maze.