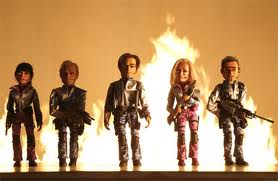 So, just before the Sox took George Steinbrenner down a peg this past Wednesday, I got to witness an ornery Kim Jong Il marionette suffer a similar fate at the hands of Team America: World Police. Going in to said puppet show, I was expecting a gut-bustingly funny film a la the South Park movie (and most South Park episodes), despite David Edelstein's warning about sloppy satire. Well, unfortunately, Edelstein was right: While Team America does have some really hilarious moments (the cyanide hammer, Kim's attack panthers, Matt Damon, the Michael Bay song), as a whole it doesn't really hold together.
I should say first off that, the humor notwithstanding, this is probably one of the most amazing (non-stop-motion) puppet shows ever put to film. There are a few extended sequences — Paris, the Panama Canal — where the scale and execution of this puppet world is breathtaking. But, sadly, this ambition and devotion to detail doesn't carry over to the script. For the first two-thirds or so, Team America is a spot-on imitation of pretty much any Jerry Bruckheimer film…but, unfortunately, it lampoons the genre so closely that it's easy to forget you're watching a parody. Instead, half the time I felt like I'd stumbled onto one of the New Classics on TNT.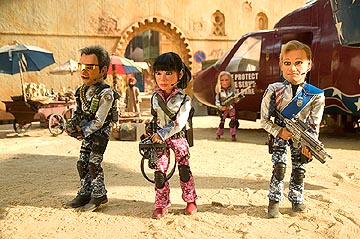 Then, the final third of the movie swings too far in the other direction, and ends up relying way too heavily on puppet entrails and cussing dolls to generate laughs. As for the politics of the piece, I just don't get how the South Park guys, who usually craft some of the most devastating satire around, couldn't mine anything more substantive out of the War on Terror than the notion that left-wing Hollywood activists coddle tyrants by speaking their mind. (And, Trey & Matt, if we're not supposed to care what the likes of Tim Robbins and Alec Baldwin think, then why in Hell should we listen to you two?) In short, the puppetry in Team America is inspired, but the comedy is often lazy. Funny at times, sure, but I expected more than just an intermittently amusing anti-Hollywood screed from the creators of Cartman & co.