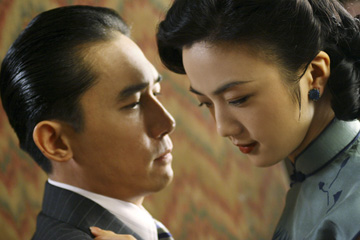 Attempting to be Last Tango in Shanghai by way of Paul Verhoeven's Black Book, or at the very least to cast straight sex in as taboo a light as the gay love of Brokeback Mountain, Ang Lee's Lust, Caution is, the lurid promise of its NC-17 rating notwithstanding, sadly a bit dull. As with most of Lee's oeuvre, the film is ravishingly beautiful throughout, and it recreates WWII Shanghai much more evocatively than, say, Soderbergh's The Good German did Berlin. But, at two hours and forty minutes, the film also feels overlong, and its central conceit — female agent deep undercover, deep under the covers — is burdened with entirely too much in the way of backstory. Lust, Caution isn't a bad film by any means, but, its occasional explicitness notwithstanding, it doesn't make for a particularly memorable one either.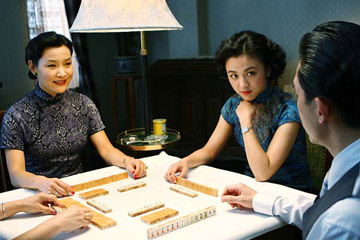 As Lust, Caution begins, it's 1942 in Japanese-occupied Shanghai, and four wealthy women, seemingly above the harsh impositions of wartime, exchange gossip and veiled state intel over a friendly game of Mahjong. Among this quartet are Yee Tai Tai (Joan Chen), wife of the secret police chief (Tony Leung), and one Mak Tai Tai (Tang Wei), the young and beautiful spouse of a Hong Kong importer. But, as we soon discover (after she leaves the game and makes a suspicious phone call in an English cafe), Mak Tai Tai does not in fact exist. Rather, we are to learn in a very extended flashback (it's Michael Clayton all over again), she is Wong Chia Chi, a resistance agent whose journey to that Mahjong table began four years earlier, as a displaced schoolgirl in Hong Kong. Falling under the spell of a handsome, earnest young patriot (Wang Lee Horn) then, Wong, a lover of movies, begins appearing in nationalistic plays to much acclaim. And, when it is decided by her schoolyard coterie of six that more drastic action should be taken to fight the Japanese invader, she takes on the role of an importer's wife to lure a key collaborationist, the aforementioned Mr. Yee, to his demise.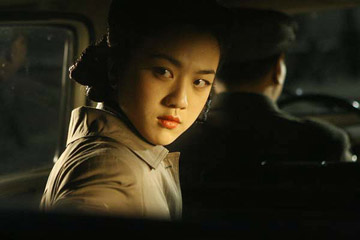 But trapping Mr. Yee poses several quandaries for these budding freedom fighters. For one, there is the rather delicate matter of how an inexperienced virgin could pass for a married woman. For another, this Yee is no provincial rube, but a man who's at once deeply careful and extremely untrusting. Most problematic, Mr. Yee is no ugly, oafish lout, but the one-and-only Tony Leung, and hardly anybody in this world looks better smoking artfully in period suits than Tony Leung. Nevertheless, the kids go for it…with mixed results. And, when a spy is needed by the real Resistance to trap Mr. Yee a few years down the line, they find one ready-made in Wong, who takes on her role anew with even higher stakes. Only now, she discovers, Mr. Yee is more cruel than he first lets on, and very much into the rough stuff, sexually speaking. And, more to the point, once the Pandora's Box of her own sexuality has been jarred open by Yee, Wong begins to lose herself in the part, to the detriment of all…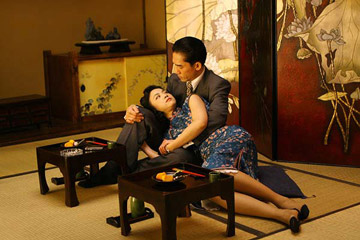 WWII spies, steamy, illicit sex…this seems like it should be an enticing concoction, to be sure…obviously it was right up Verhoeven's alley in Black Book. But, as several reviewers have put it, Lust, Caution turns out to be much more cautious than it is lustful. Even if you factor out the extra hour of padding here, that's a problem. Ang Lee's films, among them Crouching Tiger, The Ice Storm, and Brokeback, have always been noted for their delicacy and artful restraint, which is frankly why he may not have been the best choice for this material, about a couple who lose themselves in sexual passion. The much-discussed sex scenes aren't as puritanically minded as the nightmare visions of Requiem for a Dream, but there's a definite coldness and frigidity about them, as if neither participant is having very much fun. They're not so much erotic as they are animalistic, all acrobatic contortions and grunted yelps. I guess you could argue that's the point — the two are driven not by love at all but by an inexplicable earthy necessity, and Lee even cuts to a growling German shepherd to forward that idea along. But, if that's the case, if it's all just physical — then why — spoiler here — when a key slip-up is made by one of the lovers, doesn't it happen while in the throes of passion, rather than when one is presented with the sight of a shiny (dare I say gaudy?) bauble?
The acting in Lust, Caution is universally good, with special plaudits going to Tang Wei and Tony Leung. And sex is usually handled so sophomorically in films that I feel bad for faulting Lee's unabashed use of it to further the story along here. But take away those few explicit scenes, and you're left with a rather conventional snooze of a cloak-and-dagger movie, however lusciously filmed. And even the sex here could've used some of the sensuous warmth of Shanghai-born Wong Kar-Wai's work. Sadly, when it comes to lust and caution in this film, Lust, Caution pretty much foregoes the red-light, and ends up raising more red flags than a Mao rally.