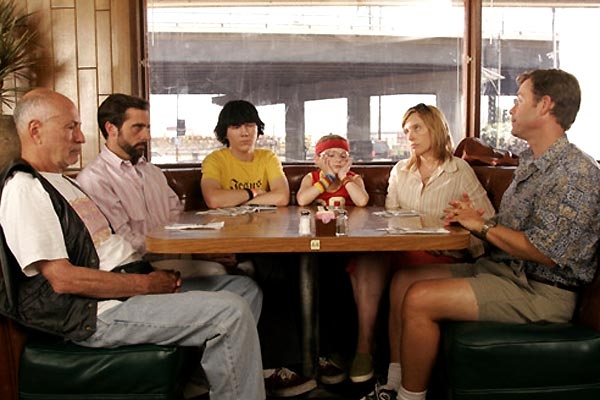 This'll probably be a brief one, as, to be honest, the film didn't make much of an impression. Nevertheless, I caught Little Miss Sunshine earlier this week at the Ward Cinema in downtown Honolulu. Several people I know really dig this movie, so perhaps I went in with unreasonable expectations. Nevertheless, Little Miss Sunshine, while generally warm-hearted and fitfully amusing, showed signs of strain and felt just a bit too self-consciously quirky throughout, as if Todd Solondz cheered up considerably and started writing for television. (In fact, Solondz-lite is a good description of this film — in a way, this feels like Welcome to the Dollhouse, leavened with dollops of artificial good cheer. I prefer my misanthropy neat.) As a result, and through no fault of the consistently excellent cast, I basically ended up just sitting there dutifully throughout Sunshine, neither enjoying myself nor not enjoying myself, until it was over.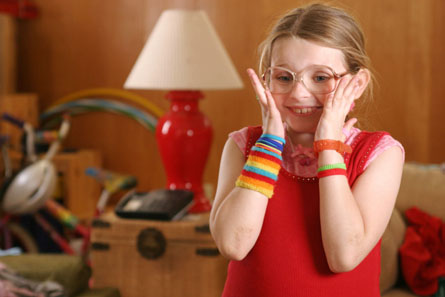 As Sunshine begins, we're introduced to the various members of the Hoover clan, each of which is as uniquely and identifiably bizarre as, say, the Munsters or the Addams family: Dad (Greg Kinnear) is a relentlessly go-getter (albeit failed) self-improvement guru. Grandpa (Alan Arkin) is a foul-mouthed heroin junkie. Uncle Frank (Steve Carell) is a suicidal Proust scholar. Son Dwayne (Paul Dano) is a disaffected Nietzsche fanatic living out a vow of silence. Like Marge Simpson, Mom (Toni Collette) is the still, calm, and long-suffering center of their world, the only character who doesn't get her own quirk. And daughter Olive (Abigail Breslin, cute as a button) harbors only one wish: to be crowned a child beauty pageant queen, namely Little Miss Sunshine. When Olive unexpectedly gets the chance to fulfill her desire, the entire family packs into a VW bus with a bothersome clutch and, in the manner of these types of films, embarks on a hijinx-filled road trip, during which much hilarity theoretically ensues.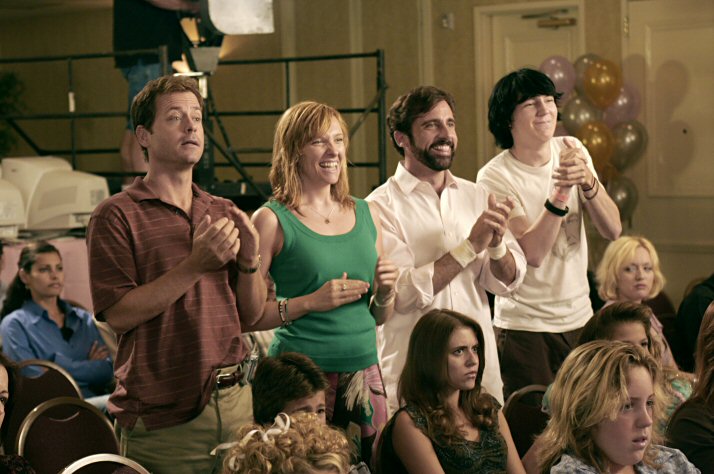 I don't want to give away every twist and turn, because that's pretty much the sum of the film's entertainment value (although I will note that, by the end, noone will doubt this family's commitment to Sparkle Motion.) But a number of vignettes do seem to rely on sitcom-like coincidences (for example, the world's two foremost Proust scholars at the same truck-stop at the same time) that increase the feeling that this film is set in a remote corner of television-land. Like I said, Little Miss Sunshine isn't a bad film by any means, and I suspect most people will enjoy it more than I did. But, to my mind, there just wasn't much there there.