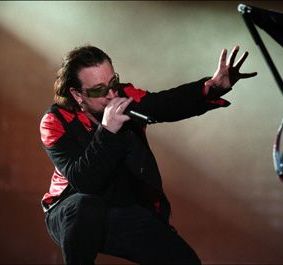 Outside, it's America, with all its stirring, hard-fought, and often thoroughly draining primary election drama. Inside the IMAX at 68th St., however, it's Catherine Owens and Mark Pellington's U2 3D, an impressive state-of-the-art concert film of Dublin's famous foursome doing what they do best, and in three dimensions! Anyone who's ever thrown in The Joshua Tree — that's millions of people, obviously — and listened to the thrilling opening strands of "Where the Streets Have No Name" can probably imagine the potential of U2 filtered through an IMAX sound system and projected in multiple dimensions. All I can say, it's pretty darned cool. If you're not at all a fan of the band or their music, I'd guess you'd enjoy the 3D-effect but might get bored at some point. But, if you're at all into U2, it's definitely worth checking out. I'd consider myself an above-average fan of the band, although I've probably listened to the last two albums — All That You Can't Leave Behind and How to Dismantle an Atomic Bomb — all of twice. ("My" favorite U2 is the Achtung Baby/Zooropa/Pop period, and I thought they took a step backward when they reverted back to instant-classic-rock. But, like I said, I probably haven't given the new stuff its due.) At any rate, U2 3D really feels like the future in concert films. As a music experience, it's better than having the best seats in the house (and the drunk girl on her boyfriend's shoulders in front of you — while in 3D — never actually obscures your vision.)
So…U2 3D recounts the tale of four Irishmen — arguably the biggest rock band of the last 25 years (although I'm personally partial to R.E.M.) — in the midst of a huge sold-out stadium tour on the far side of the world (South America, to be exact.) Let's see, we've got Bono (Paul Hewson) on vocals, Adam Clayton on the bass, Larry Mullen, Jr. on the drums, and The Edge (David Evans) on guitar. And, that's about it, really — It's just the show, no backstage banter or time on the bus or anything. With perhaps one exception (the start of the encore), the guys are definitely in their post-ironic, UN high commissioner mode for the show's entire run, and the setlist mostly reflects that. Ok, sure, I had the usual concert quibble: Despite all the rousing political numbers in their back catalog, I'd love to have heard some of their more conflicted love songs therein too ("Love is Blindness," "So Cruel," "Running to Stand Still," "If You Wear that Velvet Dress.") (And, for that matter, I kept thinking it might've been more fun to catch the more subversive MacPhisto or PopMart tours in 3D instead, but ah well.) But while there are very few surprises therein, U2 do a surprisingly good job of covering most of their main bases over the past three decades. You can guess most of the songs they play, sure, but, they still fit almost all of 'em in there.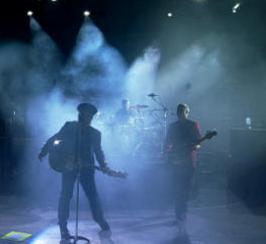 And, the actual concert notwithstanding, the 3D aspect of U2 3D is particularly impressive. I didn't really know what to expect going in, but based on Beowulf I figured there'd be a lot of Bono trying to brain me with his mic stand. But that's not how it plays. Yes, Larry Mullen has the most hyperreal three-story drum kit I've ever seen. But the real magic of 3D here is in how directors Owens and Pellington use it to transpose different images over each other to fashion a unique and wholly different visual perspective, just as The Edge layers various guitar parts atop one another to create his own sonic landscape. In short, too much is not enough. It's actually possible to watch completely different things at once, because the various shots are operating in disparate planes — We may have Bono singing in the foreground, a close-up of Clayton jamming in the middle distance, a shot of the crowd in the lower background, and a view of the screens along the upper tier, all at the same time. It's actually a much more striking effect than just a regular 3-D image, and it indicates more than anything else I've ever seen that 3D technology could really create an entirely new cinematic language. (See also Matt Zoller Seitz gushing about the medium.) At any rate, look, I gotta go, I'm running out of change (although, hopefully, Sen. Obama isn't.) But, to sum up, if you're into U2 or 3D, see U2 3D — you won't be disappointed. Okay, Edge, play the blues!