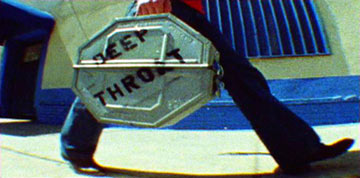 As both a path-breaking porno flick and a Nixon-felling secret informant, it may have been surprisingly successful. But, unfortunately, as a documentary, the one-sided
Inside Deep Throat
is a superfluous and self-congratulatory tale that's more frustrating than fulfilling. Forgoing any attempt at analytic rigor, the movie seems designed mainly to make the audience feel enlightened and blue-state cosmopolitan just for showing up. The most you can say for it is that it's
Kinsey
without the nuance.
In the opening moments, the documentary tries to establish its serious pedigree with a motley crew of left-leaning talking heads remembering their "first time" at Deep Throat: Norman Mailer, Erica Jong, Camille Paglia, Bill Maher, Dick Cavett (looking very well-preserved), Hef, Gore Vidal, John Waters, etc. Ok, so far, so good. But, then the interminably smug Dennis Hopper voiceover kicks in, and the movie begins its slow lurch into irredeemable goofiness.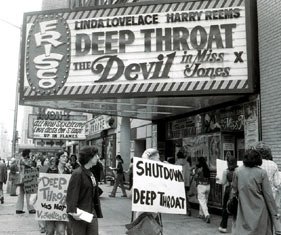 By the end, that lurch has become a full-on tailspin. The upshot of the film seems to be this: Deep Throat was no mere skin flick. It was about art, freedom, liberating female sexuality, and breaking restrictive social barriers…in short, it was about America.(Conversely, all subsequent porn, particularly in the post-Boogie Nights VHS-era, has been about commerce, exploitation, degradation, and, well, you know.) Moreover, the release of Deep Throat marked an epochal moment in the burgeoning culture wars, and this movie leaves no doubt which side it's on — various would-be moral arbiters straight out of right-wing central casting are interviewed at times, and naturally they all make Ken Starr look like Larry Flynt. Meanwhile, the admittedly-dubious conviction of Deep Throat-star Harry Reems is treated like the worst threat to constitutional liberty in decades, a cross between the Hollywood Ten and the trial of Sir Thomas More.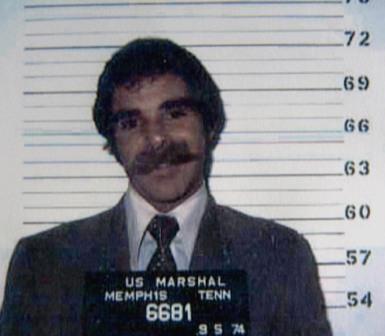 While I think Deep Throat's artistic merits are vastly overrated here — it's a ludicrous porno that improbably tapped into the zeitgeist and fell ass-backwards into crossover appeal, no more, no less — I'm generally sympathetic to the case being made in this documentary about First Amendment freedoms and the snickering, adolescent way our culture handles adult sexuality most of the time. But Inside Deep Throat's bullheadedly partisan and hyperbolic tone does a disservice to its central arguments. In other words, like the stereotype of the industry it sought to illuminate, Inside Deep Throat turned out to be breathless and brainless…you'd probably be better off watching whatever's on Skinemax.