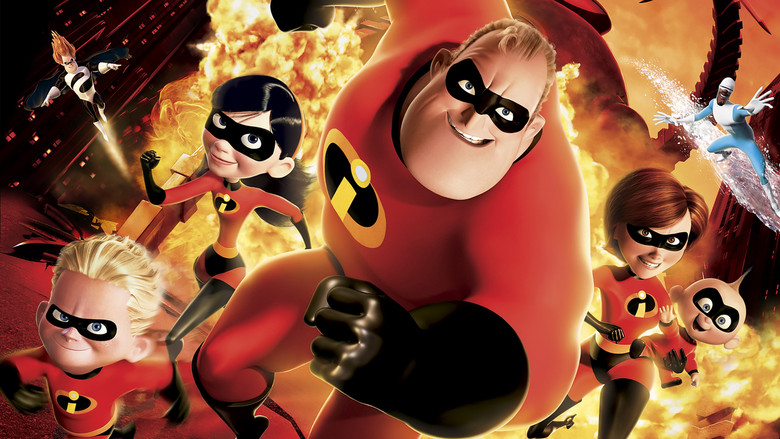 Well, the folks making next summer's
Fantastic Four
film must be having a
really
bad couple of weeks. 'Cause it's hard to see how they can even close to topping the energy and fun of Brad Bird's
The Incredibles
, Pixar's new gold standard (and here I thought
Toy Story 2
was going to hold that honor for some time to come.) More a film for comic fans than for little kids,
The Incredibles
is an inventive, madcap romp through superhero tropes that gives
Spiderman 2
a serious run for its money as the best comic book film of 2004.
I must say, I was surprised right off the bat at how PG the film turned out to be. This is a darker film than most previous Pixar forays, with a surprisingly high body count and some mordant sight gags in the mix (for example, the montage explaining the trouble with capes). Whatsmore, Mr. Incredible's most potent villain turns out to be existential ennui at the workplace, which seems as if it might fly right over the heads of the Finding Nemo age demographic.
Their loss, our gain. The Incredibles is a consistently clever ride, right down to the details. The writers and production designers have not only designed robots, ships, and a evil fortress that breathe originality while still paying homage to classic icons (Not unlike Brad Bird's The Iron Giant in that regard — so take that, Sky Captain.) They've also come up with unique applications and situations for some of the hoariest superpowers going (strength, elasticity, speed, etc…Elastigirl's break-in to Syndrome's lair stands out as a particular highlight.)
The only real misstep in the film, aside from it feeling maybe 10-15 minutes too long (and, arguably, the Ayn Randish subtext), is the Brad Bird-voiced Edna Mode, who seems like some unholy cross between Vera Wang and Joan Rivers and comes off as somewhat embarrassing and misconceived. Better thought out is Mr. Incredible's McNamara-esque boss and the "Issue No. 2" villain, The Underminer, whom I very much look forward to in the sequel. But, look, here I am monologuing again…To sum up, as the sinister mime Bomb Voyage might put it, "C'est incroyable!"