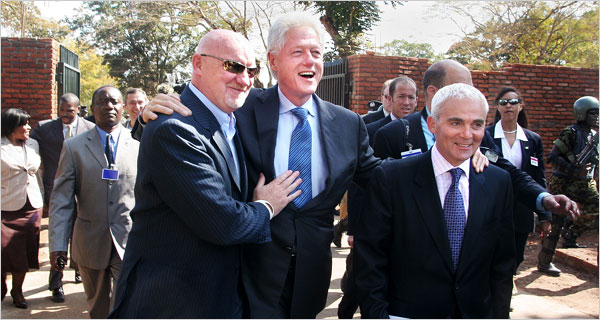 "I've been tested. I've been vetted. I have been in the political arena in our country very intensely for 16 years. There are no surprises." Ah. But, Senator Clinton, what about your husband? A front-page story in this morning's NYT — a paper so resolutely anti-Clinton it recently endorsed her for president — unearths what look to be some murky political dealings in Kazakhstan involving Bill Clinton and a top donor, former uranium-mining entrepreneur and Lions Gate Entertainment founder Frank Giustra. (He's the fellow at right.)
It's a long, convoluted article, but this seem to be the essence of it: Clinton said nice things publicly about the freedom-suppressing dictator of Kazakhstan — in contradiction of US policy, the views of human rights groups, and even Senator Clinton's professed stance on his government — so his buddy Giustra could land a lucrative exclusive mining contract. A much wealthier man as a result, Giustra later repaid Clinton in absurdly large donations to his Foundation, to the tune of $131 million. Both denied any quid pro quo, and both seem to have lied about at least some of the meetings that took place. This is all explained in more detail below:
In September 2005, President Clinton and Giustra, then head of a company called UrAsia and "a newcomer to uranium mining in Kazakhstan," journeyed by private plane to Borat's home nation, where "a fortune awaited: highly coveted deposits of uranium that could fuel nuclear reactors around the world."
The reason for their visit? To negotiate an exclusive deal to buy into three mining projects controlled by Kazakhstan's state-owned uranium agency, Kazatomprom. "Kazakhstan, which has about one-fifth of the world's uranium reserves, was the place to be. But with plenty of suitors, Kazatomprom could be picky about its partners. 'Everyone was asking Kazatomprom to the dance,' said Fadi Shadid, a senior stock analyst covering the uranium industry for Friedman Billings Ramsey, an investment bank. 'A second-tier junior player like UrAsia — you'd need all the help you could get.'"
Upon arriving, Clinton and Giustra were "whisked off to share a sumptuous midnight banquet with Kazakhstan's president, Nursultan A. Nazarbayev, whose 19-year stranglehold on the country has all but quashed political dissent." At this dinner, a deal may have been made.
At a news conference soon thereafter, Clinton made a "public declaration [that] undercut both American foreign policy and sharp criticism of Kazakhstan's poor human rights record by, among others, Mr. Clinton's wife, Senator Hillary Rodham Clinton of New York…The publicly stated reason for the visit was to announce a Clinton Foundation agreement that enabled the government to buy discounted AIDS drugs. But during a news conference, Mr. Clinton wandered into delicate territory by commending Mr. Nazarbayev for 'opening up the social and political life of your country.' In a statement Kazakhstan would highlight in news releases, Mr. Clinton declared that he hoped it would achieve a top objective: leading the Organization for Security and Cooperation in Europe, which would confer legitimacy on Mr. Nazarbayev's government. 'I think it's time for that to happen, it's an important step, and I'm glad you're willing to undertake it,' Mr. Clinton said."
As noted, this vote of confidence flew in the face of US policy — and statements by Senator Clinton. "Eleven months before Mr. Clinton's statement, Mrs. Clinton co-signed a commission letter to the State Department that sounded 'alarm bells' about the prospect that Kazakhstan might head the group. The letter stated that Kazakhstan's bid 'would not be acceptable,' citing 'serious corruption,' canceled elections and government control of the news media…Robert Herman, who worked for the State Department in the Clinton administration and is now at Freedom House, a human rights group, said the former president's statement amounted to an endorsement of Kazakhstan's readiness to lead the group, a position he called 'patently absurd.' 'He was either going off his brief or he was sadly mistaken,' Mr. Herman said. 'There was nothing in the record to suggest that they really wanted to move forward on democratic reform.'"
Two days after Clinton's press conference, Giustra — again, basically an unknown upstart in the uranium business — secured the Kazatomprom deal. "The cost to UrAsia was more than $450 million, money the company did not have in hand and had only weeks to come up with…Longtime market watchers were confounded. Kazatomprom's choice of UrAsia was a 'mystery,' said Gene Clark, the chief executive of Trade Tech, a uranium industry newsletter. 'UrAsia was able to jump-start the whole process somehow,' Mr. Clark said. The company became a 'major uranium producer when it didn't even exist before.'"
Nazarbayev was happy. "in December 2005, Mr. Nazarbayev won another election, which the security organization itself said was marred by an 'atmosphere of intimidation' and 'ballot-box stuffing.' After Mr. Nazarbayev won with 91 percent of the vote, Mr. Clinton sent his congratulations. 'Recognizing that your work has received an excellent grade is one of the most important rewards in life,' Mr. Clinton wrote in a letter released by the Kazakh embassy. Last September, just weeks after Kazakhstan held an election that once again failed to meet international standards, Mr. Clinton honored Mr. Nazarbayev by inviting him to his annual philanthropic conference."
Giustra got rich. "The monster deal stunned the mining industry, turning an unknown shell company into one of the world's largest uranium producers in a transaction ultimately worth tens of millions of dollars to Mr. Giustra, analysts said"
Clinton got paid. "Just months after the Kazakh pact was finalized, Mr. Clinton's charitable foundation received its own windfall: a $31.3 million donation from Mr. Giustra that had remained a secret until he acknowledged it last month. The gift, combined with Mr. Giustra's more recent and public pledge to give the William J. Clinton Foundation an additional $100 million, secured Mr. Giustra a place in Mr. Clinton's inner circle, an exclusive club of wealthy entrepreneurs in which friendship with the former president has its privileges."
Clinton and Giustra spun the whole story with barely plausible statements. "A spokesman for Mr. Clinton said the former president knew that Mr. Giustra had mining interests in Kazakhstan but was unaware of 'any particular efforts' and did nothing to help. Mr. Giustra said he was there as an 'observer only' and there was 'no discussion' of the deal with Mr. Nazarbayev or Mr. Clinton. But Moukhtar Dzhakishev, president of Kazatomprom, said in an interview that Mr. Giustra did discuss it, directly with the Kazakh president, and that his friendship with Mr. Clinton 'of course made an impression.'…He said Mr. Nazarbayev himself ultimately signed off on the transaction."
Giustra later helped Kazatomprom's top man, Moukhtar Dzhakishev, run a new deal by Clinton, one involving a potential Kazakhstani stake in US nuclear tech. "Mr. Dzhakishev, the Kazatomprom chief, said he traveled to Chappaqua, N.Y., to meet with Mr. Clinton at his home. Mr. Dzhakishev said Mr. Giustra arranged the three-hour meeting. Mr. Dzhakishev said he wanted to discuss Kazakhstan's intention — not publicly known at the time — to buy a 10 percent stake in Westinghouse, a United States supplier of nuclear technology."
A cover-up was attempted about this later meeting. It failed. "Both Mr. Clinton and Mr. Giustra at first denied that any such meeting occurred. Mr. Giustra also denied ever arranging for Kazakh officials to meet with Mr. Clinton. Wednesday, after The Times told them that others said a meeting, in Mr. Clinton's home, had in fact taken place, both men acknowledged it."

And here's probably the most serious kicker, regarding a Clinton return to the White House. "Mr. Clinton has vowed to continue raising money for his foundation if Mrs. Clinton is elected president, maintaining his connections with a wide network of philanthropic partners."

I must say, at the very least, this does not sound like change.