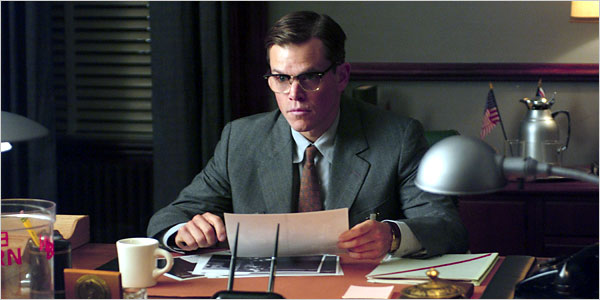 Robert De Niro's The Good Shepherd
, the first entrant in my ongoing end-of-2006 movie marathon this week, makes no secret of its Oscar-bait aspirations. Basically the WASP version of
The Godfather
, as told against the creation and Cold War consolidation of the CIA,
Shepherd
boasts a crisp look, a grand historical sweep, high-quality production values, and a stellar cast (including Best Supporting Actor-type turns strewn all over the place, like the wreckage from a better, more interesting movie.) But it's also a film that never lets you forget how serious and sober-minded it aims to be. As such — however well-meaning and nice to look at, with all its chiaroscuro fedoras on hand — it's also sadly a bit of a bore. Throw in an occasionally clunky script (note the particularly egregious God/CIA line near the end, for example) and some considerable miscasting issues (Matt Damon is a good actor, but is thoroughly implausible as a middle-aged man, and Angelina Jolie is too much of a star presence to be wholly believable as the ignored wife) and you have a respectable but ultimately somewhat pedestrian night at the movies.
Shepherd
gets the job done, I suppose, but it takes no pleasure in it.
When we first meet intelligence analyst Edward Wilson (Matt Damon), the bespectacled Everyman and titular shepherd of the film, it's the spring of 1961, the Bay of Pigs invasion has just gone FUBAR, and America's new president is looking for a few heads to roll over at Langley. In this middle of this spate of job anxiety, Wilson is mysteriously sent a photo and audioreel of a couple in the throes of passion, seemingly somewhere in the Third World. As he sets to work on deciphering this arcane message, Wilson's thoughts wander all the way back to 1939, when he — a young, idealistic student of poetry at Yale — was recruited first by the infamous Order of Skull and Bones (a.k.a. preppy fratboys gone wild) and then, after war breaks out in Europe, by the OSS. Along the way, he takes on a number of varied mentors, ranging from a Nazi-sympathizing poetry professor with then-shocking proclivities (Michael Gambon) to a congenial if hobbled general and spymaster (De Niro, playing a variation on Wild Bill Donovan) to a gaggle of fellow scions of the WASP Old Boy Network (representing the Eli's, William Hurt and Lee Pace; representing the Oxford-Cambridge crowd, Billy Crudup with a slipping accent.) He also falls in love, with a (note the symbolism!) kindly, open-hearted deaf co-ed (Tammy Blanchard), and falls, in lust, with a needy, easy, and borderline-psycho socialite (Angelina Jolie, verging on typecasting in a terribly written role, but still quite good.) As the years drag on and the world freezes into Cold War, Wilson finds himself not only engaged in high-stakes cloak-and-dagger gamesmanship against his Soviet counterpart, codenamed Ulysses (Oleg Stefan), but inexorably ceding more of his dreams, his morality, his family, and his very soul to that hungering bastion of the Eastern Establishment mafia, the Central Intelligence Agency. And every time he tries to get out, they keep pulling him back in…
Comparisons to The Godfather are probably as unfair as they are inescapable. Still, for all the striving and sweating on display here, Edward Wilson is ultimately no Michael Corleone. In fact, Damon, while trying admirably, can't plausibly sustain the second "middle-aged" half of the film, and portrays Wilson as too much of a blank (clearly De Niro's decision) to garner much in the way of sympathy or empathy. More resonant in The Good Shepherd are many of the supporting turns, particularly Gambon, John Turturro as Wilson's tough-talking (non-WASP) #2, and Alec Baldwin in a minor role as a hard-living G-man. But they're not enough to put Shepherd over the top, and for every vignette in the film that contains real emotional power — most notably the interrogation of defector "Valentin Mironov" (Mark Ivanir) — there are two that, through a combination of directorial straining and an overly intrusive score, spill over into overcooked blandness. (See for example, the plane and letter-burning sequences at the end of the film, both of which are carried for several beats too long and which suffer from paint-by-numbers swelling strings on the soundtrack.) The Good Shepherd is by no means a bad film, but, alas, it's not particularly a good one either. Like a veteran CIA hand, it fades effortlessly into the background, and offers little that might be considered truly memorable.