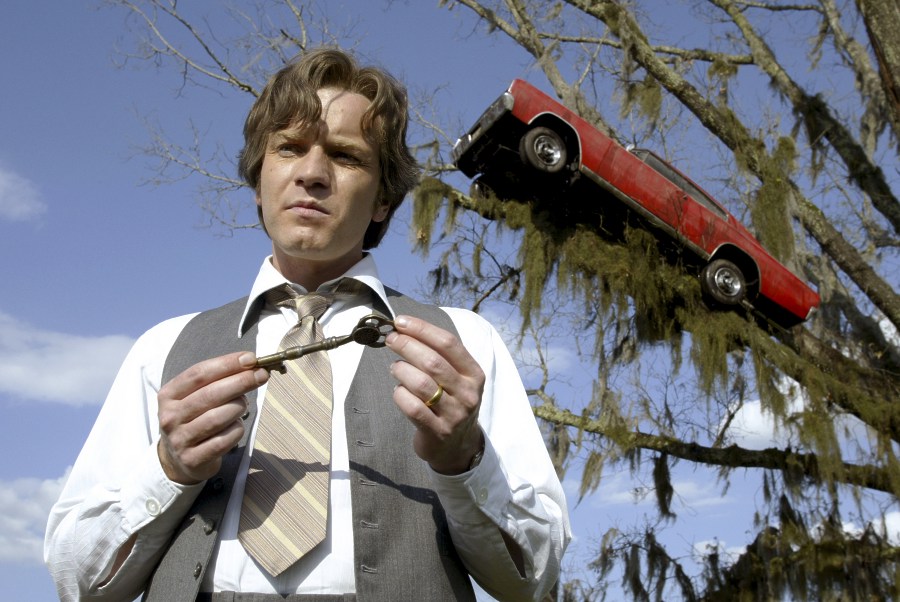 Well, having seen
Big Fish
the other night, I can safely say it's better than 2001's
Planet of the Apes
, and I enjoyed it more than 1999's
Sleepy Hollow
. Still, I expected more from this most recent outing by Tim Burton. You'd think Burton would be the perfect guy to construct a tale of fantastical, overgrown whoppers, but half the time I was wondering, "Where's the beef?"
It's not the cast's fault, really. Ewan McGregor is charming as ever in the lead (even if he and Jude Law seem to be in a dead heat as to which son of the Isles can strike the goofiest Southern accent this Christmas), Albert Finney is fine, Billy Crudup does what he can in a thankless role, and most if not all of the supporting players are solid.
But the writing…I haven't read the book, so I don't know how close it adheres to the original stories. But I thought the film was hit-or-miss and, well, episodic. Some of the fish tales, like Ed Bloom's mission to Korea or his tear through his small town, are pretty funny and enjoyable. Others, like his sojourn in Spectre, go on for far too long. And others, like the secret in Danny DeVito's trailer, never really get off the ground and seem throwaway.
Of course, the larger problem here is the saccharine nature of the whole project, which is particularly surprising given Burton's normal talent for subversiveness. He's always been good at creating dark, edgy, temperamental worlds (Beetlejuice, Nightmare before Christmas, Batmans 1&2), but somehow this sickly-sweet, frothy, straightforward story turned Tim Burton into Chris Columbus. Sure, the denouement of the film is moving in its own way, but only because Burton hits you over the head with hospital bed tearfulness and graveside eulogizing…I'm surprised he didn't kill a puppy while he was at it.
In sum, the movie seems to be missing that imaginative spark I once expected from Burton. What could have been an imaginative Ed Wood-like fusion of the mainstream and the perverse ended up coming across as a rather bland and staid studio project (As Buck Henry might put it, "On Golden Pond meets O Brother Where Art Thou.") The thing about Big Fish is, I didn't dislike it in the end. I just ended up feeling rather ambivalent about it. Hopefully, Burton will bring more of his trademark minor-key mischievousness to the table in Charlie and the Chocolate Factory.