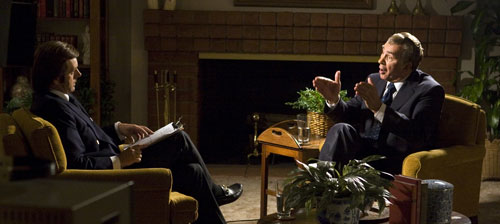 Ron Howard's version of Peter Morgan's Frost/Nixon, the first of many 2008 prestige films I caught over this past weekend, is a solid two hours of decently diverting edutainment. It's not an earth-shattering, must-see film or anything, and Morgan (and Michael Sheen)'s last recent "mini-history," The Queen, is ultimately a more memorable moviegoing experience. Still, Ron Howard's film has its merits. It's much better about opening the space and feeling less play-like than John Patrick Shanley's recent reimagining of Doubt. And it has considerably less of the dry, "Will this be on the test?" feel of much of Bryan Singer's Valkyrie, which sometimes seemed designed as a go-to staple for high school history teachers feeling under the weather. Throw in two highly watchable performances by the main sparrers in this tale, Frank Langella and Michael Sheen as Nixon and Frost respectively, and some scene-stealing buffoonery by Oliver Platt and Sam Rockwell in the margins (Think Rosencrantz/Guildenstern), and you've got a keeper here with Frost/Nixon. And, fwiw, it's probably Howard's best film since Apollo 13, perhaps ever.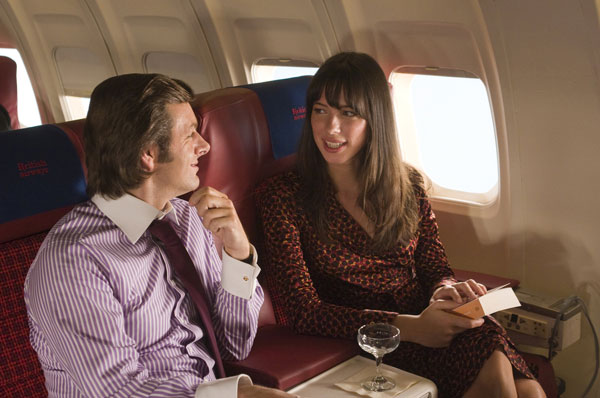 As you might expect, the movie begins with a brief recap of the Watergate crisis, culminating in the memorable departure of Richard Nixon (Langella, beady-eyed and furtive) from the White House grounds on August 9, 1974. And, while the mid-Seventies unwind, Nixon licks his wounds, and Rocky Balboa trains on the stairs of the Philadelphia Museum of Art for his one shot at Apollo Creed, another challenger — this time from across the pond — begins his own preparations for taking on the champ. In this case, the challenger is David Frost (Sheen), a talk show host and television personality whose American show failed in syndication and who has since been relegated to covering stupid-human-tricks Down Under. Hungry to get back into the Stateside game, Frost sees immediate opportunity in a series of interviews with Nixon, and, by dint of sheer ambition, manages to rope in his BBC producer friend (Matthew MacFadyen of Pride and Prejudice), two down-and-out researchers (Platt and Rockwell), and a leggy brunette he meets on the plane (Rebecca Hall of The Prestige and Vicky Christina Barcelona) into his audacious proposal.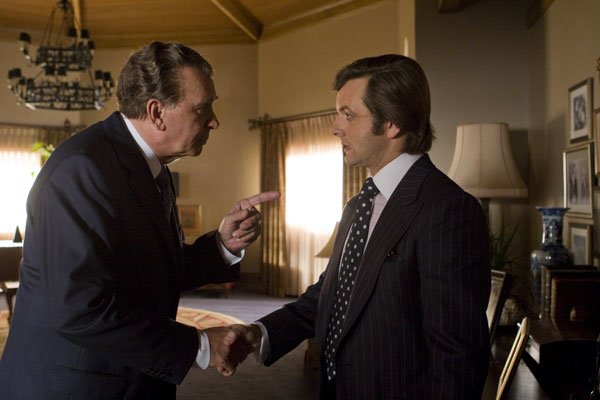 At first, it seems, Frost is in luck. When not dying a slow death on the lecture circuit, the former president has been languishing in San Clemente, and he and his handlers (most notably Kevin Bacon) have been looking for a way to get back in the game themselves. So after Nixon's agent (Toby Jones) extracts from Frost a price the television "performer" can't really afford, and it is deemed by all involved that Frost is a certifiable lightweight, who can be molded as needed to fit the president's new media strategy, the interviews are agreed upon. In the early rounds — and rounds they are, with points scored, corner men, sweat towels (no 1960 redux for Nixon this time) and the like — everything proceeds according to plan, with Nixon pontificating presidentially and Frost (and his increasingly exasperated researchers) completely hemmed in. Will this spirited but out-of-his-depth newsman manage to break out of the corner and land a few punishing blows himself? I dunno, but we'll definitely need a montage…
To be honest, I don't think Frost/Nixon ever really succeeds in selling us on the purported importance of the Frost interviews. Granted, I'm too young to remember how they played at the time — I was sorta more focused on Electric Company and Star Wars right around then. But for all the talk of much-needed national catharsis throughout the film, the world-historical stakes here seem rather small. Coming after all the investigations into the break-in and subsequent cover-up, the congressional hearings on Watergate, the ultimate resignation of the president, and the pardon by Ford, it's hard to see these 1977 talks as much more than a coda to the main event. And, while Langella is exemplary as the 37th president and definitely deserves his recent Oscar nod, I actually think Oliver Stone's Nixon did a better job of humanizing Tricky Dick and animating his demons. (In fact, there's a midnight drunk-dialing episode here in Frost/Nixon (an obviously fabricated event) which wouldn't seem out of place in Stone's film.)
Still, once you move past its historical pretensions and realize that, for all intent and purposes, Frost/Nixon is basically just the political debater's version of a boxing movie, there's still some good fun to be had here. And, hey, he may now seem like a piker when compared to the intelligence-falsifying, torture-happy shenanigans of 43 — can we expect Lauer/Dubya just around the corner? — but at least we'll always have Nixon to kick around some more.
Update: David Frost, Michael Sheen, and others talk about the film here.