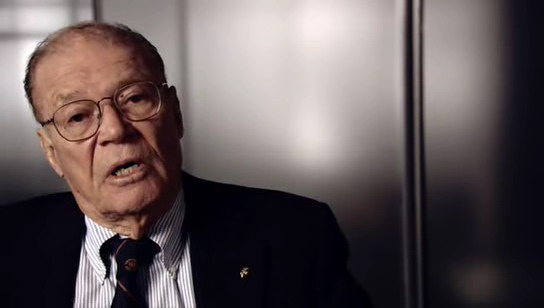 If you can stand being bombarded by endless slo-mo shots of dropping ordnance set to a Phillip Glass pulse,
The Fog of War
, the new Errol Morris documentary about and extended interview with former Secretary of Defense Robert McNamara, makes for an interesting evening out. Despite the heavy saturation on screen, there are no real historical bombshells dropped here — The movie doesn't aim to muckrake a la
The Trials of Henry Kissinger
, and the picture you get of Vietnam-era McNamara is the same one you'd find in a book like
Robert Schulzinger's A Time for War
: Publicly optimistic, McNamara seems deeply cognizant from early on that Vietnam will be a quagmire, but he — like LBJ and almost all of the foreign policy establishment — are too blinded by the
fear of falling dominoes
to consider withdrawal as a viable option. (McNamara does add fuel to the fire here that Kennedy wanted a full withdrawal by 1965. I guess if anyone would know, he would, but the books I've read don't really bear this out.)
Nor do we ever seem to get under McNamara's skin here — he remains intelligent and composed throughout, deflecting the tougher questions about Vietnam with a practiced ease. Still, McNamara, a surprisingly spry 86, does offer us some intriguing (and occasionally self-serving) reminiscences here about his experiences in the corridors of power, from his assessment that the Cuban Missile Crisis was defused mainly by simple, dumb luck to his thoughts on the morality of civilian fire-bombing, which he efficiency-maximized for Curtis LeMay during WWII.
As a documentary, The Fog of War sometimes gets clouded by its own cinematic devices — to take just one example, there's a shot of dominoes across a map of Asia that is striking at first but fast becomes overused. And the continual Phillip Glass cascading over falling bombs and rushing people had me thinking of Koyaanisqatsi outtakes a lot of the time. In sum, the film works best when it's simply an engaging monologue by an intelligent, evasive, and often frustrating Cold Warrior as he muses over a life perhaps not-so-well lived.