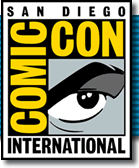 The place to be right now, other than Berlin? San Diego, where the 2008 Comic-Con is now under way. There are lots of pictures of the floor here and here — Note the full-scale version of NIte-Owl's ship (Archimedes) from Zack Snyder's Watchmen.
One of the first stories down the pike: Strangely enough, the recent rumors are true: Darren Aronofsky is signed for a Robocop sequel. I'd buy that for a dollar…But, don't get Murphy out of cold storage just yet: Not many of Aronofsky's projects ever seem to get off the ground. (See also: Batman: Year One, Ronin, Lone Wolf and Cub, Watchmen, Black Swan.)
Meanwhile, Disney brought down the house the first day with a surprise, fully-formed teaser for TR2N, featuring none other than the Dude, in both 1983 and 2008 incarnations. Best of all, as I recently wished in my Iron Man review, they seem to have stuck with the "Col. Kurtz up the datastream" idea. That should be great fun. Everyday, I think I'm going to wake up back on the grid…
Update: Also from Comic-Con Day 1, the trailer for Wolverine airs (ho-hum), Coming Soon has a sit-down with new Doctor Who showrunner Steven Moffat, and Torchwood's Captain Jack is up for Captain America? I don't see that at all.
Update 2: The TR2N trailer is up in really poor Kramervision…and it still looks grand. (A slightly cleaned up version is here.)