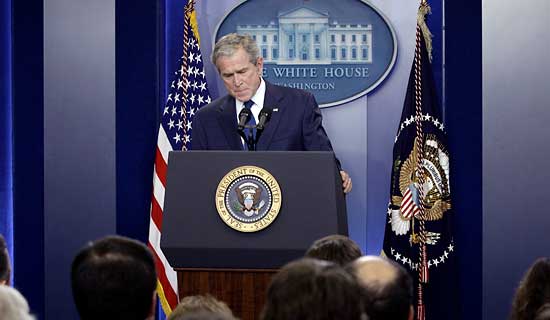 "I have often said that history will look back and determine that which could have been done better, or, you know, mistakes I made. Clearly putting a 'Mission Accomplished' on a aircraft carrier was a mistake. It sent the wrong message. We were trying to say something differently, but nevertheless, it conveyed a different message. Obviously, some of my rhetoric has been a mistake. I've thought long and hard about Katrina — you know, could I have done something differently…"
After eight long years, the end is in sight, and the Idiot Wind is at long last subsiding. For the 43rd president of these United States, George Dubya Bush, gave his final press conference today, during which he finally conceded that "there have been disappointments." Why, yes, yes, there have. "Abu Ghraib obviously was a huge disappointment during the presidency. Not having weapons of mass destruction was a significant disappointment. I don't know if you want to call those mistakes or not, but they were — things didn't go according to plan, let's put it that way." Um, yeah.
At any rate, don't worry: I'm sure we'll be getting one last round of 9/11, 9/11, 9/11 before closing time, when Dubya delivers his "farewell address" on Thursday. One can only hope that it turns out to be Eisenhoweresque, and not one more final, futile attempt to rewrite the history books. But I'm not keeping my fingers crossed.