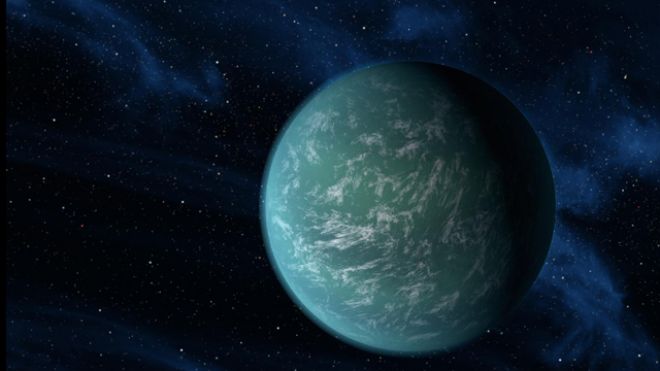 "'
This is a major milestone on the road to finding Earth's twin,' said Douglas Hudgins, a scientist with the Kepler program…Kepler-22b, located about 600 light years away, has a radius 2.4 times bigger than the Earth, making it the smallest planet ever found in the middle of the habitable zone around a star.
" Among the several fascinating announcements in astronomy in recent weeks (including
Hubble passing the 10,000th mission mark
), scientists
announce the discovery of a faraway habitable planet
, Kepler-22b. "
Scientists don't yet know whether it is a rocky, gaseous or liquid-covered planet.
" But, don't worry — the Air Force has
top men looking into the situation
. Top…men.
Moreover, just today scientists announced the discovery of two Earth-sized planets — Kepler 20e and Kepler 20f. "'For the first time, we've crossed the threshold of finding Earth-size worlds,' Torres says. 'The next step is having an Earth-size planet in the habitable zone.'" And apparently Kepler 20f may have once had water, not unlike a planet closer to home…
"This is the single most bullet-proof observation that I can think of that we've made this entire mission regarding the liquid water." Something to consider if we don't manage to tackle global warming by 2006 — the prior existence of water on Mars is further confirmed through a trail of gypsum left within an ancient rock. "Both the chemistry and the structure 'just scream water,' Squyres added."
And, on a grander scale, astronomers have begun to uncover supermassive black holes (no, not those ones) at the centers of galaxies. These are "the biggest, baddest black holes yet found in the universe, abyssal yawns 10 times the size of our solar system into which billions of Suns have vanished like a guilty thought." In other words, plenty of room for Maximillian Schell to get lost in there…Tread carefully.