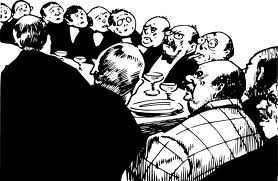 "The obvious medicine for a slump due to inadequate private-sector demand is to run government deficits large enough to restore the economy back to its potential. The private sector isn't going to increase demand on its own, no matter how much we profess our love for job creators. That is the simple reality. But instead of preaching what the textbooks prescribe, much of the economics profession has become enamored of numerology, telling us that all hell will break loose if the debt-to-GDP ratio crosses some magical number."
CEPR's Dean Baker, one of the only economists to anticipate the collapse of the housing bubble, calls out his many colleagues currently collaborating in the deficit witchhunt. [Y]oung people today can expect many more years of dire labor market conditions, because the remedies that could turn around their job situations have been blocked by nonsense spewing from economists. Incidentally, this situation works out very nicely for those on top, who are enjoying the benefits of record-high profit shares, which have also helped to fuel a soaring stock market."
Along very similar lines, here's James K. Galbraith on the state of economics in 2002:
"Leading active members of today's economics profession, the generation presently in their 40s and 50s, have joined together into a kind of politburo for correct economic thinking. As a general rule — as one might expect from a gentleman's club — this has placed them on the wrong side of every important policy issue, and not just recently but for decades. They predict disaster where none occurs. They deny the possibility of events that then happen. They offer a "rape is like the weather" fatalism about an "inevitable" problem (pay inequality) that then starts to recede. They oppose the most basic, decent, and sensible reforms, while offering placebos instead. They are always surprised when something untoward (like a recession) actually occurs.

And when finally they sense that some position cannot be sustained, they do not re-examine their ideas. Instead, they simply change the subject. No one loses face, in this club, for having been wrong. No one is disinvited from presenting papers at later annual meetings. And still less is anyone from the outside invited in. Only the occasional top-insider-turned-dissident — this year the admirable Stiglitz — can reliably count on getting a hearing.