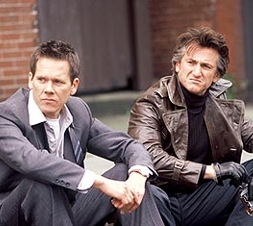 So I caught Mystic River the other night and, with its crisp, no-nonsense direction and a glut of extraordinary performances (I liked everyone but Laura Linney, who — like Jeremy Davies — always comes across as overly mannered to me), it pretty much has to be considered an Oscar contender. Sean Penn, Kevin Bacon, and especially Tim Robbins all disappear into their meaty roles, while a mousy Marcia Gay Harden and a large-and-in-charge Lawrence Fishburne (Morpheus, dude, lay off the bacon) provide excellent supporting work. Sure, there are elements of the movie that bugged me – For one, I thought the conceit with Kevin Bacon's silent wife was just plain goofy. (Can you hear me now? Good!) For another, the pieces of the murder mystery are all in place before the wheel of Fate grinds to its inexorable conclusion, so there's a good ten-twenty minutes there where you're just waiting for the characters to do what it is they have to do.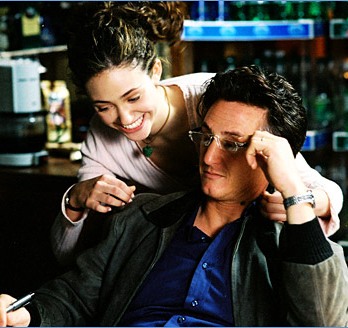 All in all, though, I thought Mystic River was a film well-worth seeing, one with well-developed, multifaceted characters and a strong, rooted sense of place. (Naturally, I was reminded of the months I spent in Somerville.) It seems people are running hot and cold on the fifteen minute coda at the end of the film — Linney's speech aside, I actually liked it, and thought Harden's last few moments (and the parade echoing the first scene of the film) were kinda chilling. As Sean, Jimmy, and Dave all note, one could easily imagine a Twilight Zone episode where the lives of the three main characters were switched, depending on which of them was forced to become
"the boy who escaped from wolves." To paraphrase the son of an altogether different neighborhood, sometimes the world is a monster, bad to swallow you whole.