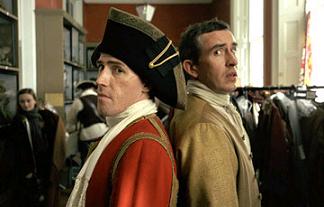 I've never read Laurence Sterne's The Life and Opinions of Tristram Shandy, Gentleman (and was surprised to discover that this pre-mo fellow Sterne apparently beat out overhyped authors like David Foster Wallace and Dave Eggers to the sprawling po-mo novel by, oh, two hundred years.) So, to be honest, I've no clue as to whether Michael Winterbottom's Tristram Shandy: A Cock and Bull Story succeeds as an adaptation (or Adaptation) of Sterne's tome or not. I do know that this Shandy, while not as engaging as Winterbottom and Coogan's 24 Hour Party People, is a breezy, detour-ridden romp through the life (well, birth) of Tristram Shandy, the business of filmmaking, and the public persona of the inimitable Steve Coogan.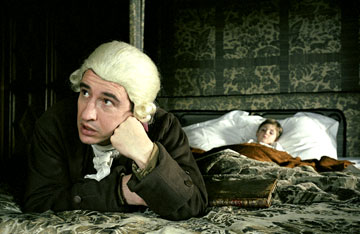 After some discussion of the evocative shade of actor Rob Brydon (Rob Brydon)'s teeth, Tristam Shandy (Steve Coogan), a la 24HPP, emerges from his manor to introduce himself to us, the audience. He then proceeds to tell his life story — but wait, first we need to talk about his father, Walter Shandy (Steve Coogan), and the strange circumstances attending Tristram's conception and birth. But, before we finish that digression, we meet Steve Coogan (Steve Coogan), who, while playing both Walter and Tristram Shandy in a film version of Tristram Shandy, must navigate among his visiting girlfriend Jenny (Kelly MacDonald), his possible new girlfriend Jenny (Naomie Harris), his long-suffering director (Jeremy Northam) and screenwriter (Ian Hart), and his co-star and erstwhile rival, Rob Brydon…who, as it turns out, can do a mean Steve Coogan impression.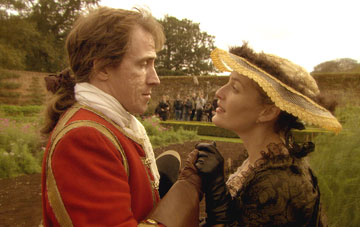 Meta enough for ya? (If not, you can throw in Gillian Anderson, Shirley Henderson, and Stephen Fry as Gillian Anderson, Shirley Henderson, and Stephen Fry respectively. And also skulking about the set are Shaun of the Dead's Dylan Moran, Extras' Ashley Jensen, Dirty Pretty Things' Benedict Wong, and even Mr. Weasley (Mark Williams), as the resident historical consultant/martinet.) Well, if it all sounds like two hours of breaking-the-fourth-wall head games and inside baseball, it sorta is. Still, this cock and bull story is also consistently funny, particularly if you find Steve Coogan's dry not-so-self-effacing wit amusing. And, when you get right down to it, there just aren't that many eighteenth-century literary adaptations out there that offer up chance circumcisions, Al Pacino jokes, and the sight of a grown man being lowered upside-down into a styrofoam womb.