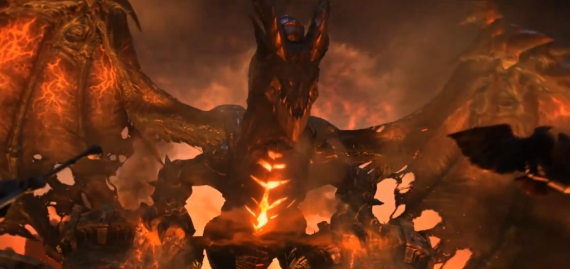 That's great, it starts with an earthquake…On its
6th anniversary
, and a little over
two years after Wrath of the Lich King
, the World of Warcraft is
shattering into pieces this morning
to make way for
Cataclysm
on December 7th. [
Cinematic
.] In other words, the original 2004 release is
being completely revamped and updated
, and the Old World that I and 12 million other people have been traipsing about in for the past several years is disappearing forever.
(This posed a poignant question for long-time players last night — Where do you go when the world ends? I myself parked my undead rogue on the grave where he was "born" four years ago, atop a hill in Tirisfal Glades, so he could watch the decline from a hazy distance.)
As usual, I've got a lot of games on my plate at the moment — CoD: Black Ops, Fallout: New Vegas, Civ 5, Starcraft 2, and DJ Hero 2. I'm still only halfway through Red Dead Redemption, and everything I've seen from the Kinect (and particularly Dance Central) suggests it's a game-changing device in its own right. Still, for what hours I consign to gaming, I usually just keep coming back to WoW. It's a quality production, through and through.