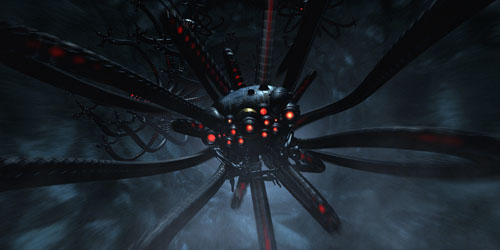 "'If a drone's system is sophisticated enough, it could be less emotional, more selective and able to provide force in a way that achieves a tactical objective with the least harm,' said Purdue University Professor Samuel Liles. 'A lethal autonomous robot can aim better, target better, select better, and in general be a better asset with the linked ISR [intelligence, surveillance, and reconnaissance] packages it can run.'"
Er, right, but aren't we forgetting something here? And don't you people ever go to the movies? Scientists are apparently working toward drones that can make their own autonomous decisions about targets. "Though they do not yet exist, and are not possible with current technology, LARs are the subject of fierce debate in academia, the military and policy circles. Still, many treat their development as inevitability."
Meanwhile, over on the other side of the world:
"Scientists at Korea's Advanced Institute of Science and Technology (KAIST) have come up with one solution to the jellyfish problem: build robots to kill them. For the last three years, the team has been working to create robots that can travel the ocean, seeking out swarms of jellyfish using a camera and GPS. Once the jellyfish are located, the robots set about shredding the jellies with an underwater propeller."
INITIATING PROTOCOL SHRED-ORGANBAGS 101101111…Due to a climate-change-fueled ascendance of jellyfish across the world, Korean scientists have unleashed automated robotic sentinels to mitigate the problem. "[T]he video at top is what they're doing beneath the surface, using a specialized net and propeller. Be warned, it's graphic. In preliminary tests, the robots could pulverize 2,000 pounds of jellyfish per hour."
Sigh…this will all end in tears, people. Paging Kent Brockman.