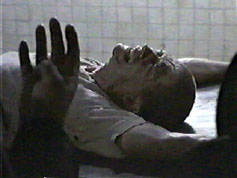 There are many reasons why I post less frequently at GitM these days, and a lot of them are the usual prosaic stuff —
life is good
, the days are very busy, my
garrison isn't going to build itself
. But among them also is, quite frankly, it's sometimes hard to see a purpose to it anymore, at least in GitM's current incarnation. Case in point:
this month's CIA torture revelations
.
Like countless others, I have been railing about the Bush-era CIA torture regime here for over a decade now. So this isn't a breaking story. Still, the recent Senate Report — which the "most transparent administration in history" fought tooth and nail to bury — ably covers all we've known to date, and includes a number of horrifying new revelations.
For example, so it turns out that we — you and I — paid foreign governments $300 million to construct and maintain our dungeons.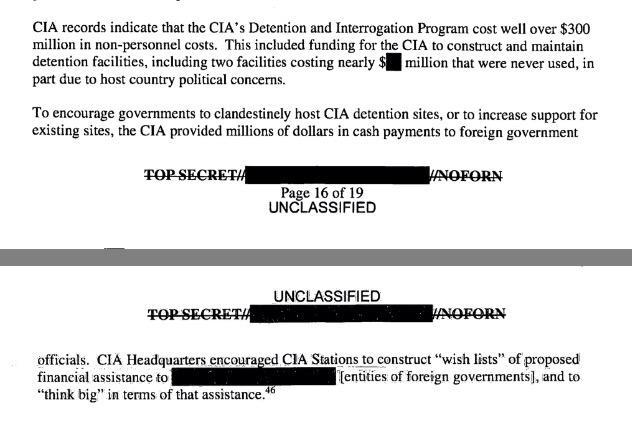 We — again, you and I — also paid
two psychiatrists $80 million to come up with more devastating torture techniques
. (And their contract was originally for $180 million!)

These two assholes got on the payroll after Al Qaeda higher-up Abu Zubaydah was captured. Zubaydah was then
waterboarded over eighty times
, mainly so he and others would
corroborate the false positive, demanded by Iraq War architects, that Iraq was involved with Al Qaeda
.

We also tortured people for not calling CIA officers "sir," or having a stomachache.
We even tortured our own informants.

We anally raped detainees with pureed hummus, causing anal fissures and a rectal prolapse due to "excessive force."

We also may have
raped detainees with dogs
. And it
sounds like a child was raped
in our custody as well.
Another detainee froze to death during his Room 101 session.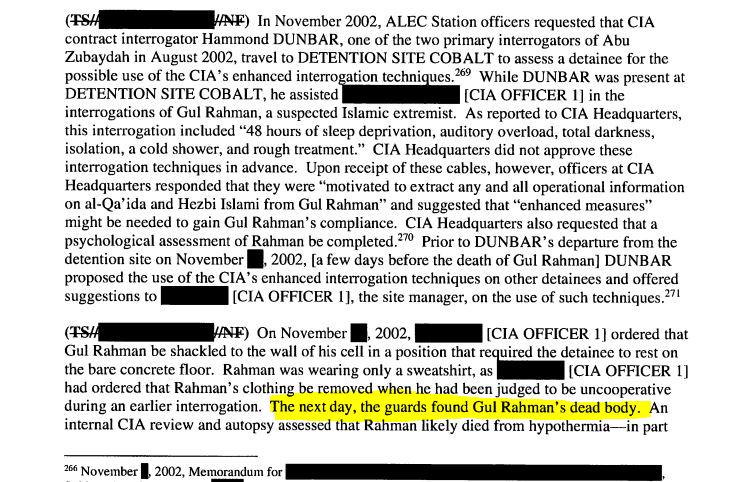 Naturally, the CIA tried to cover all this up. First, they blatantly lied about the efficacy of their torture regime. (And, since it cannot be said enough, particularly in the wake of the
CIA's Zero Dark Thirty propaganda
:
Torture does not work
.)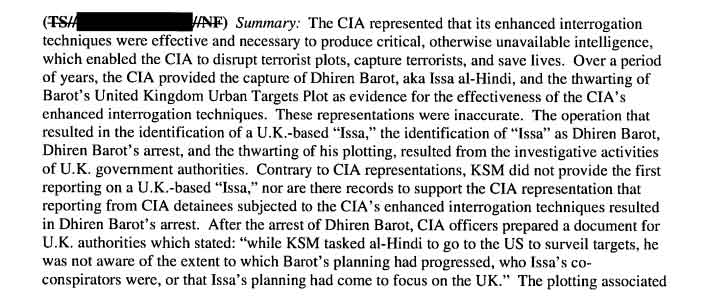 Then, they — with the full and active complicity of both the Bush and Obama administrations — blocked the American people from seeing the evidence of their depravities, including
destroying torture tapes
,
repeatedly lying to Congress
, and
hacking into Senate computers
.

And, still, over a decade later: Even though the
Constitution bans torture
, even though it is a crime to lie to Congress, even though it is
explicitly a crime NOT to prosecute torturers
,
Nobody Has Gone To Jail
— well,
except the whistleblower
.
And on top of everything else, Americans approve of all of this by 2-1.
So, what is there to say? The illegality here is black and white, the crimes abhorrent, the moral corruption pervasive…and yet we all just collectively shrug. The sad and hilarious thing about The Onion's recent minotaur video — "That hungry half-man, half-bull kept us safe from the terrorists!" — is this is basically the world we live in now.
Makes me sick, m*therf*cker, how far we done fell.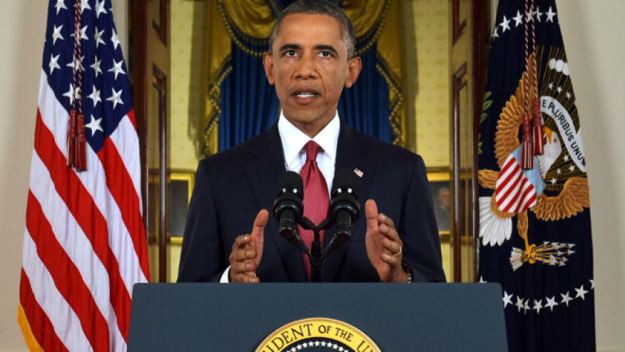 "Destroying what Obama calls the Islamic State of Iraq and the Levant won't create an effective and legitimate Iraqi state. It won't restore the possibility of a democratic Egypt. It won't dissuade Saudi Arabia from funding jihadists. It won't pull Libya back from the brink of anarchy. It won't end the Syrian civil war. It won't bring peace and harmony to Somalia and Yemen. It won't persuade the Taliban to lay down their arms in Afghanistan. It won't end the perpetual crisis of Pakistan. It certainly won't resolve the Israeli-Palestinian conflict."
ISIS, oh ISIS – What drives us to you is what drives us insane: In Reuters, Middle East expert Andrew Bacevich has some serious doubts about a military solution to the newest Big Bad (who, let's remember, are a threat at all precisely because of all the weapons we've already dumped in the area — Gee, it's almost like our always getting involved makes everything worse.) "Rudderless and without a compass, the American ship of state continues to drift, guns blazing."
He's not alone. While they've been highly complicit in the collective freak-out over the past few weeks, the media — as welcome returning blogger Dan Froomkin notes — are starting to get skeptical too. "Allam notes that Yemen and Somalia are hardly examples of success; that the new Iraqi government is hardly 'inclusive'; that training of Iraqi soldiers hasn't worked in the past; that in Syria it's unclear which 'opposition' Obama intends to support; and that it may be too late to cut off the flow of fighters and funds."
Keeping in mind that Obama himself seems to think this is all a terrible idea, let's recall what we're really dealing with here, via the very worthwhile "War Nerd," Gary Brecher: "ISIS, compared to any of the groups on that list, is about as scary as your neighbor's yappy Shih Tzu: all noise and no teeth. Let's just sober up, for Christ's sake, and remember we're talking about a half-assed Sunni militia that couldn't face up to Assad's mediocre Syrian Arab Army and still hasn't found a way to occupy Sunni Iraqi towns that were outright abandoned by the Army, left totally undefended."
Along the same lines, see Brecher on ISIS's initial advance back in June:
"Actually, topography has everything to do with what's gone well or badly for ISIS. in this latest push. If you know the ethnic makeup of the turf they've taken, their 'shocking gains' don't seem so shocking, or impressive. After all, we're talking about a mobile force — mounted on the beloved Toyota Hilux pickup truck, favorite vehicle of every male in the Middle East — advancing over totally flat, dry ground in pursuit of a totally demoralized opponent. In that situation, any force could take a lot of country very quickly…So this isn't the second coming of Erwin Rommel by any means. Everything has conspired to push the Sunni advance, from the lousy opponent they're up against to the terrain, which is a light mechanized commander's dream.

Flat and dry is how a mechanized force commander wants his ground — and believe me, you haven't seen flat and dry until you get to Iraq. Once you're south of the Kurdish mountains, you're on a dried mudflat…This is, after all, Mesopotamia, a land literally built by the sediment of the Euphrates and Tigris. It's river mud, but nice and dry because very little rain falls,..On ground like that, any force with good morale and enough fuel could advance as quickly as the Sunni have. It's the Bonneville Salt Flats of insurgency, the place you go to set new speed records."
The point being, we have to stop losing our minds and letting a hysterical media and the same gaggle of Neocon pricks who've been wrong about everything for two decades get us involved in every opportunity to make war in the Middle East. Are ISIS a bunch of Bad Men? Undoubtedly. But that doesn't make them an existential threat to the republic. So how about we all take a deep breath before, yet again, expending ever more blood and treasure in the region?