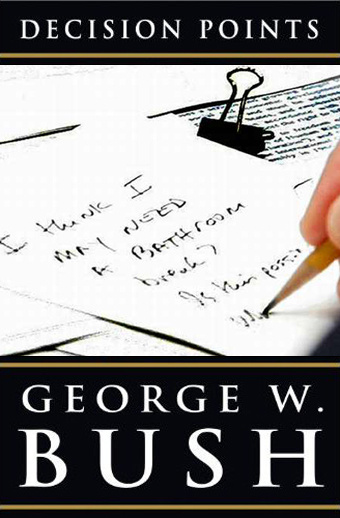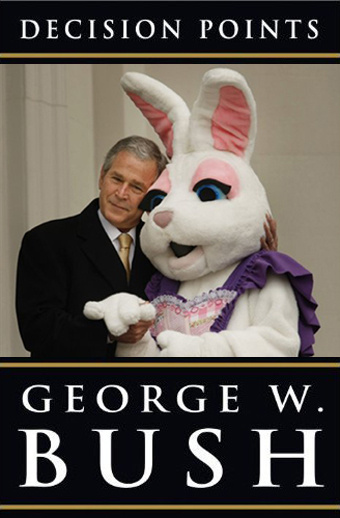 "Decision Point: Is it a good idea for me to land on an aircraft carrier in a flight suit with a sign that says 'Mission Accomplished'? Key Decision: How is it not a good idea?" On the announcement that former President Bush's forthcoming memoirs will be called, um, Decision Points, the wags at the Gawker crime lab have some fun with Photoshop. (Speaking of decision points, I will concede that it's very smart of the GOP powers-that-be to wait until the week after Election Day to remind America of the Dubya years.)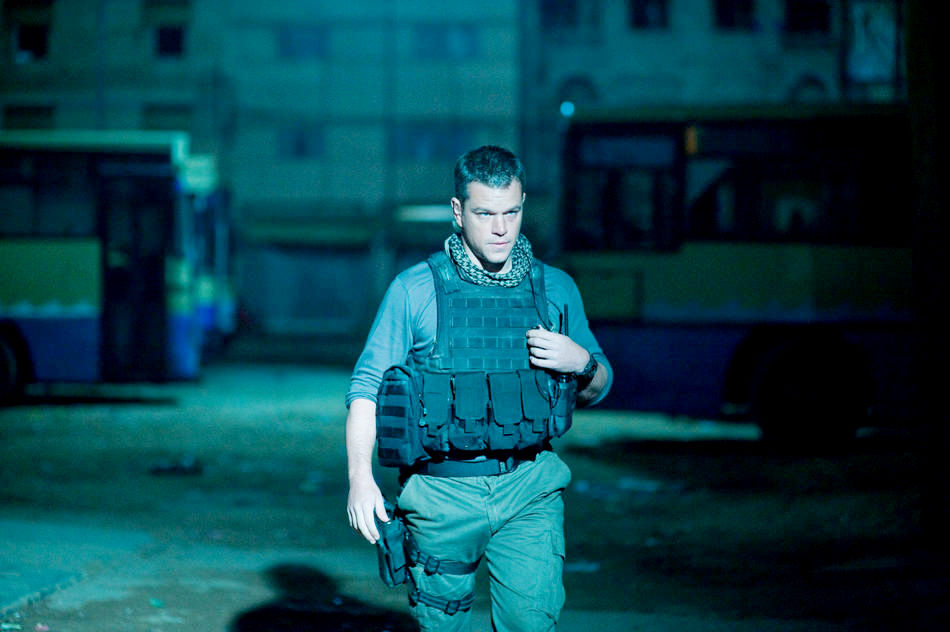 On
this St. Patrick's Day
, what better recent release to discuss here at GitM than
Paul Greengrass' Green Zone
? Not only do we have two shades of emerald in that last sentence, but we're now on the cusp of the 7th anniversary of the
beginning of the War in Iraq
. (It broke out, I well remember, just as I was
heading to a March Madness weekend in Vegas
.) Alas, I just wish I had a better
sitrep
to report.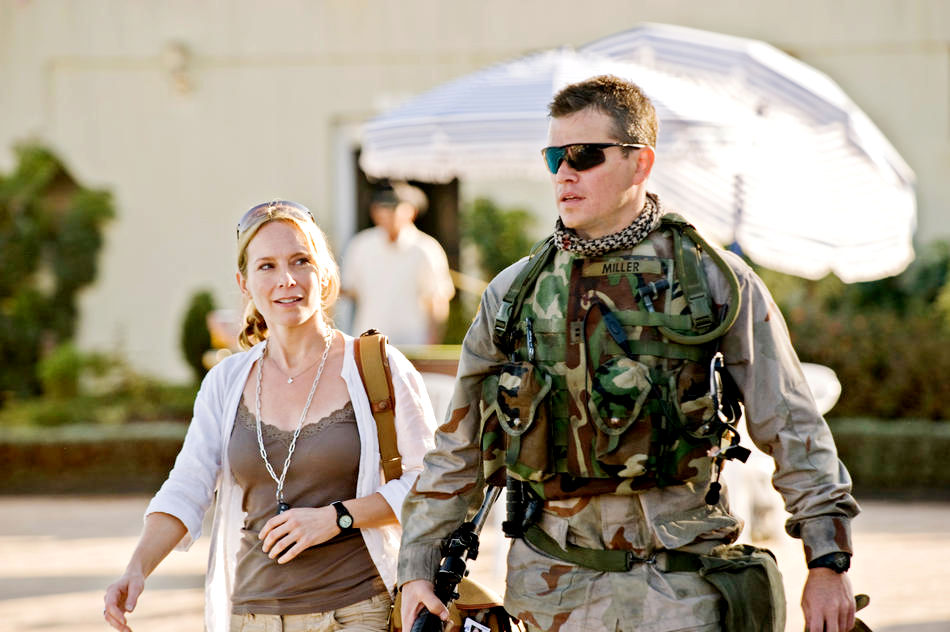 I don't mean to be too harsh — There's nothing terribly wrong with this edutainment-y attempt to explain de-Baathification, highly dubious detainee procedures, and most notably the faked WMD casus belli to disinterested laypersons by way of action-thriller. And, in a way, I sorta admire the gutsiness of the the attempt. But, if you were already well aware of these grim developments, and I assume most GitM readers are, then it's hard to escape the sensation that one is mainly just being talked down to for two hours. Wait, there were no WMD in Iraq? You're kidding me, right? And, while I'm a great fan of Greengrass' previous output — I said over and over again in this space that I wish he had stuck with Watchmen, and on the Top 100 films of last decade list, Bloody Sunday was #84, his two Bournes were at #49, and the exemplary United 93 was at #6 — The Green Zone feels quite a bit more leaden than usual.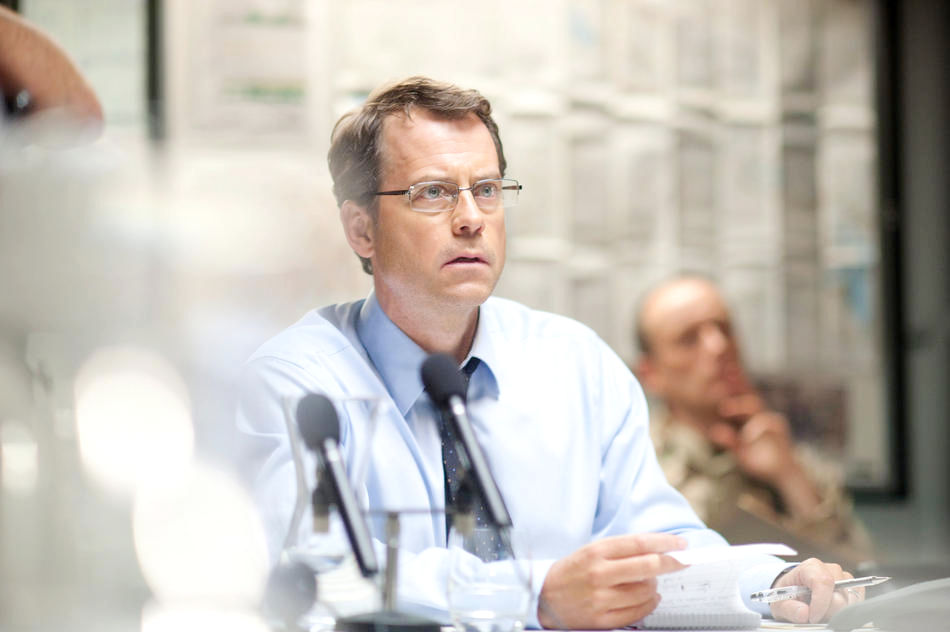 As with the political edutainment project Greengrass aspired to here, I like the idea of fusing his highly visceral action work (the Bournes) with his fly-on-the-wall discursions into recent history (Sunday, '93)…on paper. But The Green Zone gets lost somewhere in the interstice, and lacks the gripping power of either of these previous Greengrass grooves. Instead, Zone ends up mostly being two grainy hours of watching Matt Damon run around at night, as he tries to uncover an insidious government plot that our nation has been fully aware of for years…and has chosen to greet with a yawn.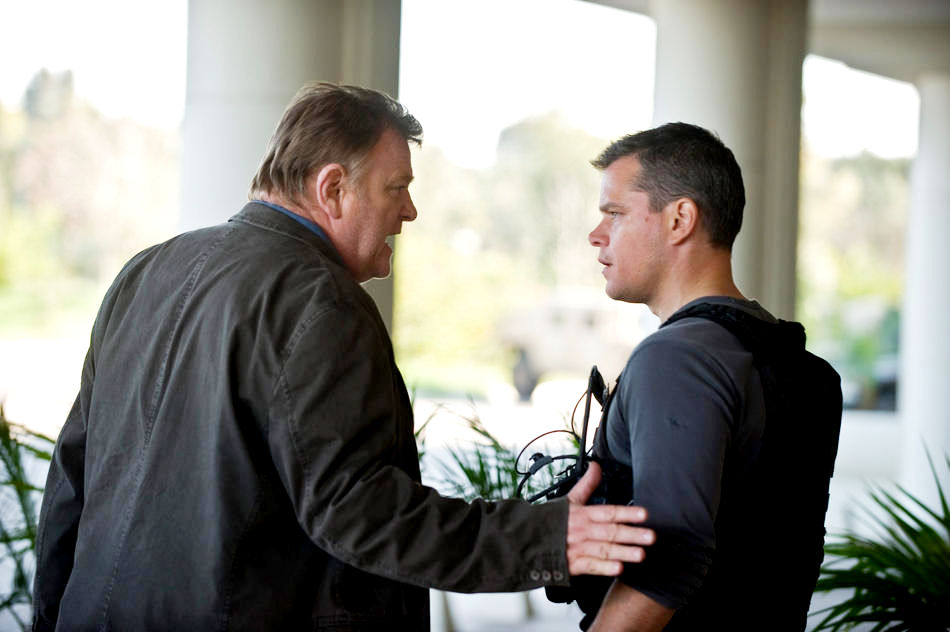 More on that depressing problem in a bit, but, first, to bring y'all up to speed: Loosely based on Rajiv Chandrasekaran's Imperial Life in the Emerald City, a non-fiction examination of Dubyaite imbecility and excess in post-war Baghdad, Green Zone begins with a brief sequence set amid the original Shock-and-Awe period of the war, followed by, a few weeks later, a tense raid on a possible WMD storehouse by American soldiers. Led by Chief Warrant Officer Roy Miller (Damon), this crack MW2-ish assault ends up finding, well, bupkis, just like the time before and the time before that.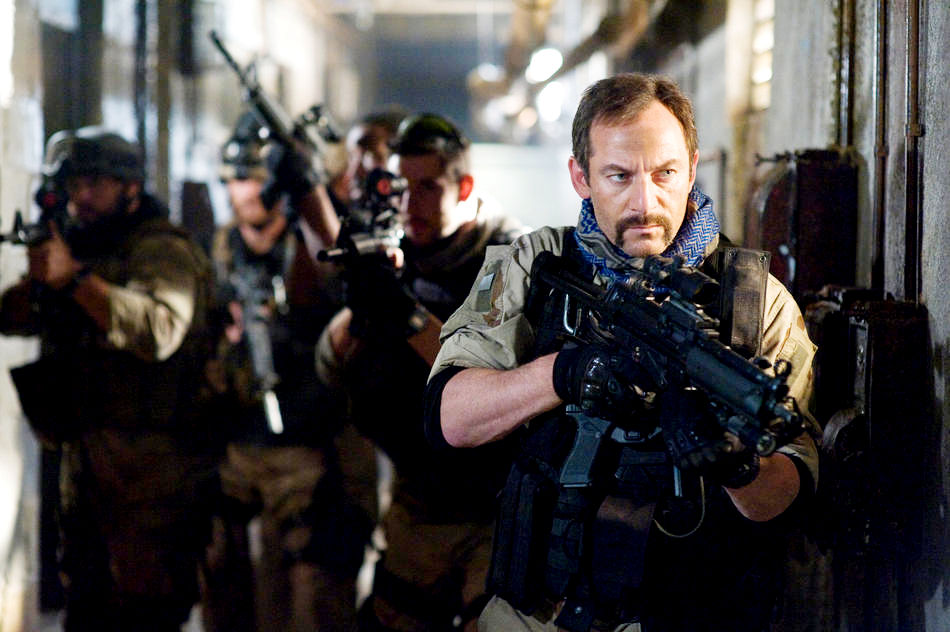 To Chief Miller, the problem here is obvious — the intel must be rotten. But, when he brings this up at the next briefing for high-level military muckety-mucks, he is basically told to shut up and do his job. Nonetheless, events soon conspire to introduce Miller to the "Jack of Clubs" in the Dubya deck, a Baathist general (Yigal Naor) with a still-clearly extant power base in Baghdad. And, when our hero digs deeper to figure out how this Jack might know "Magellan," the top-secret source of all this lousy intel, he soon finds himself trapped — along with a very Judith Miller-y reporter (Amy Ryan) — in a power play between a slimy executive branch bureaucrat (Greg Kinnear, stuck no more) and a grizzled CIA hand (Brendan Gleeson), one that might just end up getting Miller fragged by the creepy Special Forces guy (Jason Isaacs, with great accent) who keeps popping up…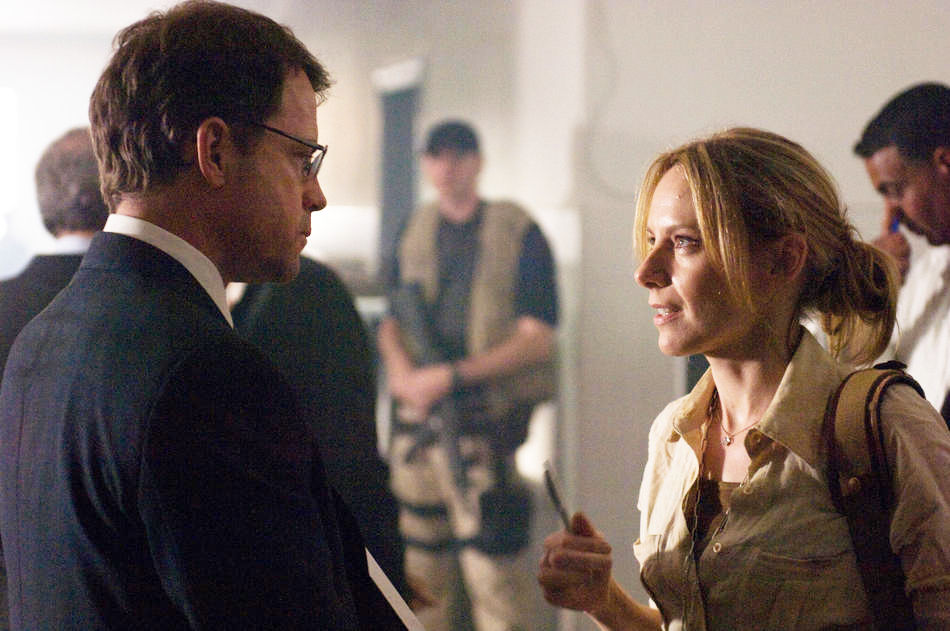 Along the way, there's a digression into a detainee facility with all the makings of an Abu Ghraib waiting to happen, the tearful homecoming of the administration's hand-picked Iraqi stooge (re: Ahmed Chalabi), some rather pained attempts to make the decision to de-Baathify an action beat…In other words, Green Zone is basically an attempt to dramatize the Iraq war for people who, for whatever reason, weren't paying much attention the first time 'round. And, to be fair, it's done with solid acting all around (including several folks recognizable from United 93), quality production values, and a reasonable degree of versimilitude throughout. (Note also the brief Paul Rieckhoff cameo, which should nip any IAVA whining about dramatic license right in the bud.)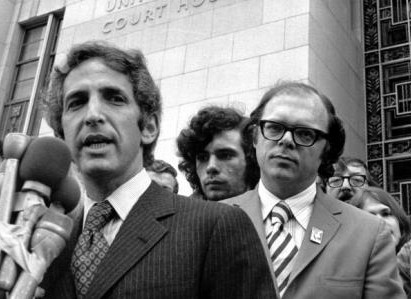 But, for all its edutainmenty truths to tell, Green Zone still ends up feeling rather fake and film-ish to me, perhaps in part because — unlike Greengrass' other recent histories — it seems to subscribe to a very movie-like All the President's Men view of things, where, once word of misdeed gets out, justice will be done tho' the heavens fall. Not to get all Debbie Downer up in here, but that's not really the way the world works anymore, is it? One of the saddest and scariest moments in the recent and very worthwhile Daniel Ellsberg: The Most Dangerous Man in America is when Ellsberg explains how he thought everything would change once the Pentagon Papers got out…and then he finds that, in the face of clear and irrefutable evidence of government wrongdoing, most people just shrugged.
This is the uncomfortable horror that Green Zone almost seems willfully designed not to recognize. The whole premise of the movie seems to be that, if We the People knew what really went down in Iraq (or could just be taught via action-movie), we would be totally livid about the corruption involved. But, is the problem really that the American people don't know what happened in the build-up to Iraq? Or is it that we know pretty well what happened and don't much seem to care?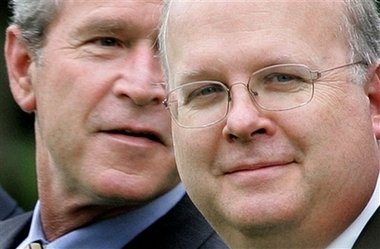 Just as with our indefensible dabbling in torture and indefinite detention in recent years, we have known about the lies and incompetence that fueled the Iraq fiasco for awhile now. And, alas, nothing ever happened. Dick Cheney, Karl Rove, and the whole awful, lying lot are still deemed Serious People with Serious Opinions by the nation's domesticated media watchdogs, who, by the way, have also been studiously ignoring the Blair hearings overseas. Our current president, elected with the largest mandate for change in a generation, has deemed all of this just the sins of the past and refused to "look backward" (or worse, made himself complicit in these Dubya-era crimes.) And life continues, much as it has this past age, with no sense of reckoning whatsoever for the Big Lies that were told.
One of the main reasons Bloody Sunday and United 93 work so well is that they offer complex, nuanced portraits of complicated times. But, as Green Zone moves along, it just ended up feeling more and more like a cartoon to me, and one predicated mainly on wishful thinking. Like I said, I guess I admire what Paul Greengrass & co. were trying do here, but Green Zone as an action film feels flat and mostly uninvolving. And Green Zone as a political enterprise — Iraq War: The Movie!, basically — often seems at best condescending and at worst dangerously naive.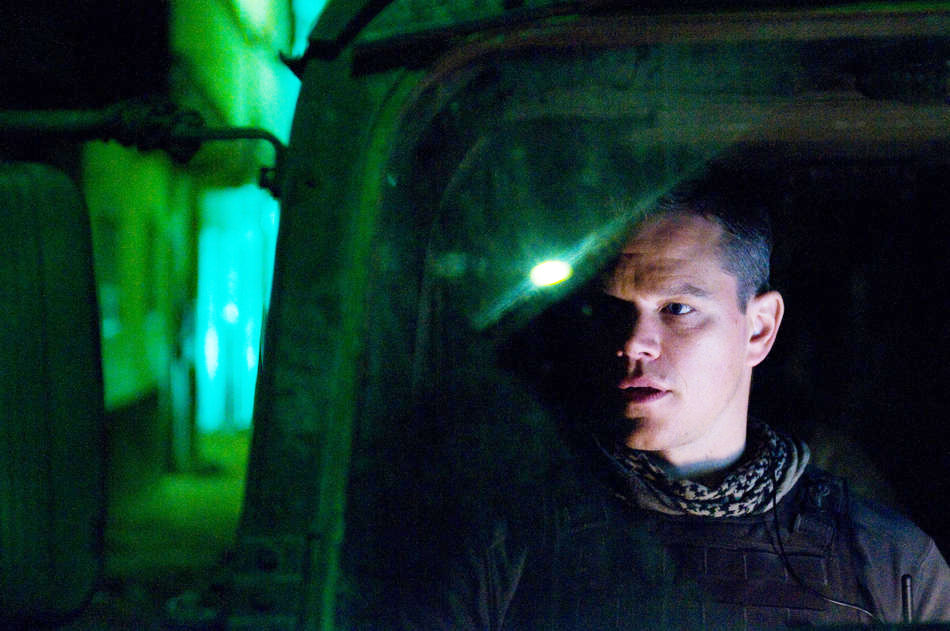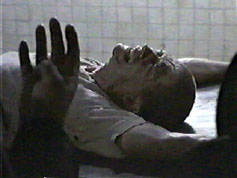 'How many fingers, Winston?'

'Four. I suppose there are four. I would see five if I could. I am trying to see five.'

'Which do you wish: to persuade me that you see five, or really to see them?'

'Really to see them.'

'Again,' said O'Brien.

Perhaps the needle was eighty — ninety. Winston could not intermittently remember why the pain was happening. Behind his screwed-up eyelids a forest of fingers seemed to be moving in a sort of dance, weaving in and out, disappearing behind one another and reappearing again. He was trying to count them, he could not remember why. He knew only that it was impossible to count them, and that this was somehow due to the mysterious identity between five and four. The pain died down again. When he opened his eyes it was to find that he was still seeing the same thing. Innumerable fingers, like moving trees, were still streaming past in either direction, crossing and recrossing. He shut his eyes again.

'How many fingers am I holding up, Winston?'

'I don't know. I don't know. You will kill me if you do that again. Four, five, six — in all honesty I don't know.'

'Better,' said O'Brien.
Hard to believe, but, this morning, the recent grisly revelations of Dubya-era torture practices became even more horrifying. As we've gleaned more info over the past few days, certain obvious and troubling questions kept popping up. Why, as indicated here, would higher-ups insist on additional waterboarding sessions for Zubadayah, even after the CIA agents at hand thought the suspect "had given up all the information he had"? Also: Mind you, even one session of torture is reprehensible — and illegal — enough. But what more did the powers-that-be think they were going to get out of these suspects after ten waterboardings? Twenty? One hundred?
Well, now we know. Not only did Dubya apparachiks conceive a torture regime well before it was approved (and before they had any prisoners on hand — see also the new and unredacted Armed Services Committee report), but they tortured their suspects into the ground because they were trying to prove a false positive, i.e. that there was some serious operational link between Iraq and Al Qaeda that could be used to sell the second Gulf War. (See also the forged Habbush letter.)
"'There were two reasons why these interrogations were so persistent, and why extreme methods were used,' the former senior intelligence official said on condition of anonymity because of the issue's sensitivity. 'The main one is that everyone was worried about some kind of follow-up attack (after 9/11). But for most of 2002 and into 2003, Cheney and Rumsfeld, especially, were also demanding proof of the links between al Qaida and Iraq that (former Iraqi exile leader Ahmed) Chalabi and others had told them were there.'"
So, in short, it would seem the suspects held by the CIA were tortured over and over again because they would not concede that two plus two equals five.
Really, how much lower can these assholes sink? What could they possibly do that would cause more violence to our ideals, or that would make our cherished role as a beacon of freedom seem any more ridiculous in the eyes of the world, than what they've already done?
Once again, I'm reminded of Lincoln's famous remark to the Indiana 14th: "'Whenever I hear anyone arguing for slavery, I feel a strong impulse to see it tried on him personally.'" At the very least, somebody, or somebodies, better go to jail for a loooong time for this. Anything less is simply unacceptable.
"Rather than vengeance, we need a fair-minded pursuit of what actually happened." Judiciary Committee chairman Senator Patrick Leahy calls for a "truth commission" to investigate Dubya-era abuses. "'We need to be able to read the page before we turn the page,' Leahy said. 'We need to come to a shared understanding of the failures of the recent past." Ok, sounds grand…but perhaps we should stop perpetuating those abuses while we're at it.
"That it was a forgery can no longer be doubted; that it originated with the White House may be harder to prove. Two former CIA officials — Rob Richer and John Maguire — have gone on record as saying they were personally charged with carrying out the forgery, but their marching orders, if they existed, came directly from Tenet (who has fiercely denied the story). The closest thing Suskind has to a smoking gun is Richer's memory, five years later, of 'looking down at the creamy White House stationery on which the assignment was written.'"
In his review of Ron Suskind's The Way of the World, Salon's Louis Bayard tells the tale of the Habbush letter, a forgery fabricated by the CIA to tie Iraq to Al Qaeda (and, thus manufacture a casus belli for the War in Iraq.) In other words, George Tenet — perhaps on higher authority — signed off on an illegal black op aimed against the American people. If this goes up the food chain — and, at this point, who'd be surprised if it didn't — this is definitely an impeachable offense. Where's the outrage?
Update: Politico has more.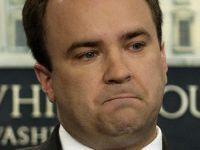 "'Over that summer of 2002,' he writes, 'top Bush aides had outlined a strategy for carefully orchestrating the coming campaign to aggressively sell the war…In the permanent campaign era, it was all about manipulating sources of public opinion to the president's advantage …What I do know is that war should only be waged when necessary, and the Iraq war was not necessary.
'" The
other
big political story of my
move week
: In a new
political tell-all
, former Dubya Press Secretary
Scott McClellan turns on his former White House masters
, accusing them of ginning up the case for war and lying outright to him about the Plamegate affair. "
'Over time, as you leave the White House and leave the bubble, you're able to take off your partisan hat and take a clear-eyed look at things…I don't know that I can say when I started the book that it would end up where it was, but I felt at the end it had to be as honest and forthright as possible.'
"
Welcome to the reality-based community, Scott. In the meantime, the White House is claiming McClellan was motivated by "sour grapes" (whatever that means — why would he want to keep a gig he seemed to hate?) while other Dubya stalwarts, blindsided by the tome, have also gone on the attack. (But, don't fret — of all people, McClellan knew what was coming.)