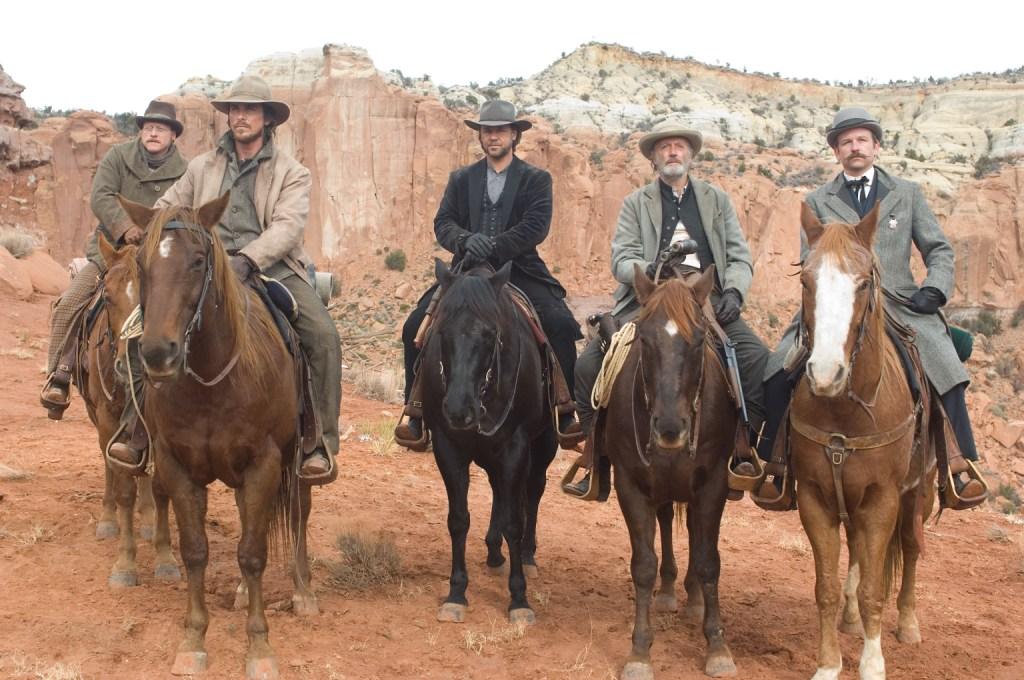 Although the last act strains credulity quite a bit,
James Mangold's moody, memorable 3:10 to Yuma
is nonetheless a worthy foray into the unforgiving territory of the Old West. I've never been much for oaters, to be honest, but if they keep making 'em like David Milch's
Deadwood
and
3:10
(and, hopefully,
The Assassination of Jesse James by the Coward Robert Ford
in two weeks), I'm all for a full-fledged return of the cowboy pic. Then again, I guess it'd probably have been hard for
3:10
to falter in any event, with talented actors like Christian Bale, Russell Crowe, and others in the respective saddles. Mangold (showing more skill here than he did in
Walk the Line
) displays an authoritative sense of the genre here, and he doesn't stint on the fireworks. But, for all the breathtaking "Big Sky Country" vistas and well-executed gunplay on display, the most exciting parts of
3:10
occur in the quiet moments between its two stars, as we watch Crowe (the Black Hat) attempt to wend and worm his way into what remains of (White Hat) Bale's haunted psyche. With their dark interplay driving
3:10
, not even the high suspension of disbelief required by the end, nor an overwrought father-son subplot, manage to derail this train. Come on aboard.
On the outskirts of Bisbee, in the years after the Civil War, an honest life is hard, as attested by the sad fate of one Dan Evans (Bale). Having lost his leg in the service of Abe Lincoln, Evans transplanted his wife (Gretchen Mol, dusty yet luminous) and two sons to the Arizona plains in search of renewal, only to find himself deeply in debt and on the verge of starvation. Dan's boys, particularly his older son William (Logan Lerman), are humiliated by his failure and seeming weakness…and the rains just ain't comin'. Meanwhile, the regal, courtly Ben Wade (Crowe), a part-time illustrator and full-time desperado, is living high on the hog, along with his gang of thieves, murderers, and bad, bad men — most notably his adoring #2 Charlie Prince (a.k.a. Ben Foster of Six Feet Under and Freaks & Geeks, strangely eerie and excellent here.) But, after a stagecoach job near Evans' land, this Jack of Hearts lingers too long back in Bisbee, and is summarily captured by a mishmash of local law enforcement, bounty hunters on the Pinkerton payroll (i.e. a solid Peter Fonda, looking haggard and reminiscent of his dad), and Evans himself, in town to settle a debt one way or another. And, when the local railroad suit (Dallas Roberts) offers a $200 fee that might turn around his struggling fortunes, Evans enlists in the company assembled to take Ben Wade to Yuma Prison, by way of the 3:10 train in Contention. But — and it's a big but — Wade's gang is still at large, the forces of Law & Order are amateurish at best (note Firefly's Alan Tudyk as a well-meaning veterinarian conscripted into the group) and easily corruptible at worst, and Wade himself is no slouch in the survivability department. By means fair or foul, whether by quoting Scripture with a serpent's tongue, bashing in a sleeping man's head with a rock, or tempting Evans (and his son) with all the lucre and pleasurable squalor the ignoble life affords. Ben Wade will do what he must to restore his freedom…
…Or will he? My biggest problem with 3:10 to Yuma, and perhaps it's also an issue in the Glenn Ford version of 1957 (I haven't seen it), is that Ben Wade's motivations grow increasingly confused as the film progresses. Given how easily he subdues certain people at certain times, one begins to wonder what's keeping Crowe along for this ride, other than a general sense of bemusement about the whole proceedings. By the third act, which devolves into a town-wide shootout at the railroad crossing of Contention, it's hard to figure exactly why Wade is behaving as he does (or, for that matter, why Evans' missing leg isn't a problem as he engages in the cowtown equivalent of Ninja Warrior.) Crowe is given a few lines at various points, and the final shot in the movie, to help explain his reasoning…and I guess it makes a certain amount of sense, from a dramatic perspective. But I'm not sure if I bought it, given all that's come before.
Still, 3:10 to Yuma is another solid and welcome entrant in the burgeoning ranks of the revisionist western. (Indeed, the film reflects more of the New Western History than it does John Wayne country — For example, there's a sequence involving evil Luke Wilson overseeing a Chinese railroad camp which is really kinda unnecessary, but I for one just liked seeing a Chinese railroad camp included in the proceedings.) And, as with The Wild Bunch, Unforgiven, and several other superlative entries in the genre, 3:10 frontlines the question of what code should — and actually does — govern a man's actions when he is unconstrained by larger society.
Indeed, if you'll permit me a digression, that was the beauty of Deadwood, a classic show still unsullied by Milch's later, more confused attempt to fashion a Gospel of Surfing: Watching the varied, colorful residents of the town attempt to create a tentative order out of anarchic disorder: What rules must we live by if we are to live together? What should we do when the plague breaks out? How and when should the municipal government gather, who should attend, and what roles should it take on (and, for that matter, should there be canned peaches or cinnamon served at the meetings?) And, for the coup de grace, Milch offered a wry commentary on the iron fist within the velvet glove of the existing Gilded Age social order (and the ugly commercial realities that drove much of westward expansion.) When the fledgling entity of Deadwood finally ran up against the established authorities, it was not the government of these United States it faced, but rather the ruthless and mighty arm of unchecked Capital. By the end of Season 3, everyone — even the wily, formidable, and take-no-prisoners saloon proprietor Al Swearingen — was eventually forced to bow and succumb before the whims of the Great (and Monied) Man, George Hearst. (As Al put it, "Leviathan f**king smiles.")
3:10 to Yuma doesn't cover exactly the same ground as Deadwood, of course (and it has much less time to ruminate in any case.) But, at its heart, in the churning psychological tension between Crowe's Wade and Bale's Evans — as well as the omnipresent lure and power afforded by the almighty dollar therein — 3:10 ponders similar western verities. In the absence of external fetters, what drives a man to do the right thing, even to the point of ignoring his own self-preservation? In a world of complicated loyalties and compromising shades of grey, where the law is irrevocably bound up with the interests of the railroads and a struggling farmer and a smirking murderer can draw disparate conclusions from the same Bible, what, even, is the "right" thing in the first place? As today, different men come to different answers amid the open country of the Wild West. What probably matters most, 3:10 seems to suggest by the end, is that a man has some answer he's ready to live — and die — by. As the cowboy troubador Alias once put it, "to live outside the law, you must be honest." So you'd better do or find something to make your short time in Contention count…'cause no matter how you live your life, that slow train is coming up around the bend, and it ultimately waits for no one.