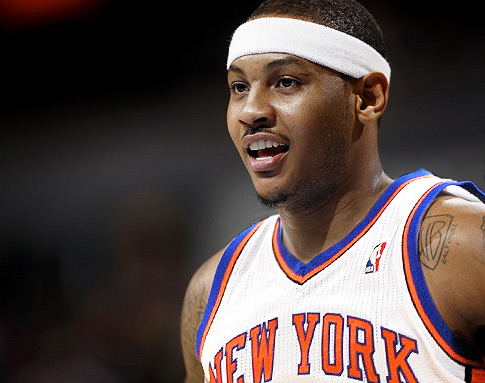 "
'Wow, just had the craziest 12 hours of my career,' Anthony said on his Twitter account last night.
" That late-night booyah! sound you heard the other night?
That was Knickerbocker Nation reacting
to the happy news that, after a half-season of crossed fingers at the Garden, the
impressively over-performing Amar'e Stoudamire
will get
some much-needed help in Carmelo Anthony
(not to mention veteran Chauncey Billups, who will take over for Raymond Felton at the point…
at least until Chris Paul can get free
…)
To make this dynamic duo happen, we had to give up Felton, streaky scorers Danilo Gallinari and Wilson Chandler, 7-foot prospect Timofey Mozgov, X-factor-gone-bust Anthony Randolph, the ghost of Eddy Curry, some future draft picks and some cash…For the record, I am totally ok with all of this.
As ESPN's Ian O'Connor writes, "This is a great deal for the Knicks, a greater moment for their fan base…[I]t's one of the best trades this team has made since Eddie Donovan acquired Dave DeBusschere in 1968." Let's hope events bear out this sportswriterly exaggeration — The Carmelo Era at MSG begins tonight at 7:30.