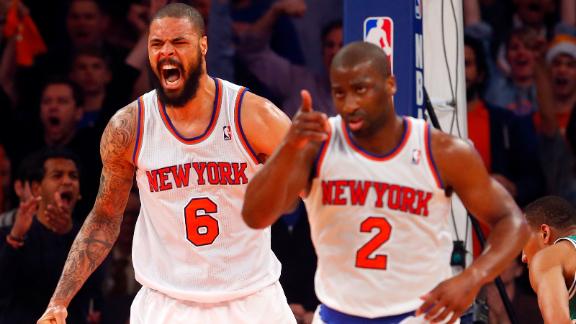 "'Watching them play, I saw guys that looked at each other like, you didn't back me up, you weren't here when I needed help,' Jackson said. 'There just wasn't the right combination or feel [where] it felt like everybody was in sync all the time.'"
Just prior to this year's draft — very classy move by Commissioner Silver with the Isaiah Austin pick last night — Phil Jackson pulls the trigger on a long-awaited Knicks overhaul, sending Tyson Chandler and Raymond Felton to Dallas for Jose Calderon, Samuel Dalembert, Shane Larkin, Wayne Ellington, and two second round draft picks, which later became Cleananthony Early and Thanasis Antetokounmpo.
I always liked Chandler — Felton, er, didn't really pan out — but it definitely seems like time to completely hit the reset button on the franchise.
Same goes for Carmelo Anthony. It'd be great if the Knicks could keep him, but, were I in his shoes, I'd sign with Chicago or Dallas too. The Knicks are now in full rebuilding mode with an untested coach. The Bulls and Mavs have more pieces to really make a run at a championship right now. So no harm, no foul, 'Melo — Do what ya gotta do.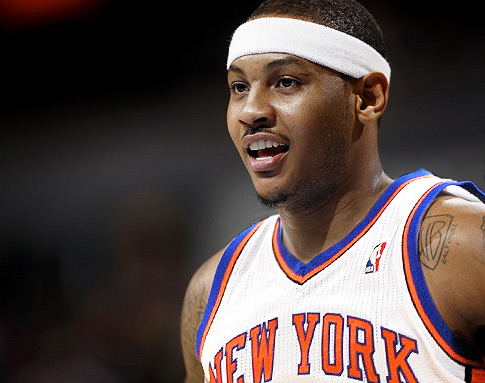 "I will always remember this chapter in my life. In the end, I am a New York Knick at heart. I am looking forward to continue my career in Orange & Blue and to work with Phil Jackson, a champion who builds championship teams. Madison Square Garden is the mecca of basketball and I am surrounded by the greatest fans in the world."
(The bigger paycheck probably didn't hurt either.) In any event, Carmelo will remain a Knickerbocker, and apparently even took a slight pay cut to allow for more cap space next year. We're gonna need it – Unless the league has forgotten how to defend the triangle, the Knicks still look to have at least another year of waiting before we're even a second-round contender in the playoffs. Still, good to have Melo aboard for the long haul.