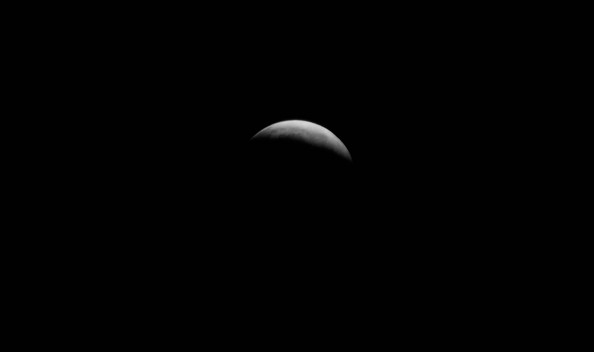 "The troubled and expensive Ares I rocket that was to replace the space shuttle to ferry humans to space will be gone, along with money for its bigger brother, the Ares V cargo rocket that was to launch the fuel and supplies needed to take humans back to the moon. There will be no lunar landers, no moon bases, no Constellation program at all.
" As
expected (and feared) earlier this year
, the Obama administration's
proposed NASA budget for the next five years
cancels any and all plans
to go to the moon anytime soon
. "
'We certainly don't need to go back to the moon,' said one administration official.
"
Sigh.
Ok, first off, the administration official who uttered the last sentence should be filed away next to Mr. Left of the Left and Ms. Pajamas as people who should no longer speak for the White House in any capacity whatsoever. Full stop, end of story. Putting my speechwriter cap on for a second: In most any political situation, ridiculing the dreams of an entire generation does not make for particularly good messaging.
Anyway, anonymous WH official aside, NASA administrator Charles Bolden sounded a better note about all this: "We're not abandoning anything. We're probably on a new course but human space flight is in our DNA. We are not abandoning human space flight by any stretch of the imagination. We have companies telling us they're excited to get humans off this planet and into orbit. I think we're going to get there and perhaps quicker than we would have done before."
And, to be clear, the administration's NASA budget increases the agency's funding by $6 billion over the next five years. The new budget ups research and development spending into cheaper heavy launch mechanisms, emphasizes more robotic exploration missions and observational experiments into climate change, extends the life of the ISS (although, with only five more shuttle missions remaining, other nations will have to help service it), and works to promote the various commercial space enterprises moving along right now.
All of this is well and good, but it would be nice to see some recognition of the civic importance of manned space flight by this administration. In their words, NASA is scrapping Constellation on account of it being "over budget, behind schedule, and lacking in innovation due to a failure to invest in critical new technologies." And, given that we still had a lot of the expenditures before us, I suppose now was as good a time as any to kill the program if it's not the right direction to go in.
That being said, how many more times are we going to do this? We keep stopping and starting and stopping and starting our post-Shuttle plans for space, so that now, after five final shuttle missions this coming year, we will longer have the capability anymore as a nation to send men and women into orbit. "If implemented, the NASA a few years from now would be fundamentally different from NASA today. The space agency would no longer operate its own spacecraft, but essentially buy tickets for its astronauts." Forty-one years after we first reached the moon, that's just plain sad.
Ultimately, the central finding of the Augustine commission's final report, released this past October after extensive study of NASA's current situation, is a sound one: "The U.S. human spaceflight program appears to be on an unsustainable trajectory. It is perpetuating the perilous practice of pursuing goals that do not match allocated resources." In other words, we've been trying to talk the talk without walking the walk. If we're going to get serious about manned space flight, we need to stop piecemealing NASA and start making manned exploration a funding priority.
In total, the agency is slated to get $100 billion over the next five years. To put that number in perspective, that's less than a fifth of our defense budget for 2011 alone, and that's going by the most conservative numbers around — NASA's five-year budget could be closer to a tenth of next year's defense spending. (For its part, the Augustine commission set a price tag of $3 billion a year to get serious about manned exploration.)
If we had put anywhere near that kind of money into exploration and R&D over the years, would we now be in this position, where we face the Hobson's choice of replicating expensive 50-year-old launch tech or being completely grounded as a nation? The lack of thinking about our long-term priorities sometimes is staggering to me. I've said this before, but I still believe it holds true: Short of possibly genomic research and advances in AI, nothing we do right now will matter more centuries or millennia hence than establishing a presence off-world…if we even have that long. Not to get all Jor-El up in here, but we really have to start getting serious about this.