"'It's imperative to act now, Cruz warns, before the full benefits of Obamacare kick in and Americans get "hooked on the sugar, hooked on the subsidies.' His plan: Yoke the defunding of Obamacare to the must-pass budget bill the House will take up in September. The endgame? To force a government shutdown so painful and protracted that Barack Obama would have no choice but to surrender the crown jewel of his presidency. 'As scary as a shutdown fight is,' Cruz insists, 'if we don't stand and defund Obamacare now, we never will.'"
Another dispatch from the madhouse: In a fine piece of reporting, Rolling Stone's Tim Dickinson delves inside the Republican suicide machine. "Having backed the GOP into a shutdown fight that congressional leaders never wanted, the insurgents are winning, and establishment leaders are running scared. America is now careening toward a catastrophic voluntary default on our debt because no one in the Republican Party with the authority to put on the brakes has the guts to apply them, for fear of being toppled from power."
An important point Dickinson makes here that cannot be emphasized enough: We didn't just stumble into this crisis: Taking the government and the debt ceiling hostage was the strategy all long, and the right-wing insurgents have been planning for this for months. "They'd drawn a dangerous lesson from the previous battle: Brinksmanship works…In February, the House temporarily suspended the debt ceiling — intending to give the president's poll numbers three months to come back to earth."
Hey, speaking of polling numbers coming back to Earth…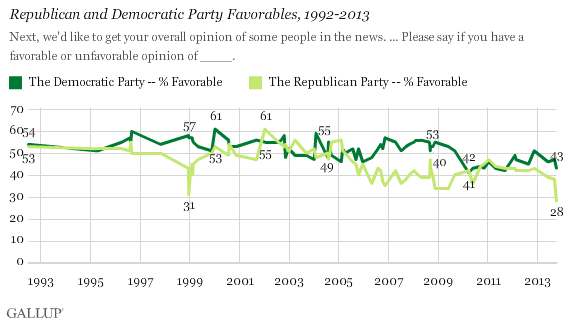 In any case,
see also the NYT on this
:
"To many Americans, the shutdown came out of nowhere. But interviews with a wide array of conservatives show that the confrontation that precipitated the crisis was the outgrowth of a long-running effort to undo the law, the Affordable Care Act, since its passage in 2010 — waged by a galaxy of conservative groups with more money, organized tactics and interconnections than is commonly known."
So we're not in this hostage crisis by accident. The GOP even changed the House rules so they could maximize this confrontation. Republicans saw Obama fold in December 2010 on the Bush tax cuts and in August 2011 on the last debt ceiling hike. They think they can make him fold again here, and on every subsequent debt ceiling hike, and sadly, history is on their side on this. As Ted Cruz put it a few months ago: "If you have an impasse, you know — one side or the other has to blink. How do we win this fight? Don't blink."
Another small digression: If, like Ralph Nader this morning, you're wondering why the right-wing of the GOP always seems to pull these sorts of stunts off while the left-wing of the Dems are usually completely marginalized, two quick answers: 1) The lefties don't have billionaires backing their plays, and 2) we're the People's Front of Judea. They're the right, they're inherently better at the goose-stepping.
That being said, this whole episode also illustrates why it's useless for Democrats to try to meet these fools halfway on policy: Republicans have now spent almost three years voting constantly to end the Affordable Care Act. To break a health care law originally penned by the Heritage Foundation and enacted by Mitt Romney, they have shut down the government and sent us to the brink of an economic default. So, how, exactly, would things be different if we had just passed Medicare for all, and/or a public option? They were going to lose their shit regardless, just like they did on Social Security, on Medicare, and any other progressive issue you can think of. There's no point in trying to placate people who aren't bargaining in good faith.
Anyway, as it happens, and as Andrew Sullivan recently pointed out, we've seen a minority party in America rejected at the polls try to take the entire nation hostage before. Here's Abe Lincoln in 1861:
"What is our present condition? We have just carried an election on principles fairly stated to the people. Now we are told in advance, the government shall be broken up, unless we surrender to those we have beaten, before we take the offices. In this they are either attempting to play upon us, or they are in dead earnest. Either way, if we surrender, it is the end of us, and of the government. They will repeat the experiment upon us ad libitum. A year will not pass, till we shall have to take Cuba as a condition upon which they will stay in the Union."
So too here: This time the scalp the GOP wants is the Affordable Care Act, or the Ryan budget, or social insurance cuts, or Malia Obama. "'The girl. Bring us the girl,' said Congressman Steve King (R-IA)..'The bill may pass, but the firstborn shall be ours.'" It'll be something else the next time and the time after that.
That's why John Judis is calling this "one of the worst crises in American history", and why Jon Chait wrote that "Allowing Republicans to default on the debt now is better than trading something that allows them to threaten it later." Because if Obama buckles this time — and, let's remember, we already gave the GOP their sequester-funding-levels — the Republicans will just keep taking the American government and economy hostage to get whatever they want. And quicker than you can say he-said, she-said, the rest of the lazy Beltway media will come to treat this sort of hostage-taking as politics as usual. It has to end here, or it never will.