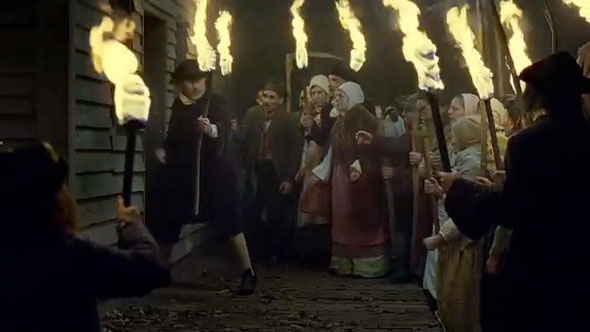 "It's hard to escape the sense that debt panic was promoted because it served a political purpose — that many people were pushing the notion of a debt crisis as a way to attack Social Security and Medicare. And they did immense damage along the way, diverting the nation's attention from its real problems — crippling unemployment, deteriorating infrastructure and more — for years on end."
In the NYT, Paul Krugman reviews the waning of the deficit witchhunt. "I'm not sure whether most readers realize just how thoroughly the great fiscal panic has fizzled — and the deficit scolds are, of course, still scolding." Of course they are. Now would be the time for embarrassment, if the Simpson-Bowles types out there were capable of it.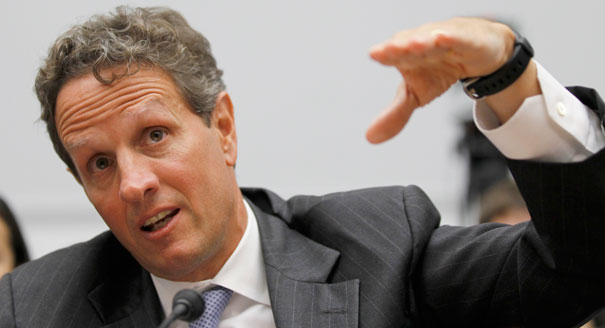 "At every turn on housing — on mass refinancing, on principal reduction, on leverage for homeowners in the bankruptcy process, on forcing banks to write down mortgages, on a modern-day HOLC–the evidence points to Tim Geithner preferring whatever option put the least pressure on banks, rather than actually helping ordinary people. He made far more excuses to do nothing than any effort to make a difference…In fact, the programs were never meant to help homeowners, designed only to 'foam the runway' for the banks, to spread out foreclosures and allow banks to absorb them."
In the wake of Tim Geithner's new rehab book tour — currently being aided and abetted by Wall Street's usual court stenographer, Andrew Ross Sorkin — Dave Dayen says not so fast. "I don't have to just focus on housing; this is indicative of Geithner's worldview, which sees protecting the financial system at all costs as the only thing that matters."
Yves Smith has also ably eviscerated Geithner's game of "Three Card Monte": "The entire edifice of the piece is a sleight of hand…The focus on TARP (and to a lesser degree, Lehman) allows Sorkin to omit mention of actions that were clearly Geithner's doing…The bigger point, which is not lost on the public, was there were plenty of other options for saving the system. The one chosen, that left the banks largely unreformed and no one of any consequence punished, was clearly just about the worst of the available options, unless, of course, you are, like Geithner, a banker."
And here're economics and finance professors Atif Mian and Amir Sufi: "Whatever reasons he had for opposing assistance to underwater homeowners, a careful evaluation of the policy effects was not among them. The evidence is pretty clear: an aggressive bold attack on household debt would have significantly reduced the horrible impact of the Great Recession on Americans. The fact that Secretary Geithner and the Obama administration did not push for debt write-downs more aggressively remains the biggest policy mistake of the Great Recession."
Noam Scheiber has his say in TNR: "[The article] inadvertently highlights something deeper about Geithner, which is the shocking extent to which he's accepted financialization of the economy as a benign, even admirable, development. The people who spend their days shuffling trillions of dollars around the globe are really just like you and me, except with nicer offices. They deserve the same sympathy and respect, notwithstanding their abysmal track record. That blinkered view colors pretty much every one of Geithner's utterances as he makes the rounds hawking books."
Also of note: Geithner doesn't seem to understand how Social Security works, and, in classic #ThisTown fashion, he — the Secretary of the Treasury! — just parrots the same ignorant Beltway line about zomg out-of-control entitlements as all Very Serious People™ do. To wit, from Geithner's book:
"I remember during one Roosevelt Room prep session before I appeared on the Sunday shows, I objected when Dan Pfeiffer [a senior advisor to the Obama White House] wanted me to say Social Security didn't contribute to the deficit. It wasn't a main driver of our future deficits, but it did contribute. Pfeiffer said the line was a 'dog whistle' to the left…code to the Democratic base, signaling that we intended to protect Social Security."
And here's the LA Times' Michael Hiltzik: "But let's get to the nub. Does Social Security 'contribute to the deficit'? The answer is, bluntly, no. By law, it can't contribute to the federal deficit, because Social Security isn't allowed to spend more than it takes in. Those who claim — as Geithner has at one point or another — both that the program contributes to the deficit yet will be forced to reduce benefits to retirees once its trust fund is depleted are trying to have things both ways: The reasoning behind the threat of reduced benefits is that Social Security can't engage in spending money it doesn't have, i.e., deficit spending. Pick one, fellas. If it can contribute to the deficit, then there's no reason to cut benefits."
So is there's anything positive about Geithner's rewriting of history here? Well, the Sorkin piece does include this telling anecdote: "At another point, [Geithner] cheerfully relayed a story that also appears in his book about the time he sought advice from Bill Clinton on how to pursue a more populist strategy: 'You could take Lloyd Blankfein into a dark alley,' Clinton said, 'and slit his throat, and it would satisfy them for about two days. Then the blood lust would rise again.'"
Could somebody please tell me again why I should be excited about Hillary 2016?
Update: Sheila Bair offers her take. "On his book tour, to explain the need for bailouts, Tim has used a clever analogy of a pilot trying to land a plane that is on fire and in the back, sit the terrorists who started it. He argues that the pilot can't leave the cockpit to put them in handcuffs. He first has to land the plane. The problem with this analogy is that the plane landed at the end of 2008. And let's face it, instead of handcuffing the terrorists, we escorted them to the executive lounge."