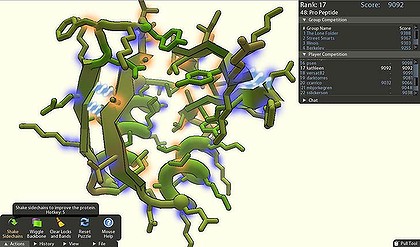 "
Games provide a framework for bringing together the strengths of computers and humans. The results in this week's paper show that gaming, science and computation can be combined to make advances that were not possible before.
" Score one for spatial reasoning: Using the game
Foldit
, online gamers
manage to decipher a enzyme structure
that has eluded scientists for a decade — in three weeks. "
Cracking the enzyme 'provides new insights for the design of antiretroviral drugs', says the study, referring to the medication to keep people with the human immunodeficiency virus (HIV) alive.
"
On the subject of HIV, it looks like the enemy of our enemy is our friend: In a stunning feat of gene therapy, scientists have used a disabled version of HIV to successfully defeat leukemia. "Mr. Ludwig's doctors have not claimed that he is cured — it is too soon to tell — nor have they declared victory over leukemia on the basis of this experiment, which involved only three patients…But scientists say [this] may signify a turning point in the long struggle to develop effective gene therapies against cancer…In essence, the team is using gene therapy to accomplish something that researchers have hoped to do for decades: train a person's own immune system to kill cancer cells."