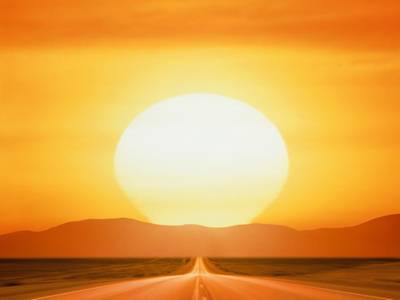 "The amount of heat-trapping carbon dioxide in the air jumped dramatically in 2012, making it very unlikely that global warming can be limited to another 2 degrees Fahrenheit, as many global leaders have hoped, new federal figures show."
Well, that's that then. While Washington and our change president continue to fiddle, new data from 2012 suggests we are now flying past the two-degree rise threshold we set for ourselves to alert a global calamity due to climate change. "'The prospects of keeping climate change below that (2-degree goal) are fading away,' Tans says."
For what this means, see Bill McKibben in the article I linked here and here:
Some context: So far, we've raised the average temperature of the planet just under 0.8 degrees Celsius, and that has caused far more damage than most scientists expected. (A third of summer sea ice in the Arctic is gone, the oceans are 30 percent more acidic, and since warm air holds more water vapor than cold, the atmosphere over the oceans is a shocking five percent wetter, loading the dice for devastating floods.)

Given those impacts, in fact, many scientists have come to think that two degrees is far too lenient a target. "Any number much above one degree involves a gamble," writes Kerry Emanuel of MIT, a leading authority on hurricanes, "and the odds become less and less favorable as the temperature goes up." Thomas Lovejoy, once the World Bank's chief biodiversity adviser, puts it like this: "If we're seeing what we're seeing today at 0.8 degrees Celsius, two degrees is simply too much." NASA scientist James Hansen, the planet's most prominent climatologist, is even blunter: "The target that has been talked about in international negotiations for two degrees of warming is actually a prescription for long-term disaster."

At the Copenhagen summit, a spokesman for small island nations warned that many would not survive a two-degree rise: "Some countries will flat-out disappear." When delegates from developing nations were warned that two degrees would represent a "suicide pact" for drought-stricken Africa, many of them started chanting, "One degree, one Africa."
And that's two degrees. Now, try four. In other words, game over, Man, game over.
Update: More fuel for the pyre: The Earth's temperature graphed over 10,000 years. "'What we found is that temperatures increased in the last hundred years as much as they had cooled in the last six or seven thousand,' he said. 'In other words, the rate of change is much greater than anything we've seen in the whole Holocene," referring to the current geologic time period, which began around 11,500 years ago.'"