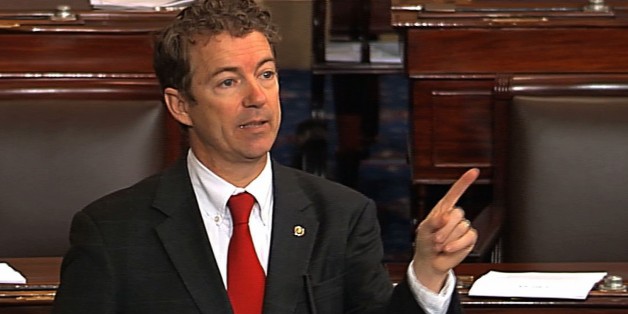 "Barack Obama of 2007 would be right down here with me."
Kentucky Senator
Rand Paul delivers an old-school, 13-hour filibuster
against Obama's drone policies, and — with the exception of Ron Wyden — the
Senate Democrats go almost completely AWOL
.
"Senate Majority Whip Dick Durbin (D-Ill.) also took to the floor twice, but mostly to defend the U.S. government's authority to target American citizens in 'extraordinary circumstances.'"
Wrong answer. The policy FAIL here is obvious and egregious — Why would anyone of a lefty bent support giving a president unitary and unchecked authority to kill anyone he or she wants, without even a semblance of due process? Would they be this sanguine about it if Dick Cheney was holding the kill button? But even notwithstanding that, Democrats are making a terrible political mistake by letting Senator Paul, along with opportunistic slimebags like Mitch MConnell and far-right asshats like budding McCarthyite Ted Cruz, get to the left of them on this issue.
I get that some senators had procedural issues with the filibuster of a Cabinet nominee. But, at a certain point, this just looks like typical Dem spinelessness and situational ethics — Is preserving proper Senate procedure really more important than preserving constitutional due process? And if Rand Paul is the only person who's going to stand up and call shenanigans on the administration for this chilling executive overreach, then thank you, Rand Paul.
Still taking a break. Nonetheless, this was too on-the-nose not to share, for election 2012 is dark and full of terrors. Enjoy.