"The correspondence is intimate and frank — and perhaps the most sexually explicit ever by an American president. Even in the age of Anthony Weiner sexts and John Edwards revelations, it still has the power to astonish. In 106 letters, many written on official Senate stationery, Harding alternates between Victorian declarations of love and unabashedly carnal descriptions."
The NYT publishes excerpts from the recently-unearthed love letters of Warren G. Harding, obviously a big character in my dissertation. "The president often wrote in code, in case the letters were discovered, referring to his penis as Jerry and devising nicknames, like Mrs. Pouterson, for Phillips."
Oof. Poor guy. Politics, scandals and Teapot Dome aside, Harding was an eminently likable fellow, with a keen sense of his own limitations. It's hard not to feel embarrassed for him, even 90 years later, that these are now out there among the public.
The silver lining for the Hardings, I suppose, is that at least Mencken never got his hands on these. Suffice to say, he was no fan of the president's prose. "H]e writes the worst English I have ever encountered. It reminds me of a string of wet sponges; it reminds me of tattered washing on the line; it reminds me of stale bean soup, of college yells, of dogs barking idiotically through endless nights. It is so bad that a sort of grandeur creeps into it."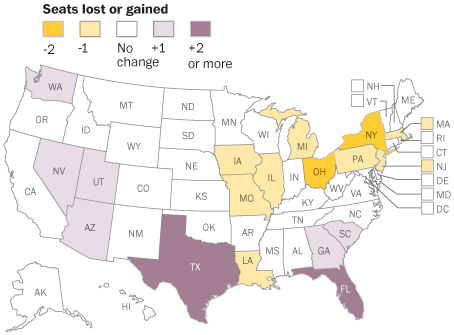 "
The westward movement of the U.S. population means six districts in states that went for Obama will shift to states that went for McCain — a small but significant shift that could help a GOP presidential candidate in 2012, provided they can hold those states for the party.
"
The US Census Bureau announces the newly-reapportioned electoral map for 2010, and it shows electoral gains for (blue areas in) red states and the Northeast and Midwest diminishing (in growth rate, at least. The only state to actually lose people was Michigan.) Since the GOP will by and large control the redistricting process in most states, this is further bad news for Dems in the short term. Nonetheless, the overall demographic trends are still working in our favor.
In related news, Robert Cruickshank makes the modest proposal of removing the 435-member cap on the House, first passed in 1929. "In the 1930 Census, which found a population of just over 122 million, this produced 435 House districts of about 282,000 each. By 2012, however, a US House district in a state with more than 1 seat will represent about 708,000 people. That's an increase of 2260% from 1790."