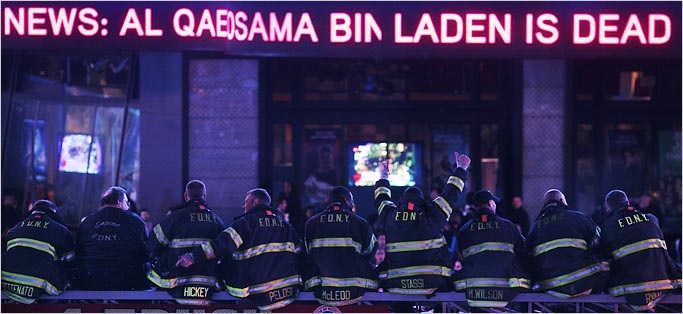 "
For over two decades, bin Laden has been al Qaeda's leader and symbol, and has continued to plot attacks against our country and our friends and allies. The death of bin Laden marks the most significant achievement to date in our nation's effort to defeat al Qaeda. Yet his death does not mark the end of our effort. There's no doubt that al Qaeda will continue to pursue attacks against us. We must — and we will — remain vigilant at home and abroad.
"
So, yes, as you may have heard, we finally found Osama Bin Laden, fulfilling a key promise President Obama made during the 2008 campaign. While I would have preferred to see the perpetrator of 9/11 captured alive and brought to trial — cause that's how we do justice here in the US of A — congrats to the president's team, the analysts who did the hard work, and the men and women who executed the operation, on finally getting their man.
All that being said, the second half of the president's statement above is troubling. The death of Bin Laden should mark the beginning of the end of the 9/11 decade. With the splinter finally removed, it is time to take a long hard look not just at our continuing war in Afghanistan — after all, Osama was eventually found in Pakistan, mainly through what the Bunk would call good po-lice work — but at all the questionable and/or extra-constitutional actions we have taken in the name of fighting the terr'ists since September 11th. (Newsflash: Torture had nothing to do with capturing OBL.) If the death of Bin Laden doesn't move us to this reconsideration, what then ever will?
Unfortunately (and of course), that doesn't seem to be what's happening. Instead, Congress is laying the foundation for a wider war: "Contained in the National Defense Authorization Act for 2012 is a new authorization to use military force that would grant the executive branch the power to 'address the continuing and evolving threat posed by these groups.' In practice, that means the president could use military force against any suspected terrorist across the globe — indefinitely."
Indefinite war? No thanks. There's been an eerie touch of Emmanuel Goldstein in the way Bin Laden was used to justify all manner of extraconstitutional actions and civil liberties violations under Dubya — actions that have been ratified and continued under Obama. Now that the Bogeyman is dead, it's time to stand down. It's time to start acting like America again.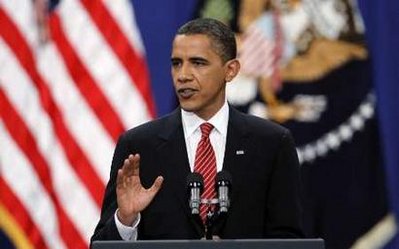 "First, there are those who suggest that Afghanistan is another Vietnam. They argue that it cannot be stabilized and we are better off cutting our losses and rapidly withdrawing. Yet this argument depends upon a false reading of history. Unlike Vietnam, we are joined by a broad coalition of 43 nations that recognizes the legitimacy of our action. Unlike Vietnam, we are not facing a broad-based popular insurgency.

And most importantly, unlike Vietnam, the American people were viciously attacked from Afghanistan and remain a target for those same extremists who are plotting along its border. To abandon this area now — and to rely only on efforts against al-Qaeda from a distance — would significantly hamper our ability to keep the pressure on al-Qaeda and create an unacceptable risk of additional attacks on our homeland and our allies."
This is a bit late by now, but regardless: As you all know, President Obama made the case last week for sending 30,000 more troops in Afghanistan. At this point — and like Fred Kaplan — I'm conflicted about our continued involvement there…but I'm leaning toward withdrawal. Everything I've heard about the war lately has had that "Vietnam in '66" sense to it: A corrupt government as our ally; trouble winning "hearts and minds"; The US stepping half-blindly into a conflict that's been simmering for centuries (in Southeast Asia, it was the endless Vietnamese war against interlopers; here it's long-simmering ethnic rivalries between the Pashtuns and everyone else.) And now, our new progressive-minded president tells us: If we just commit X more troops (where, now X=30,000), we can win, close up shop, and go home. Uh, really? I think I've already seen this movie a few times.
Obama's shout-out above to basically token international support doesn't assuage my fears. And, as far as the threat posed by Vietnam: True, Tonkin never happened, but obviously policymakers of that era were less sanguine about a Communist victory in South Vietnam than we are today — The threat of the Enemy can always gets unduly amplified in the heat of the moment. (Speaking of said Reds, it should sober us to acknowledge that all we've done so far in Afghanistan is basically manage to re-create the Soviet experience in the region. Iirc, that didn't end so well.)
Al Qaeda is in Afghanistan, yes, and if we could weed them out and destroy their capacity to attack again, all the better. (And always remember: If Dubya, Rummy et al had just finished the job properly in 2002 rather than salivating over Iraq, we would be in a lot better position right now.) But Al Qaeda is also in Somalia, Tajikstan, Yemen, the Philippines, Kosovo…all over the place. We don't have the resources to play whack-a-mole in all these nations anymore, particularly when every whack usually just works to create new moles. (You'd think we learn that the Hydra sprouts two more heads every time you cut off the wrong one.)
The biggest argument in favor of increasing our military position in Afghanistan would be the continued stability of neighboring Pakistan. (There's Vietnam again — it's another variation of the Domino Theory.) But, there's a good amount of evidence to suggest that more troop increases by us will only inflame the situation and further destabilize Pakistan. In which case, I'm not sure what we're doing over there, and what we could possibly accomplish in 18 months that we haven't gotten done the last seven years.
In short, it seems to me like we had our shot in Afghanistan, and Dubya blew it. I could be wrong, of course. But, to my mind, now feels like a good time to recognize that fact and stop chasing good money after bad.