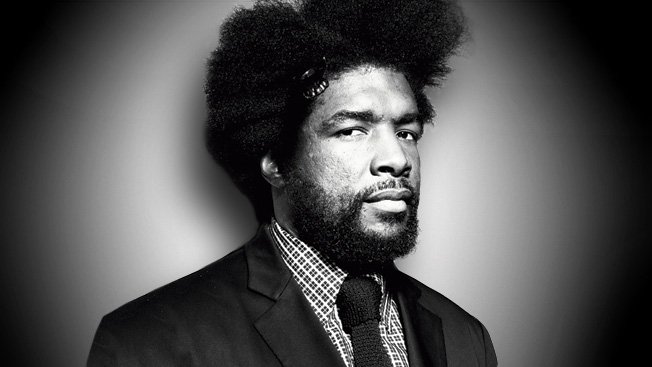 "Whereas 'My Adidas' highlighted consumer items, 'Picasso Baby' is all about unattainable luxury, fantasy acquisitions. Within the first ten words of the song, Jay Z ensures that no one in his audience can identify with the experience that he's rapping about…hip-hop has become complicit in the process by which winners are increasingly isolated from the populations they are supposed to inspire and engage…[I]t's a significant turnaround and comedown for a music that was, only a little while back, devoted to reflecting the experience of real people and, through that reflection, challenging the power structure that produces inequality and disenfranchisement."
In a six-part-series for Vulture, The Roots' Questlove explains, in his view, how hip-hop has failed black America. [Part 1.] Only two parts in, but so far he's dead on. I know I'm turning forty this year, so there's probably no small amount of Get-Off-My-Lawn involved. But, imho of course, something went wrong when commercial hip-hop took the hyper-consumerist turn awhile ago.
Back in the day, you had East vs. West coast (if I got to choose a coast, I got to choose the East — I live out there, so don't go there), the Pan-racial, regular guy optimism of the Native Tongues; the history- and political-minded hip-hop of Public Enemy, Gangstarr, X-Clan, KRS-One; the skewed pop-culture funhouse of the Wu-Empire, rappers like Slick Rick, Nas, & Rakim working their own unique thing.
Now, some of Kanye's experimenting aside, the hip-hop mainstream — from my admittedly limited perspective — seems to be mainly concerned with needle boats. "Who's to blame? It's hard to say. Certainly, Puff Daddy's work with the Notorious B.I.G. in the early '90s did plenty to cement the idea of hip-hop as a genre of conspicuous consumption."
Then again, as a few people pointed out in the comments, the evolution of hip-hop from diversity to commodity isn't happening in a vacuum. The music world, in most any genre, seems to be in a really bad way these days. But again, this is always the aging person's lament. Now Get Off My Lawn.