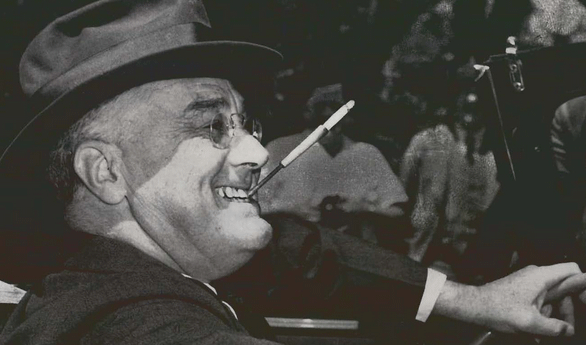 "Does this rollout failure discredit the core goals of a liberal project, including that of a mixed economy, a regulatory state, and social insurance? Conservatives in particular think this website has broad implications for liberalism as a philosophical and political project. I think it does, but for the exact opposite reasons: it highlights the problems inherent in the move to a neoliberal form of a governance and social insurance, while demonstrating the superiorities in the older, New Deal form of liberalism."
Assessing the failure of the healthcare.gov rollout, Mike Konczal makes the case for returning to the old ways. "[T]he Category B grouping, which we associate with the New Deal and the Great Society…creates a universal floor so that individuals don't experience basic welfare goods as commodities to buy and sell themselves…My man Franklin Delano Roosevelt may not have known about JavaScript and agile programming, but he knew a few things about the public provisioning of social insurance, and he realized the second category, while conceptually more work for the government, can eliminate a lot of unnecessary administrative problems."
Of course, Social Security had rollout problems too. And progressives at the time definitely lamented the concessions that were made as Social Security evolved from bill to law, including the exclusion of agricultural and domestic laborers [re: African-Americans] from the law. (Frances Perkins: "The whole thing has been chiseled down to a conservative pattern.")
That being said, I think it's important to keep this in mind every time the right starts complaining about byzantine complexities in the Affordable Care Act: We could've avoided many of these issues if this change-bringing administration hadn't immediately ruled out the obvious progressive solution to the health care problem — a single-payer system of Medicare-for-all, like most other advanced industrialized nations enjoy, perhaps phased in with an immediate voluntary buy-in and a gradual lowering of the coverage age.
Instead, we adopted the Republicans' proposal, the marketplace/exchanges plan originally conceived by the Heritage Foundation and enacted by Mitt Romney, without even including a public option to keep the insurers honest. And what'd we get for this ginormous unforced concession to the right? Nothing. Republicans still didn't support the health care law in 2010, and they've screamed holy hell that it's tyrannical government socialism for the past three-odd years — even though it was their plan to begin with.
Now, they're deliberately sabotaging implementation of the ACA and trying to pin every misstep, including this rather sad website #fail, as a failure of the liberal project. As Konczal aptly points out, what's failing here is the NEO-liberal project — the desire to embrace public-private, technocratic conservative ideas of a generation ago (see also: cap & trade), in the hopes that today's conservatives will somehow be intellectually honest enough to support them too. That is a sucker's bet every time.
One other important takeaway from this article: "[I]f all the problems are driven by means-testing, state-level decisions and privatization of social insurance, the fact that the core conservative plan for social insurance is focused like a laser beam on means-testing, block-granting and privatization is a rather large problem. As Ezra Klein notes, 'Paul Ryan's health-care plan — and his Medicare plan — would also require the government to run online insurance marketplaces.'"
In other words, here again conservatives are decrying exactly what they ostensibly espouse. Perhaps a better way forward on fundamental pieces of legislation, instead of playing Lucy and the football with the Republicans, is to try to enact our own ideas from now on.
Update: In Foreign Affairs, Kimberly Morgan makes much the same argument: "The real source of Obamacare's current problems lies in the law's complexity. A straightforward way to assure coverage would have been to extend an existing, well-worn program to more people…In the United States, [due to] political antipathy to government programs…policymakers regularly rig up complex public-private, and often federal-state, arrangements that are opaque to the public, difficult to administer, and inefficient in their operation."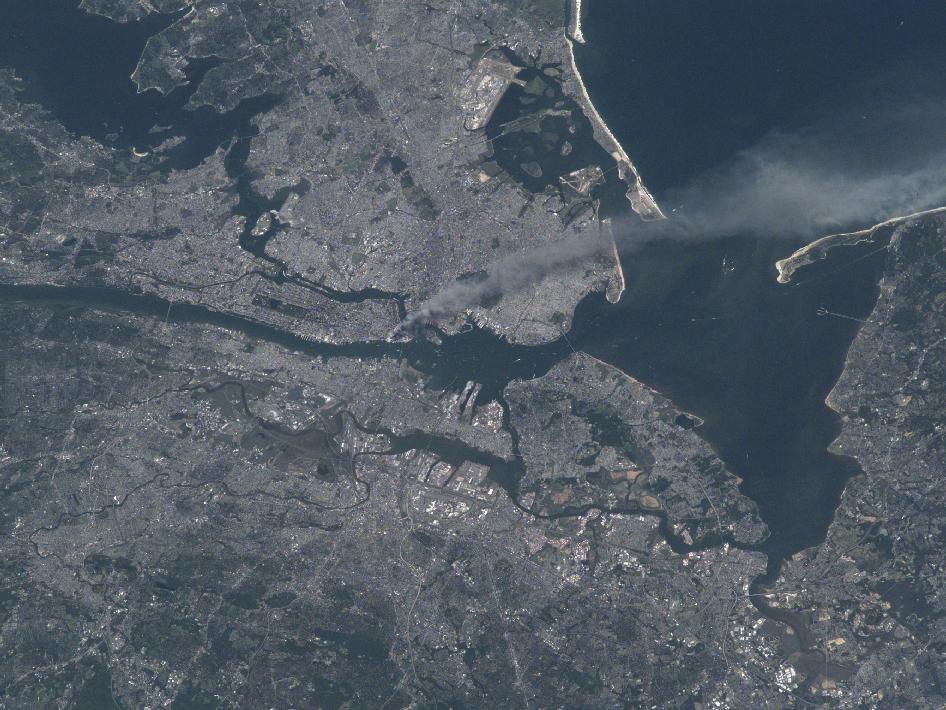 What I said last year
stands. The world doesn't need
any more 9/11 retrospectives
. Still, this
NASA picture from that dark day
is pretty impressive, so there's that.
I will say this: Since last week we watched Democrats — Democrats — chant USA, call out Mitt Romney for being insufficiently for the troops, and all but roll the severed head of Osama Bin Laden out on stage, perhaps it's time to regain a little perspective.
9/11 was a horrible crime that demanded justice. It was also an event, it has now become clear, that could have and should have been prevented by the Dubya administration using traditional, pre-9/11 intelligence methods. Since that dark day, nine people have died in our indefinite detention prison camp at GitMo. The only person being prosecuted for the Dubya-era torture regime is the whistleblower. And we're now set to unleash a wave of SKYNET-like drones over our own territory in the name of keeping us safe.
It's long past time to stop compounding the tragedy of what happened in New York and Washington eleven years ago by shredding the constitution in response. It's time to get back to being America again.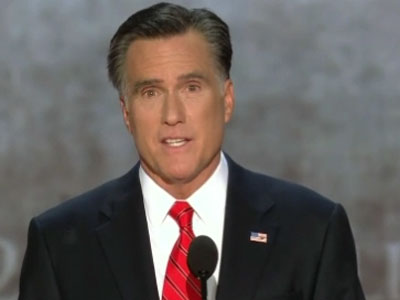 11011011 0001001 100111010 0011001 4CC355 N0M1N4T10N PR0T0C0LS SM1L3 10001100 001101011 11100010 M4M4 001010 D4D4 001100111 4M3R1C4 11100001102 0B4M4 0001111 M0N3Y 1010101111 5UCC355 011010 4M3RIC4 100000010 010001001010 SM1L3 S1MUL4T3 HUM4N 3M0T10N…3RR0R 3RR0R UNSP3C1F13D 3M0T10N4L PR0MPT 00000011sdssfsdfs ef233277222sefslf sslxzlxshkl;gxxx 3ND OF L1N3.
Those evil natured robots, they're programmed to destroy us…So, yeah it's hard to feel much of anything about Mitt Romney's acceptance speech, other than that I saw more lifelike human performances in the Final Fantasy movie ten years ago. The guy is just forever lost in the uncanny valley to me. This will no doubt be a close election, and Romney could well win it by sheer dint of a bad economy and boatloads of under-the-table campaign cash. But I still find it hard to take his seriously as a candidate, and most of the time just end up feeling bad for his much more presidential father that the previously-moderate Mitt has become such an obvious sellout. (And, tbh, I'm much more worried about the truth-averse Paul Ryan's no-doubt-bright future in his party than Romney's bid this year. He's the T-1000 to Romney's T-800.)
In short, Romney has that generic, milquetoast liked-by-his-base-but-has-zero-crossover-appeal quality we've previously seen in Bob Dole and John Kerry, and just like Joe Biden's "noun, verb, and 9/11" evisceration of Rudy 9ui11iani last cycle, Mike Huckabee already nailed Romney dead-to-rights in 2008 with his quip, "He looks like the guy who fired you." I just don't see Romney getting past that — and, if he does, it won't be because of this speech.
"
I don't want to start any blasphemous rumors, but I think that God's got a sick sense of humor…
" Or is there some other way to explain this, via
@andrewducker
:
'Mitt Romney and Paul Ryan' is an anagram of 'My Ultimate Ayn Rand Porn.'"
Frightening, right? I'm highly agnostic, but still. In the fury of the moment, you can see the Master's hand…
Still taking a break. Nonetheless, this was too on-the-nose not to share, for election 2012 is dark and full of terrors. Enjoy.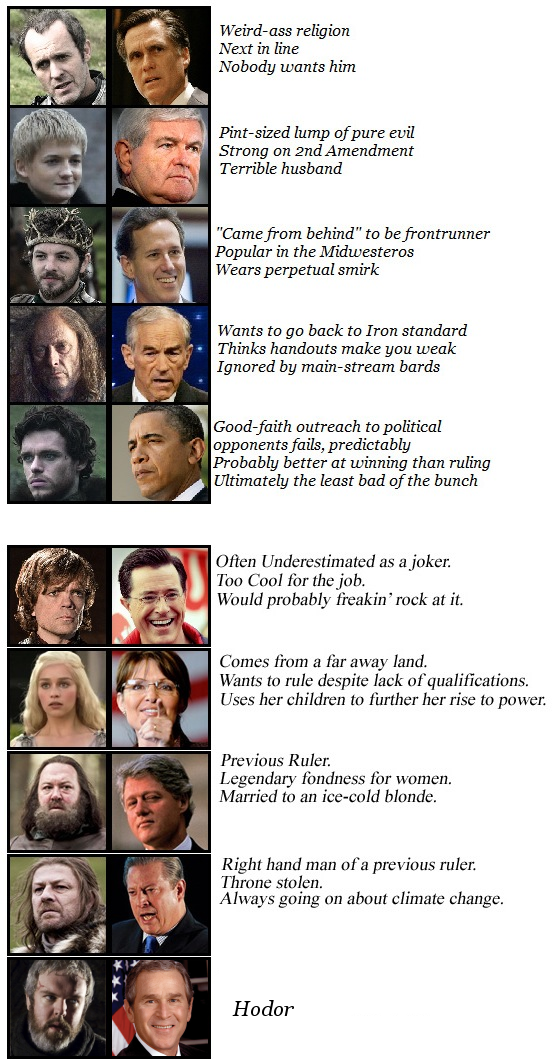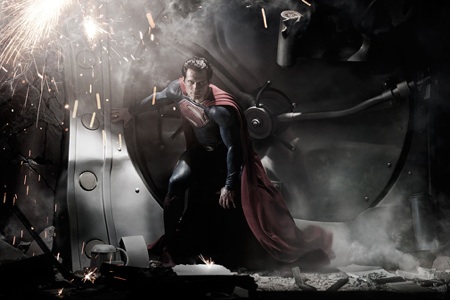 Also showing up on the grid of late is
out first look at Henry Cavill as Zack Snyder's Superman
. Hmmm, ok. The
Spidey-like texture
is different, but why in blue blazes does Supes have Mitt Romney hair? Booo…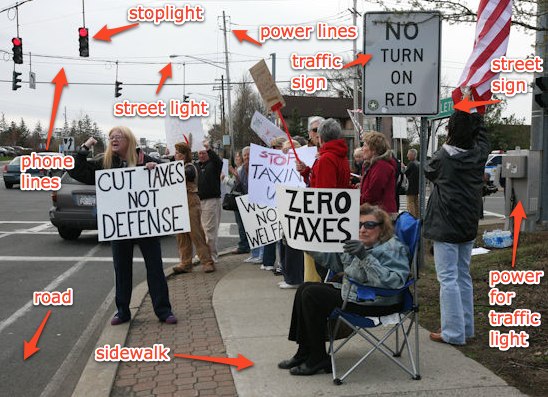 As many readers here well know, I've spent a good bit of time over the past decade studying US history. (In fact, over the past few years, I've occasionally helped my advisor keep a textbook up to date that recently drew the ire of right-wing blowhard Bill O'Reilly. Apparently, those damn pesky facts were somehow mitigating O'Reilly's ability to spew forth the usual idiotic blather.)
Anyway, over that period of time, I believe I have in fact learned me a few things. So, as a public service of sorts, and because, after this morning's revelations, I've reached the limit of craven and/or patently stupid falsehoods that I can feasibly ingest over so short a time, some "U.S. History for Dummies." I expect most everyone who comes by this site with any frequency knows all this, but ya never know. Apologies for the didacticism in advance — if this were this a Coors Light commercial, this would be where i vent. (And thanks to Lia for the timely visual tax lesson, above.)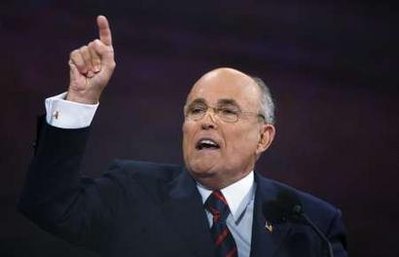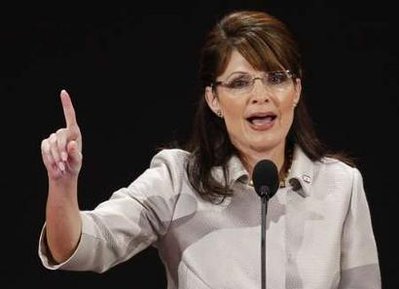 Y'know, after watching Wednesday's RNC festivities, I'm rather annoyed with myself that I titled the post about Tuesday night "Chimps on Parade." I mean, the dismayingly chimpy Dubya notwithstanding, at least Fred Thompson can sometimes muster up the ornery menace of an aging silverback. But it was last night's warm-up act, with also-rans Romney, Huckabee, and Giuliani sneering and snarling with abandon at Obama, "liberals," the "elite media," the home television audience, and just about everything else that crossed their path, that felt like the real flying monkey attack.
Now, I can't say I have my finger on the pulse of the nation or anything, but, in terms of the sheer quantity of vitriol, last night's flurry of bad mojo felt quite a bit to me like Pat Buchanan's disastrous 1992 "Culture War" speech all over again. (The fur flew so thick last night that even the AP felt compelled to mention the blatant untruths today.) We'll see how it plays over the next few days and weeks, of course, but I get a strong sense that the Republicans didn't help their cause much at all last night. (And, if you were to happen to infer that, by calling that ridiculous trio of GOP Pep Boys "flying monkeys," I was implicitly comparing Gov. Palin, who later dripped with similar derision and contempt from her unfortunate sea of black, to Margaret Hamilton, well, that's all on you…sexist.)
At any rate, to, take 'em in their miniboss order…
Mitt Romney: "Is a Supreme Court liberal or conservative that awards Guantanamo terrorists with Constitutional rights?" This one's easy…Douchebag. [Transcript.] Is there anything else one needs to say about the man? It wasn't so long ago even the GOP was united in their dislike of the guy's patent insincerity. But last night, of course, Republicans hooted and hollered through his manifestly idiotic remarks about a "liberal Washington" like he was Don Rickles killing at the Palms. "Is government spending — excluding inflation — liberal or conservative if it doubles since 1980? — It's liberal!" Of course, self-proclaimed conservatives, and darlings of everybody in that room last night, have run the White House for twenty of those twenty-eight years…but you already knew that. "It's time for the party of big ideas, not the party of Big Brother!" Uh…I guess Mitt hasn't been following the news all that much of late, nor did he seem to pre-read his own speech. (See the first quoted sentence above.) I could go on, but you get the point: Douchebag. Let's move on.
Mike Huckabee: "John McCain will follow the fanatics to their caves in Pakistan or to the gates of hell. What Obama wants to do is give them a place setting at the table." Alright, I feel a bit bad for lumping in Huckaboom with the rest of the night's speakers. [Transcript.] He's clearly a smarter, abler politician than 95% of the Republicans out there (even if his weird anecdote about veterans and desks barely made a lick of sense), and his remarks wisely eschewed most of the angry invective that marked all of the other speeches. (His early nod to Obama's candidacy — "Party or politics aside, we celebrate this milestone because it elevates our country" — went over like a lead balloon in the auditorium last night.) Still, even with his friendly, aw-shucks demeanor, Huckabee laid on the finger-pointing pretty thick at times, particularly once he set his sights upon the "elite media, whose "reporting of the past few days has proven tackier than a costume change at a Madonna concert."
Governor Huck probably trod onto the thinnest ice last night when he tried to portray the GOP as the "real" party of poor folk and ordinary working joes. This is wildly implausible for many reasons, not the least because Huckabee himself deemed the Republicans "a wholly-owned subsidiary of Wall Street and the corporations" only a few short months ago. Plus, it's really hard to buy into this sort of "broke-like-us" tripe when Cindy McCain is wearing $300,000 of bling to the big show.
Rudy Giuliani: "For four days in Denver and for the past 18 months, Democrats have been afraid to use the words 'Islamic terrorism.' During their convention, the Democrats rarely mentioned the attacks of Sept. 11, 2001." 9/11, 9/11, 9/11? Mayor Rudy 9iu11iani, it seems, is not above living down to his caricature. Of the three Pep Boy speeches, this is the one that will probably be remembered as the biggest misfire for the GOP. [Transcript.] Even if Romney's was more intellectually dishonest as written, Giuliani's shrill anti-Obama screed was emphatically the most poorly delivered. (Not that Giuliani scrimped on the intellectual dishonesty. See, for example, his resurrection of the hoary "present vote" meme.) For whatever reason — some say pique at his speech being moved — Giuliani came across as even more weaselly and intemperate than usual last night, and — I say this as someone who, despite everything since, gave him much credit for his original handling of 9/11 — Rudy seems weaselly and intemperate on the best of days. In any case, however much it may have fired up the faithful, Hizzoner's rant didn't play at all on TV. (While I'm linking TPM, Josh Marshall got off a great zinger last night: "I think I preferred this speech in the original German.")
And then the main event, Governor Palin. [Transcript.]
Over the past few days, I've refrained from posting every single revelation about the seemingly un-vetted Palin here, partly because I think little is gained by poring over the details of the awkward baby-momma story (even if the hypocrisy of the family values crowd has been stunning), and partly because keeping up with every facet of her creepy-craziness would've consumed the entire week. (If the Enquirer affair story gets locked down next week, that might well get a post here, tho' — as did Edwards' indiscretions. Also, a PSA for any kids who happen to stop by — watch what you write on your MySpace page, y'all. That's one to grow on.)
So, how did Palin attempt to distract us, however briefly, from the fact that she's an unqualified, uninformed, scandal–ridden, pro-life, creationist, secessionist, wolf-massacring, book-banning Buchananite fundie? Well, mainly by channeling Rush Limbaugh for forty minutes: "When the cloud of rhetoric has passed, when the roar of the crowd fades away, when the stadium lights go out and those styrofoam Greek columns are hauled back to some studio lot. When that happens, what exactly is our opponent's plan? What does he actually seek to accomplish after he's done turning back the waters and healing the planet? The answer — the answer is to make government bigger and take more of your money and give you more orders from Washington and to reduce the strength of America in a dangerous world." Uh, yeah. 1988 called…they want their talking points back.
I wish there was more to Palin's coming-out address to recommend it, but 99.44% of her speech was just this sort of smarmy, deeply-negative, over-the-top ridicule for Obama-Biden, delivered for the sole purpose of firing up the tired remnants of the fringe right. (Another case in point: "My fellow citizens, the American presidency is not supposed to be a journey of personal discovery.") Even elements of her biography that I somewhat respect were grossly mismanaged. True, being the cleanest Republican politician in Alaska is kinda like being the world's tallest pygmy — and, as noted above, Palin's hands aren't all that clean anyway. But, still, I'd have respected the Governor more this morning if she hadn't openly lied to us last night about her reform credentials. ("I told the Congress 'thanks, but no thanks' on that bridge to nowhere." — I believe Peggy Noonan has an apt phrase for this kind of blatant falsifcation. For shame.)
Update: "Obama was working for a group of churches that were concerned about their parishioners…They hired Obama to help those stunned people recover and get the services they needed –job training, help with housing and so forth –from the local government. It was, dare I say it, the Lord's work — the sort of mission Jesus preached (as opposed to the war in Iraq, which Palin described as a 'task from God.') This is what Palin and Giuliani were mocking. They were making fun of a young man's decision 'to serve a cause greater than himself,' in the words of John McCain. They were, therefore, mocking one of their candidate's favorite messages." By way of DYFL, TIME's Joe Klein angrily rallies to the defense of community organizers.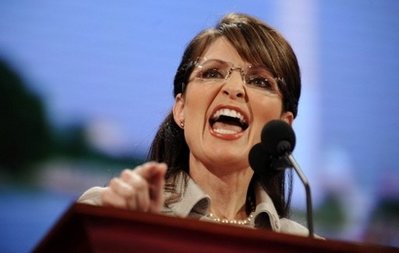 "I must now stand aside, for our party and our country. If I fight on in my campaign, all the way to the convention, I would forestall the launch of a national campaign and make it more likely that Senator Clinton or Obama would win." With an eye to 2012, Governor Mitt Romney is out, meaning the GOP nominee is now, for all intent and purposes, John McCain.
So, now part of the question for our party becomes, which Democrat is more likely to beat McCain? I'm betting you can guess my answer. As Nicholas Kristof notes: "When pollsters offer voters hypothetical matchups, Mr. Obama does better than Mrs. Clinton against Mr. McCain. For example, a Cook Political Report poll of registered voters released this week found Mr. McCain beats Mrs. Clinton, 45 percent to 41 percent. But Mr. Obama beats Mr. McCain, 45 percent to 43 percent. The latest Washington Post/ABC News poll found similar results."
See also David Broder: "In either scenario, women break for the Democratic candidate. McCain leads Clinton by 13 points among men, but only runs even with Obama. Party lines are sharp, and the battle for independents would be close. Currently, independents give McCain a 12-point lead over Clinton but favor Obama by 6 points over the Republican."
Update: Another TIME poll agrees: "Obama captured 48% of the vote in the theoretical match-up against McCain's 41%, the TIME poll reported, while Clinton and McCain would deadlock at 46% of the vote each…The difference, says Mark Schulman, CEO of Abt SRBI, which conducted the poll for TIME, is that 'independents tilt toward McCain when he is matched up against Clinton. But they tilt toward Obama when he is matched up against the Illinois Senator." Independents, added Schulman, 'are a key battleground.'"